ASX set to slide lower as Wall Street retreats
Wall Street is drifting in mixed trading ahead of two potentially market-shaking events later in the week.
The S&P 500 was 0.2 per cent lower in late trading, coming off a rare August gain that was powered by Big Tech stocks. The Dow Jones was down 0.5 per cent. The Nasdaq composite was 0.2 per cent higher.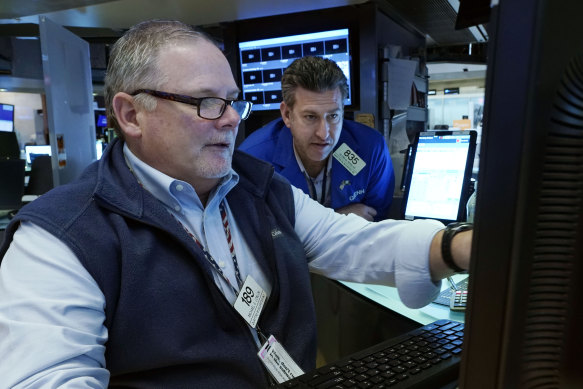 The Australian sharemarket is set to start the day in the red, with futures at 5am AEST pointing to a fall of 18 points, or 0.3 per cent, at the open. The ASX added 0.1 per cent on Tuesday.
Stocks have struggled this month as yields have shot upward in the bond market, which cranks up the pressure on other investments. The yield on the 10-year Treasury eased a bit Tuesday, a day after reaching its highest level since 2007.
Nvidia, one of Wall Street's most influential stocks, swung from an early gain to a loss of 2.5 per cent ahead of its earnings report on Wednesday, one that could be pivotal for the stock market.
The chipmaker has been at the centre of Wall Street's frenzy around artificial-intelligence technology, which investors believe will create immense profits for companies. Nvidia's stock has already more than tripled this year, and it likely faces a high a bar to justify the huge move.
Analysts expect Nvidia to say on Wednesday that its revenue swelled by nearly $US4.5 billion ($7 billion) to $US11.19 billion during the spring from a year earlier.
Dick's Sporting Goods plunged 23.3 per cent after its profit for the latest quarter fell well short of expectations. It also cut its forecast for earnings over the full year, citing "inventory shrink." That's a term the industry uses to refer to theft and other losses of goods that never become sales.
Macy's fell 14.4 per cent despite reporting stronger results for the latest quarter than Wall Street expected. It also stood by its financial forecasts for the full year, though it said economic conditions look uncertain.
On the winning side, Lowe's gained 3.7 per cent after reporting stronger profit for the latest quarter than analysts expected. The home improvement retailer also stood by its forecast for results over the full year, and it said it gave over $US100 million in bonuses to its front-line workers.
Microsoft rose 0.4 per cent as UK regulators consider a revamped bid by the company to buy video game maker Activision Blizzard, which would be one of the biggest deals in tech history.
In the bond market, the 10-year Treasury yield ticked down to 4.32 per cent from 4.34 per cent late Monday. It's the centre of the bond market and helps set rates for mortgages and other important loans.
The two-year Treasury yield, which moves more on expectations for the Federal Reserve, rose to 5.04 per cent from 5.00 per cent.
More fireworks could come later this week, when Fed Chair Jerome Powell is scheduled to give a highly anticipated speech. He'll be speaking Friday at an event in Jackson Hole, Wyoming, the site of several major policy announcements by the Fed in the past.
Based on the action in markets for volatility, traders are bracing for the Jackson Hole speech to be a bigger potential deal than Nvidia's earnings report, according to Barclays strategists led by Stefano Pascale and Anshul Gupta.
In recent years, everything from commodities to bonds to foreign stocks has become more vulnerable to outsized moves around Jackson Hole, the strategists say.
The Fed has already hiked its main interest rate to the highest level since 2001 in hopes of grinding high inflation down to its target of 2 per cent. High rates work by slowing the entire economy bluntly and hurting prices for investments.
Inflation has come down considerably from its peak above 9 per cent last summer, but economists say getting the last percentage point of improvement may be the most difficult.
The hope among traders is that Powell on Friday may indicate the Fed is done with hiking interest rates for this cycle and that it could begin cutting them next year. But strong reports on the economy recently have hurt such hopes. A solid job market and spending by US households could be feeding more fuel into pressures pushing upward on inflation.
In stock markets abroad, indexes were mostly higher. Stocks rose in China to recover some of their sharp losses driven by worries about its faltering economic recovery.
The Hang Seng in Hong Kong climbed 1 per cent, though it remains down 11.4 per cent for August so far. Stocks in Shanghai added 0.9 per cent to trim its loss for the month to 5.2 per cent.
AP
Source: Thanks smh.com