Builder sues $3.6 billion Brisbane casino resort for cost 'breaches'
Construction giant Multiplex has sued casino operator Star Entertainment claiming losses of more than $400 million due to soaring costs while building Brisbane's $3.6 billion Queen's Wharf resort.
The Queen's Wharf project was first announced in 2015 with plans to build 2000 apartments, 1000 hotel rooms and a casino on the edge of Brisbane's CBD, just across the river from the city's tourist-heavy South Bank.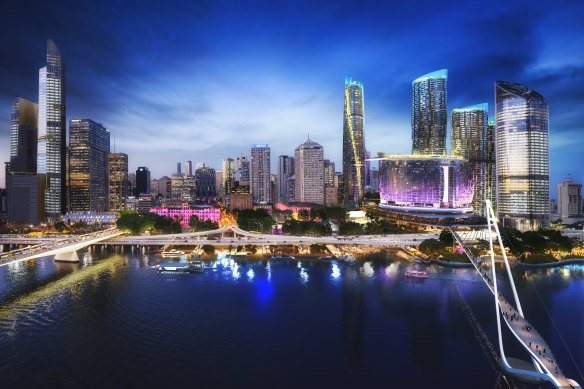 Multiplex filed a claim in Brisbane Supreme Court late last month against the Destination Brisbane Consortium, a joint venture behind the resort consisting of Star and two Hong Kong companies, alleging breaches of contract and deceptive conduct.
Multiplex claimed it had not been compensated adequately for 23 "excusable delay events" that resulted in more than 1000 days of lost productivity and about $313 million in losses.
Those alleged losses included almost $1 million in costs from the public holiday in response to the death of Queen Elizabeth II in September 22.
Multiplex claimed it was hit by nearly $1.2 million in additional costs due to lost work days from Brisbane's heavy rainfall in May 2022 and had to spend more than $800,000 to remove a resuming mould infestation at the building site.
The lawsuit also claimed the consortium failed to communicate over 54 design variations at the project that allegedly cost Multiplex at least $38 million over changes to door frames, locks and keys as well as the ballroom, riverside facade and atrium escalator.
Multiplex also demanded more than $66 million in claimed additional costs from accelerating work on the project including on its signature Sky Deck that runs between multiple towers at the site.
Destination Brisbane Consortium has yet to file a defence in response to Multiplex's claims but Star has told shareholders the consortium intends to defend the matter.
Multiplex's summary of its prior communications over the Queen's Wharf project had resulted in the consortium demanding more than $123 million in delay related damages from the builder just before the lawsuit was filed.
Part of the lawsuit had claimed the consortium had failed to respond within the time frame demanded by the contract when Multiplex requested extensions to deadlines, costings for design variations and certificates of completion milestones.
-AAP
Source: Thanks smh.com