Qantas flags fall in airfares after making $2.5 billion profit
Qantas boss Alan Joyce has dismissed concerns that a lack of competition is driving up airfares after the company delivered a record $2.47 billion profit, arguing the cost of a domestic flight with the airline is only 4 per cent higher than it was before the pandemic.
Joyce said the underlying profit marked the end of a torrid period for the $10.7 billion company – which holds more than 60 per cent of the domestic market– during which it accrued more than $7 billion in statutory debt.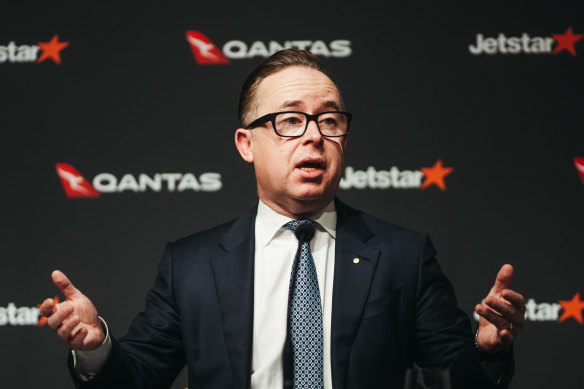 "We've safely shifted from heavy losses to a strong profit and a pipeline of investment worth billions of dollars," Joyce said in his final result after 15 years as leader of the aviation group.
Joyce said Qantas' fares peaked late last year and passengers could expect lower ticket prices as capacity returns to the airline industry.
"The data shows that economy fares peaked in December of last year. And they've fallen since then by about 12 per cent and they should keep on dropping as more international capacity comes on. No business is immune to the pressures of inflation at the moment. We understand the need for affordable travel," Joyce said.
The group's domestic capacity is now above pre-pandemic levels, and it expects capacity in its international business to surpass 2019 levels by the middle of 2024.
He rejected recent accusations from the country's biggest airports and rival Regional Express that Qantas was deliberately hoarding slots at Sydney Airport to prevent other airlines from accessing them. He said Qantas operates 92 per cent of flights in and out of Sydney, well above the 80 per cent requirement.
"If we have the aircraft, the crew, and we've scheduled the slot we intend to operate it. If there's air traffic control issues, weather or technical difficulties, we may stop it. That's a completely legitimate reason to cancel flying and the only reason we do so," Joyce said.
Joyce also defended Qantas' opposition to an application lobbed by Qatar Airways to double its flights to Australia and reiterated the company's position the saga had become overblown. Qatar's October application was rejected by the federal government last month despite widespread industry support. Joyce said allowing more flights to Australia could actually distort the international travel market in Australia.
"There shouldn't be rights granted when there's a huge amount of capacity being put back in the market. Doubling those rights could actually distort the market. That's been proven to be correct because capacity has essentially doubled in that time," Joyce said.
The bulk of the tourism and aviation industry disagrees with Joyce's position and has argued that had Qatar been granted the right to increase to 21 flights, it would have lowered fares on the highly inflated Europe route and generated an additional $800 million in annual revenue for the tourism industry.
Joyce has been summoned to appear before the Senate's cost of living committee next Monday, where he will probably be grilled on the airline's group's role in the cost of living crisis.
He said international airfares were 10 per cent higher than before the pandemic but would continue to come down as foreign carriers added flights to Australia.
"There seems to be a focus on Qatar and people are missing all of this extra capacity. We have 52 carriers that we compete against internationally, and we're beginning to see airfares come down as a result of that," he said.
Qantas issued frequent flyers a gift of additional points or status credits via its app and also awarded $500 in travel credits to all staff members, as well as its third $500 million shareholder buyback for the year.
Qantas' share price closed 81¢ higher to $6.22 on Thursday.
The Business Briefing newsletter delivers major stories, exclusive coverage and expert opinion. Sign up to get it every weekday morning.
Source: Thanks smh.com