ASX falls as on weaker tech, mining stocks; $A slumps
Welcome to your five-minute recap of the trading day, and how experts saw it.
The numbers:
The Australian sharemarket took a dive as information technology stocks lost their fizz and weakness in mining stocks weighed down the index, following a negative lead from Wall Street.
The S&P/ASX 200 closed 66.9 points, or 1 per cent, to 7115.2 as all sectors except consumer stocks traded in the red. The Australian dollar fell overnight. It was fetching 64.18 US cents at about 4pm AEST.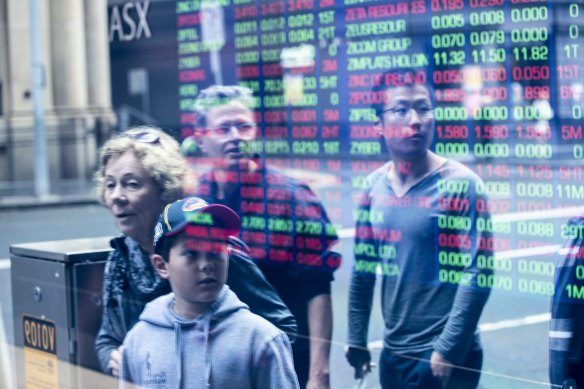 The lifters
Consumer staples companies (up 0.6 per cent) pared back some of their losses from the past few days, bolstered by heavyweight Wesfarmers (up 2.9 per cent).
Shares in Wesfarmers climbed after it lifted its dividend and delivered a $2.6 billion profit ahead of consensus expectations. Supermarket giant Woolworths (up 1 per cent) regained some momentum after losing ground on Thursday.
Medibank (up 2 per cent) was among the biggest large-cap advancers, extending its gains after reporting a recovery in its business following a 2022 data breach.
Shares in local olive oil maker Cobram Estate Olives lifted 5.3 per cent after it swung back to profit, thanks to a number of factors pushing sales revenue up 21 per cent. It notched $7.7 million in net profits for the 2023 financial year, compared to a $700,000 loss the year before. Earnings rose 63 per cent to $40.8 million.
Stabilisation in the price of input costs like water and fertiliser, a high-yielding Australian crop year, and the higher cost of imported olive oil – which made locally produced oil look more attractive – saw Australians buy 15 per cent more olive oil from Cobram ($121.6 million) than the 2022 financial year.
Meanwhile, investors in winemaker Australian Vintage – the producer of McGuigan, Tempus Two and Nepenthe – were undeterred by its 78 per cent fall in net profits to $4.2 million as sea freight and energy costs burned an $18 million hole in its books. Despite a 43 per cent slide in earnings to $26.1 million, shares lifted 3.8 per cent.
The laggards
Information technology firms (down 2.6 per cent) slid lower after rallying on Thursday with WiseTech (down 4.49 per cent) and Xero (down 3.4 per cent) both losing ground.
Miners were also weaker, with the sector shedding 1.4 per cent as Pilbara Minerals lost 7.6 per cent despite reporting an increase in net profit and South32 slumped 4.9 per cent. Heavyweights BHP (down 1.3 per cent) and Fortescue (down 0.6 per cent) also posted losses.
The big four banks were also in the red, with CBA dropping 1 per cent, NAB losing 1.7 per cent, Westpac shedding 0.6 per cent and ANZ falling 0.9 per cent.
Meanwhile, shares in property exchange PEXA dropped 6.1 per cent after it reported a net loss of $21.8 million.
The lowdown
IG Australia market analyst Tony Sycamore said it was a "down day" for the Australian sharemarket which was "a bit nervous" ahead of a key speech by the Federal Reserve chair on Friday morning in the US.
"Powell will probably strike a hawkish tone due to stronger than expected data in the US," Sycamore said. "The market is hoping to see the last of rate hikes but the Federal Reserve probably isn't done and dusted yet."
Sycamore said information technology companies plunged on Friday but that it had been an extremely volatile sector.
"Yesterday was a good day for technology companies helped by Nvidia, but there's been some extreme volatility as traders assess their initial reactions as earnings reports dropped from companies like WiseTech and Altium," he said.
On the other hand, Sycamore said consumer staples remained robust because "everyone still has to eat and put food on the table."
Overnight, Wall Street closed lower, despite a blowout profit report from Nvidia, following some mixed reports on the US economy.
The S&P 500 dropped 1.3 per cent for its worst loss in three weeks. It nearly wiped out its gain for the week, which had been a bright spot in what's been a rough August.
The Dow Jones dropped 1.1 per cent, and the Nasdaq composite tumbled 1.9 per cent.
Stocks sank as US Treasury yields stabilised following their tumble a day earlier. High yields in the bond market have been upping the pressure because they make investors less willing to pay high prices for stocks and other risky investments.
They may be set to go even higher, depending on what the head of the US Federal Reserve says in a speech scheduled for Friday. The yield on the 10-year Treasury bond rose to 4.23 per cent from 4.20 per cent late Wednesday. It fell there from 4.33 per cent a day before, close to its highest level since 2007.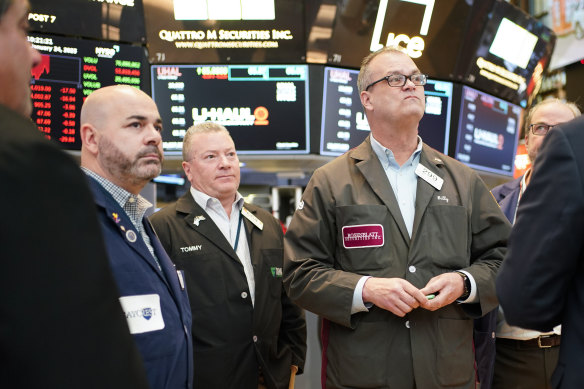 Another report said orders for long-lasting manufactured goods slumped by more than economists expected last month. That could be a signal that conditions are worsening for the struggling American manufacturing industry, but orders actually rose more than expected for the month when you exclude planes and other transportation equipment.
Fed Chair Jerome Powell's highly anticipated speech on Friday morning (US time) will take place in Jackson Hole, Wyoming – the site of major policy announcements in the past by the Fed.
The two-year Treasury yield, which moves closely with expectations for the Fed, rose to 5.01 per cent. A day before, it had dropped to 4.98 per cent from 5.05 per cent after a report suggested US business activity is cooling in August.
Thursday's weakness for stocks came despite a much stronger-than-expected profit report from Nvidia, one of Wall Street's most influential stocks. That raised hopes that this year's frenzy on Wall Street around artificial-intelligence technology isn't just hype.
Nvidia first stunned the market three months ago when it said the quick adoption of AI would send its revenue soaring in the three months to July. Its sales came in even better than forecast, at $US12.51 billion ($19.5 billion), and the company gave a forecast for the current quarter that again blew past Wall Street's expectations.
Nvidia shot up more than 6 per cent in the morning and seemed to be headed for a record close. But its gain diminished through the day, and it finished up by just 0.1 per cent. It was nevertheless one of the strongest forces pushing up on the S&P 500, which saw more than 80 per cent of stocks within it fall.
In stock markets abroad, indexes were mixed in Europe after mostly rising in Asia.
Tweet of the day
Quote of the day
"We have today sought a review of the ACCC's decision by the independent Australian Competition Tribunal," said ANZ boss Shayne Elliott as the bank formally filed its application to review the competition watchdog's decision to block its deal to acquire Suncorp's banking division. "Not only do we believe that ANZ's acquisition of Suncorp Bank will create a combined bank which is better equipped to respond to competitive pressures to the benefit of Australian consumers, it will also deliver significant public benefits, particularly in Queensland."
You may have missed
Source: Thanks smh.com