ASX set to fall as Wall Street drops; $A slumps
Stocks are slipping on Wall Street, despite a blowout profit report from one of its most influential companies, after a couple of mixed reports on the US economy.
The S&P 500 was 0.8 per cent lower in afternoon trading after flipping from an earlier gain. It's still on track for a winning week, which would trim its loss for what's been a dismal August.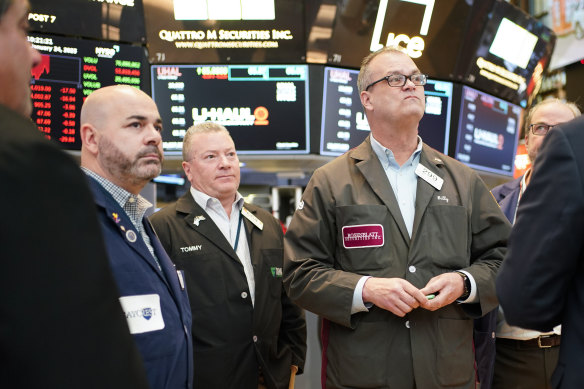 The Dow Jones was down 0.7 per cent and the Nasdaq composite was 1.1 per cent lower. The Australian sharemarket is set to start the session sharply lower, with futures at 5.08am AEST pointing to a drop of 73 points, or 1 per cent, at the open.
The Australian dollar fell. It was fetching 64.24 US cents at 5.23am AEST.
Nvidia was in the spotlight after it reported much stronger profit and revenue for the latest quarter than expected. That raised hopes that this year's frenzy on Wall Street around artificial-intelligence technology isn't just hype.
Nvidia first stunned the market three months ago when it said the quick adoption of AI would send its revenue soaring in the three months through July. Its sales came in even better than forecast, at $US12.51 billion ($19.5 billion), and the company gave a forecast for the current quarter that again blew past Wall Street's expectations.
Nvidia climbed 3.2 per cent, bringing its gain for the year so far to nearly 230 per cent. It was the biggest single force pushing upward on the S&P 500.
Conditions were weaker across the rest of Wall Street, as yields in the bond market steadied themselves following a tumble the day before.
The yield on the 10-year Treasury rose to 4.23 per cent from 4.20 per cent late Wednesday. It fell there from 4.33 per cent a day before, which was close to its highest level since 2007. Higher yields mean bonds pay more in interest, which also causes investors to feel less need to pay high prices for stocks and other investments.
Yields found some traction following a couple of mixed reports on the US economy. One showed that fewer US workers applied for unemployment benefits last week. It's the latest sign that the job market remains remarkably resilient despite high interest rates.
Another report said orders for long-lasting manufactured goods slumped by more last month than economists expected. That could be a signal that conditions are worsening for the struggling manufacturing industry, but orders actually rose more than expected for the month after ignoring airplanes and other transportation equipment.
For now, weaker-than-expected reports on the economy may counterintuitively be more welcome in financial markets. The economy has managed to avoid a long-predicted recession, but the fear is that it's so solid that it will keep upward pressure on inflation.
The Federal Reserve has already raised its main interest rate to the highest level since 2001 in hopes of grinding down high inflation. High rates work to do that by slowing the entire economy and hurting prices for investments.
Hope had built that the Fed's latest rate hike in July may prove to be the last of this cycle, as inflation has cooled considerably since peaking above 9 per cent last summer. Traders also have made bets for the Fed to begin cutting rates early next year.
But a series of stronger-than-expected reports on the economy has diminished those hopes. That's why a speech coming Friday by Fed Chair Jerome Powell is so highly anticipated. He'll be speaking at an event in Jackson Hole, Wyoming, that has been the site of major policy announcements in the past by the Fed.
The two-year Treasury yield, which moves closely with expectations for the Fed, rose to 5.03 per cent. A day before, it had dropped to 4.98 per cent from 5.05 per cent after a report suggested US business activity is cooling in August.
That weaker-than-expected report pushed John Vail, chief global strategist at Nikko Asset Management, to think Powell may not sound as aggressive about keeping rates high.
But he still says Powell "will likely express concerns about inflation not falling fast enough and that the market should not expect any cuts through at least the first part of 2024."
On Wall Street, Dollar Tree fell 11.2 per cent despite reporting stronger profit and revenue for the latest quarter than expected. It said customers are shifting their purchases toward products that are less profitable for the company. Like other retailers, it also cited inventory "shrink," which is a term the industry uses to describe theft and other losses of products.
Petco tumbled 20.5 per cent after saying its customers are also feeling pressure. The seller of pet supplies cut its forecast for earnings over the full year, though its results for the latest quarter matched or beat analysts' expectations.
In stock markets abroad, indexes were mixed in Europe after mostly rising in Asia.
AP
Source: Thanks smh.com