Historic buildings at height of designer chic
While many of Melbourne CBD's B-grade and C-grade office towers are languishing empty, older refurbished historic buildings are going gangbusters as new tenants are attracted by their light-filled spaces and soaring ceilings.
Carlow House, a 10-storey Art Deco gem at 289 Flinders Lane, on the corner of Elizabeth Street, is fully leased following the inking of 12 deals in as many months.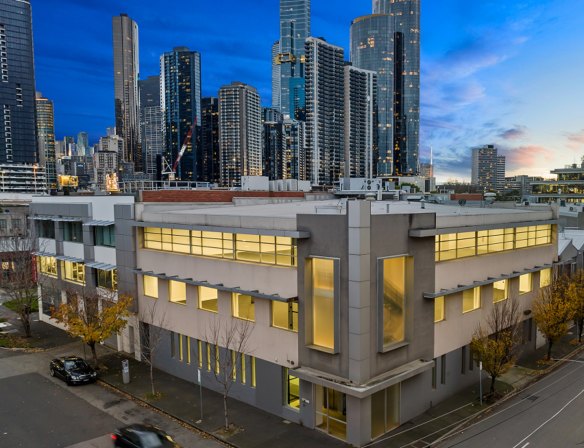 The building, which recently underwent a major refurbishment, is owned by the Berger family's Fivex Group, which paid $19 million for it in 2008.
Colliers' Izabella Minas and Georgina Murray, along with JLL's Sam Friend and Hannah O'Brien, did the deals.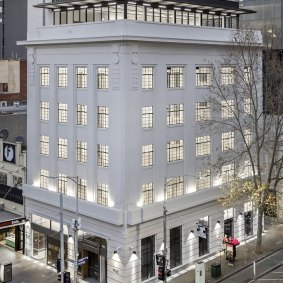 Also fully leased 12 months after a refurbishment is the historic Atelier Exchange at 351 Elizabeth Street, opposite Melbourne Central. The former ANZ building is almost 100 years old and was purchased by T Corp Group for $1.92 million in 2000. JLL's Friend and Alex Harper leased the 1527 square metres of office space.
Friend said the leasing campaign targeted small businesses in the creative sector. Rents have averaged more than $600-a-square-metre, he said.
Iconic Food Distribution – aka Sirena Tuna – has opened its head office in the 165-square-metre level five on a seven-year term.
Teska Carson and Cushman & Wakefield agents negotiated the ground-floor lease to Asian cosmetics retailer Fancy Life.
Silicon Yarra
Developer Paul Franze is back in the city after building Geelong's first new hotel in 20 years.
Franze is understood to have spent about $13 million pulling together an 856-square-metre site on the corner of Balmain and Chestnut streets in Cremorne, opposite the LaManna cafe and the Bryant & May office building.
Cremorne's fringe office market, stacked with technology tenants, has been dubbed Silicon Yarra.
Records show Franze Developments has caveats over four houses and a garage. He is planning a mixed-use commercial and retail project, including a possible health and wellness retreat.
The price puts the land value at around $ 15,000 a square metre, a touch higher than the most recent sale at 24-28 Cremorne Street, which also fetched about $13 million. That building, which houses a motorbike dealership and F45 gymnasium, is on a larger 934-square-metre site and reflects a sale price of $13,972 a square metre. An investor with land banking intentions purchased the property.
The deal was done by JLL's Josh Rutman, Jesse Radisich and MingXuan Li and Teska Carson's Matthew Feld and Larry Takis.
Franze recently completed the $200 million Geelong Quarter at 44 Ryrie Street, which includes apartments and a Holiday Inn & Suites due to open next month. Chef Adrian Richardson is opening a steak restaurant, called Maestro, in the 585-square-metre space at the foot of the building.
Salta's take-three
Salta Properties is hoping for third time lucky in its latest bid to sell the triangle-shaped Centrelink office building in Greensborough.
The property developer-investor last tried to sell the A-grade building at 16-22 Grimshaw Street in 2018, following an unsuccessful attempt in 2015.
The three-storey 2892 square metre building returns about $1.37 million a year in rent and is expected to sell for more than $16.75 million.
Gorman Allard Shelton agents Joseph Walton, Peter Bremner and Jonathon McCormack are running the sales campaign.
Salta is also selling another Centrelink office in Abbotsford, near one of its residential developments.
The move comes as the developer waits to make its next move in the Preston Market redevelopment saga, where it owns another Centrelink office.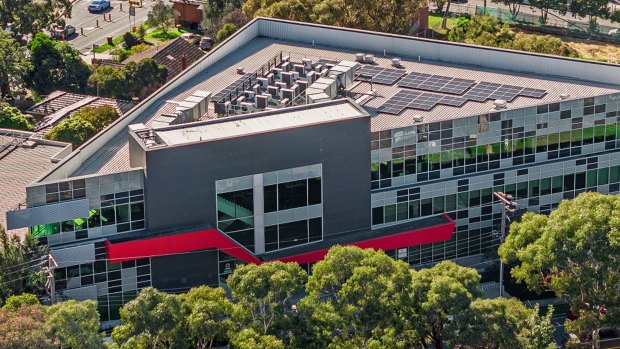 Digging deep
Salta has also recently completed its speculatively built boutique office project OneFourFive, at 145 Clarendon Street, South Melbourne.
The 1800 square metre six-level office building, overlooking the Westgate Freeway on-ramp, is looking for tenants through CBRE agent Anthony Park and Colliers' Lachlan Fitzpatrick.
The building features new artwork by House of Vnholy's Matt Adey. A beam of light changes colour through the day and night.
South Melbourne's new office projects are digging deep for art. Last year, Hickory installed a striking new sculpture by Alexander Knox in its Market Lane development.
Around the corner, former Piping Hot owner Mark Johannsen sold Clarke House for $6.56 million one day before its scheduled auction last week.
Records show the former Girl Guides headquarters at 101 Clarke Street last changed hands in 2007 for $2.97 million. It was second time lucky for Johannsen, who had tried to sell the vacant building for about $10 million in 2021.
The three-storey 1205-square-metre building comes with a six-star NABERS rating and has 16 car parks in its basement. It is on 560 square metres of Commercial 2-zoned land. Jones Real Estate's Paul Jones handled the transaction.
Closer to the city, another Art Deco building at 2-4 Douglas Street, Southbank, goes to auction next Friday. The 929-square-metre property is fully leased to a range of creative businesses, including the Woolworths-owned agency Shopper Media, Channel 31, Bang Bang Media Studios and Peter Harvey & Co architects.
Stonebridge agents Dylan Kilner, Max Warren and Shawn Luo are running the auction, with the property expected to fetch about $6 million. They also recently sold 187 Ferrars Street, Southbank, for $2.56 million to Mandate Property Group.
Carlton calling
Former agent and boutique property fund manager Mark Wizel is selling the former Toto's pizzeria site in Carlton.
The 250 square metre two-storey building at 99-101 Lygon Street comes with a fresh 10-year lease to fast-food retailer Oporto.
Oporto's parent company, Craveable Brands, is owned by one of the world's largest private equity groups PAG, which has a stable of fast-food outlets, including Red Rooster, Chicken Treat and Sydney's Chargrill Charlies.
Toto's, reliant heavily on the large volumes of students attending RMIT and the University of Melbourne, did not survive the pandemic and closed in 2020.
Wizel and Lewis Tong's opportunistic Monash Commercial Property Investment Fund bought the vacant shop a year ago for about $1.9 million.
The fund "was set up to take advantage of the impacts of COVID on strip retail," Wizel said. "It's a trading fund, not for holding passive investments".
The property returns $140,000 a year in rent and goes to auction just before the AFL grand final on September 28. It is expected to fetch between $2.5 and $2.75 million.
Cushman & Wakefield agent Oliver Hay and Jones Real Estate's Paul Jones and Sam Guest are handling enquiries.
The Business Briefing newsletter delivers major stories, exclusive coverage and expert opinion. Sign up to get it every weekday morning.
Source: Thanks smh.com