ASX set to open higher as Wall Street rises
Stocks rose broadly in afternoon trading on Wall Street as markets shift their attention from the Federal Reserve to more corporate and economic reports.
The S&P 500 rose 0.3 per cent to keep upward momentum from its first winning week since July. The Dow Jones rose 0.3 per cent and the Nasdaq rose 0.5 per cent. The Australian sharemarket is set to open higher, with futures at 4.56am AEST pointing to a gain of 16 points, or 0.2 per cent, at the open.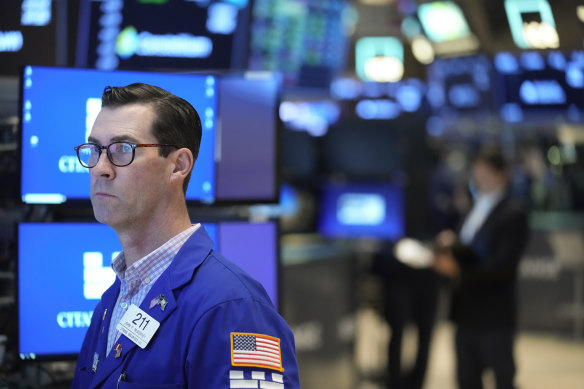 Wall Street is wrapping up its latest round of earnings reports. Best Buy and Costco will report their results this week.
3M jumped 5 per cent following reports that the company had agreed to a $US5.5 billion ($8.6 billion) settlement over faulty earplugs, a lower figure than expected. Boston Scientific rose 5.5 per cent after giving investors an encouraging update on a study for a heart device.
Shares of Hawaiian Electric jumped 43.5 per cent as the utility pushed back against accusations it is responsible for causing the wildfire that devastated the community of Lahaina. The company said power to the lines in the area of the fire had been cut off hours before the blaze began, refuting an allegation in a lawsuit filed last week by Maui County. The shares are still down about 64 per cent over the past three weeks.
Investors have a busy week ahead full of economic reports that could shed more light on the employment market and whether inflation is still cooling. The latest data could provide more clues about whether the Federal Reserve is likely to hold interest rates steady or raise them again before the year closes.
Wall Street will get an update Tuesday on consumer confidence, which jumped sharply in July and is expected to remain strong in August.
The government will issue its July report on job openings on Tuesday and its broader jobs report for August on Friday. The job market is being closely watched because it has remained strong amid hot inflation and is credited with acting as a bulwark against a recession.
Investors and economists will be focusing closely on the government's latest inflation update on Thursday. The report on personal consumption and expenditures is the Federal Reserve's preferred measure as it tries to rein inflation back to 2 per cent. The PCE report showed inflation rising at a rate of 3 per cent in June and the July report is expected to show it rose slightly to 3.3 per cent. Overall, it's down from a high of 7 per cent a year ago.
Investors closed last week relieved that Fed Chair Jerome Powell said the central bank would "proceed carefully" on interest rates.
"The general consensus is that we're getting closer to the end of the interest rate hiking cycle," said Brian Price, head of investment management for Commonwealth Financial Network.
The central bank has already raised its main interest rate to the highest level since 2001 in its drive to grind down high inflation. That was up from virtually zero early last year. The Fed held rates steady at its last meeting, but has said it could raise rates again if it considers it necessary to fight persistent inflation.
Wall Street is betting that the Fed will hold rates steady again at its September meeting, according to CME's FedWatch tool. Bets are nearly evenly split, though, on whether it will raise rates one more time before 2023 closes.
Powell on Friday said upcoming decisions will be based on what incoming data reports say about the economy.
Bond yields were mixed. The yield on the 10-year Treasury slipped to 4.22 per cent from 4.24 per cent late Friday. The yield on the 2-year Treasury, which more closely tracks expectations for the Fed, fell to 5.06 per cent from 5.08 per cent late on Friday.
Markets in Asia rose broadly. China will no longer require a negative COVID-19 test result for incoming travellers, a milestone in its reopening to the rest of the world after an isolation that began with the country's borders closing in 2020.
European markets also gained ground.
Source: Thanks smh.com