Gas not the enemy but vital for clean energy shift, says mining boss
Mining boss Chris Ellison says gas is not Australia's enemy, but a friend that will be needed for at least the next 40 years if the country is to lock in its clean energy transition and move away from its dependence on burning coal for power.
Ellison's Perth-based company, Mineral Resources, is wanting to build a $1.5 billion facility to process and export liquid natural gas (LNG) from its promising Perth Basin fields in West Australia, but says it can't make the project stack up and help secure domestic supply without sending the majority of the gas offshore.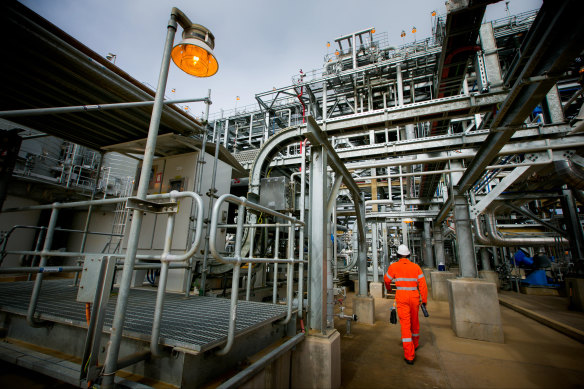 Domestic gas projects face stiff opposition from conservation groups and the Greens who are pushing governments to enact strategies to slash gas demand rather than lift supplies. They want lower exports of fossil fuels that emit harmful carbon dioxide into the atmosphere.
According to Ellison: "By the time we get to 2050, it [gas] will probably be outlawed. There'll be no more fossil fuels, but right now we need gas as a transition fuel to get away from burning coal. It's probably going to take 30 or 40 years to do that.
"It's really not our enemy, it's our friend in terms of the transition."
The diversified mining and services company is spending about $130 million a year on exploration and development of wells in the Perth and Carnarvon basins. Ellison says the company can potentially produce 300 terajoules a day from its field, but 200 terajoules will need to be exported to pay off debt used to build the facility. The remaining 100 terajoules will be for local use.
If the company is unable to get export approval, it will downsize the project to about 50 terajoules and use the bulk of its output to power its own operations, he said.
Mineral Resources' chief financial officer Mark Wilson said the mining and services firm had a "reasonably strong" performance for the financial year to June, driven by record lithium output and solid iron ore results in the face of rising costs. The company reported a 40 per cent jump in revenue to $4.8 billion and a 92 per cent spike in profit to $769 million.
West Australia's gas reservation policy requires exporters to set aside 15 per cent of production for domestic use, allowing the state to avoid the worst of the shortages that have hit the country's east coast gas users.
Australia is one of the world's largest producers of gas, but huge volumes of LNG are locked into long-term export contracts with overseas buyers. The Bass Strait fields that have for decades underpinned supply to southern markets are rapidly declining without new projects to replace them.
While the urgency to reduce fossil fuels and avert the worsening climate crisis is increasing, millions of homes and businesses across south-eastern Australia are still reliant on gas for cooking, heating, hot water and manufacturing processes – and face the threat of shortfalls emerging later this decade, according to the Australian Energy Market Operator.
Ellison said Mineral Resources is talking to American and European vehicle manufacturers who are keen to lock in long-term lithium supply contracts.
The company is considering sites for a lithium processing plant after pulling out of a deal to purchase a billion-dollar stake in American battery chemicals giant Albermarle's Chinese plant.
"We're not investing in China. China and Australia have had some issues in the past. That's high risk for us, and I don't want to go there," he said.
Mineral Resources is also selling its stake in Albemarle's Kemerton lithium hydroxide plant in Western Australia, but Ellison said the company was still committed to processing and concentrating the lithium that it mines in Australia if it can get government funding to help built a plant.
"If we can't get … help from the government, then we'll build somewhere in South-East Asia. By the time we get to about December, we'll have a very clear view on who we're dealing with and what we're going to build," he said.
Source: Thanks smh.com