ACCC sues Qantas for selling cancelled flights; airline scraps refund expiry
Qantas Airways will scrap the expiry date on flight credits for travellers whose travel plans were disrupted due to the COVID-19 border closures, as the consumer watchdog takes the airline to court over claims it falsely advertised and sold already-cancelled flights.
All Qantas customers who had their flights cancelled by the airline due to a COVID-19 lockdown, up to October 2021, will now be able to request a refund indefinitely, multiple aviation sources who were not authorised to speak publicly told this masthead on Thursday.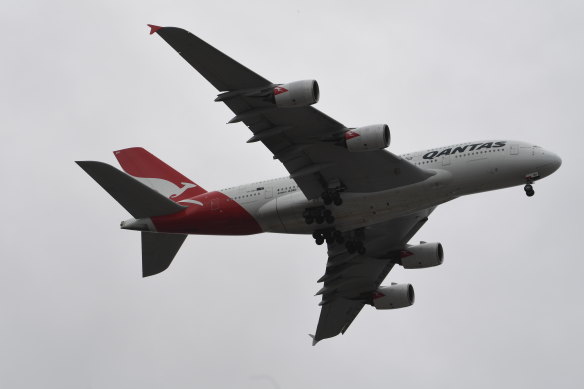 The move follows public pressure, which culminated at a Senate hearing into the cost of living on Monday.
The concession on flight credits comes on the day that the Australian Competition and Consumer Commission launched a high-profile Federal Court case against the airline, alleging it falsely advertised more than 8000 flights it had already cancelled.
The consumer watchdog said Qantas kept selling tickets on its website for an average of more than two weeks, and up to 47 days in some cases, after the cancellation of those flights, which were scheduled to depart between May and July 2022.
It also alleges that for more than 10,000 flights scheduled to depart during that period, Qantas didn't tell existing ticket holders for about 18 days – and in some cases, for up to 48 days – that their flights had been cancelled.
In about 70 per cent of flights cancelled during those months, "Qantas either continued to sell tickets for the flight on its website for two days or more, or delayed informing existing ticketholders that their flight was cancelled for two days or more, or both," the ACCC said in a statement announcing the legal action on Thursday morning.
The airline's conduct likely affected "the travel plans of tens of thousands of people" and "left customers with less time to make alternative arrangements and may have led them to paying higher prices to fly at a particular time," ACCC chair Gina Cass-Gottlieb said.
If convicted, each breach of consumer law faces a maximum penalty of $10 million, or three times the total benefits obtained. If the total turnover cannot be determined, the group may have to hand over 10 per cent of its annual multi-billion dollar turnover.
Qantas has been approached for comment.
Treasurer Jim Chalmers said the allegations against Qantas were "deeply concerning".
"This is the consumer watchdog doing its job and a reminder that businesses need to do the right thing by people," he said. "Breaches of consumer law carry heavy penalties."
The ACCC said it had also written to Qantas with strong objections to its planned 2023 flight credit expiry date. The airline is already facing a class action on behalf of disrupted passengers who allege they were unable to be compensated for their cancellations.
It's the fourth time the company has amended its COVID-19 refund and flight credit policy in an attempt to lower the multibillion-dollar owed credit balance it accrued over the period.
Passengers were previously eligible for a refund until December 2023. Those who already obtained flight credits from the company still have until the end of this year to book a flight. Customers who booked flights through a travel agent can also get a refund, while those who have a flight credit from Jetstar will also be able to use them indefinitely.
There is still around $370 million that main airline Qantas is yet to refund or exchange, and, as revealed by Jetstar boss Steph Tully after a hostile exchange with Senator Tony Sheldon at the hearing this week, the budget arm is sitting on another $100 million.
There is also an undeclared amount in overseas bookings. Sources close to Qantas say that amount ranges between $50 million and $100 million.
Qantas' biggest rival, Virgin Australia, has around $100 million in COVID-19 credits yet to be used. This is down from a total sum of $1.2 billion accrued between September 2020 and the end of July 2022.
Virgin's credits require passengers to book and travel by the end of December this year. They are also subject to the airline's standard credits policy, which means only a certain number of seats on any flight can be booked by those trying to use a flight credit.
Regional Express, Australia's third domestic carrier with about 5 per cent of the market, has refunded all passengers affected by cancellations over the lockdown period.
The Market Recap newsletter is a wrap of the day's trading. Get it each weekday afternoon.
Source: Thanks smh.com