Australia Post swings to $200 million loss as snail mail declines
Australia Post has swung to a $200 million pre-tax loss for 2023 thanks to the continued decline of snail mail, with chief executive Paul Graham warning more losses are on the way unless there is a rethink on how the group delivers its services.
The nation's postal carrier, which has been warning for months that it would record a loss this year, revealed the scale of the damage on Thursday morning when it confirmed it had recorded a full-year loss of $200.3 million, down from a $55.3 million profit in 2022.
Revenues remained largely flat at just under $9 billion for the year, and it was ballooning losses in the group's paper letters business, which caused most of the pain.
Letter volumes dropped by 7.8 per cent compared with last year, and losses in the group's letters business were up by 50.2 per cent to $384.1 million. Parcels and services revenue was up by 0.9 per cent to $7.3 billion.
"The delivery frequency of letters remains one of the most significant costs to the business," the carrier said in a statement on the full-year numbers.
Australia Post also flagged the possibility of increasing losses across its corporate post office network as foot traffic into stores declines.
"In FY23, over-the-counter transactions continued the downward trend and have declined 20.9 per cent since FY19," the group said.
The numbers, which represent just the second loss Australia Post has recorded since becoming a government business enterprise in 1989, set the scene for possible major overhauls to Australia Post's footprint and services, with the government undertaking a review into modernising the postal service with a view of keeping it sustainable.
Graham was clear on Thursday that the group needed the support of government to ensureit was sustainable for the long term.
"If we do everything in our power to run this business well, and we get a favourable regulatory response towards modernisation, I'm confident that Australia Post will return to profit. Without this support, the FY23 loss will be followed by many more. Inaction could result in a greatly devalued Australian asset," he said.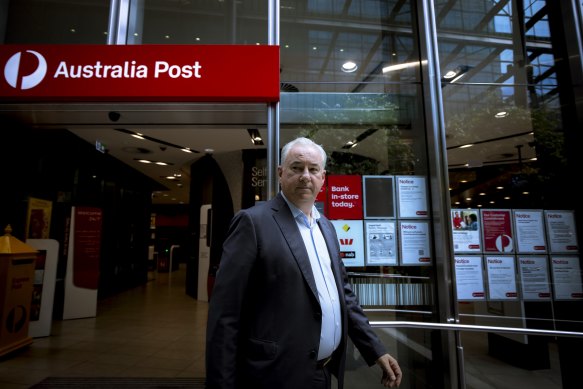 The review has placed a number of reforms on the table, including changing regulations around how the group sets letter pricing, reviewing the frequency of letters delivery, and considering whether Australia's retail post office footprint is fit for purpose.
In its own submission to the review, Australia Post highlighted that its letters business was no longer sustainable and pointed to three key areas for modernising the service. It suggested a simplified regulatory approach to letter pricing, considering changes to letter delivery and making sure its retail network is fit for purpose.
"Running our retail network cost more than $1.3 billion in FY22. Yet retail transactions (or purchasing goods and services) in Post Offices continues to decline, a trend also observed overseas," the postal carrier said.
The group has been investing in measures to amp up its e-commerce offer, including a launch of next-day delivery offer for metro businesses. 
Hundreds of jobs have also been axed at the group's head office this year as it looks to simplify its corporate structure.
More to come
Source: Thanks smh.com