ASX slides lower to kick off September; Fortescue dives
The Australian sharemarket slumped on Friday as one of the country's biggest iron ore companies saw another senior executive walk, and healthcare companies, consumer staples and real estate investment trusts drifted lower following a negative lead from Wall Street overnight.
The S&P/ASX 200 was down 31.1 points, or 0.4 per cent, to 7274.2 about 12pm AEST, even as the energy sector rallied.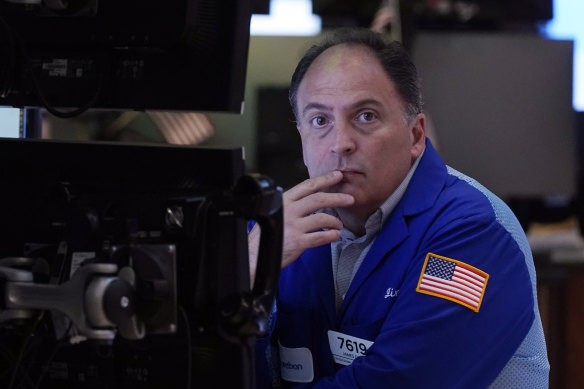 Energy (up 1.4 per cent) was the strongest sector on the local bourse as heavyweights Woodside and Santos gained 1.4 per cent and 1.6 per cent respectively and coal miner Whitehaven added 4.4 per cent.
Industrials companies (up 0.3 per cent) were also stronger on Friday with Auckland International Airport (up 3.6 per cent) and Atlas Arteria (up 1.6 per cent) among the biggest large-cap advancers.
The information technology sector (up 0.2 per cent) was buoyed by Altium which gained 0.1 per cent and WiseTech with rose 0.8 per cent.
Shares in Fortescue (down 5.1 per cent) dived after Fortescue Future Industries boss Guy Debelle became the latest senior executive to leave the firm just days after the company's chief executive walked.
On the losing end, lithium miners Liontown (down 3.9 per cent), Allkem (down 1.5 per cent) and Pilbara Minerals (down 2.1 per cent) weighed the broader mining sector which shed 0.6 per cent. Gold miners Evolution (down 2 per cent) and Newcrest (down 1.5 per cent) were also weaker. Iron ore heavyweight BHP slipped 0.2 per cent, further dragging down the sector.
Consumer staples (down 0.7 per cent) were also weaker as supermarket giants Coles (down 2 per cent) and Woolworths (down 0.1 per cent) traded lower.
REITS (down 0.9 per cent) were among the weakest companies on the index as Goodman Group (down 1.5 per cent), Charter Hall (down 1.3 per cent) and LendLease (down 1.2 per cent) dropped.
A late-afternoon fade left stocks modestly lower as Wall Street closed out its first losing month since February.
The S&P 500 gave up an early gain to close 0.2 per cent lower. The benchmark index ended August down 1.8 per cent, though a four-day winning streak going back to last week helped chip away at the severity of the monthly decline.
The Dow Jones fell 0.5 per cent, while the Nasdaq composite eked out a 0.1 per cent gain.
Market jitters over the possibility that the Federal Reserve might have to keep interest rates higher for longer following reports showing the US economy remains remarkably resilient led to the market's pullback in August after what had been a banner year. This week, reports on job openings, consumer confidence and inflation stoked hopes on Wall Street that the Fed may hold rates steady at its next policy meeting in September.
That helped limit the market's losses for August. The S&P 500, which soared 19.5 per cent through July, remains 17.4 per cent higher for the year, while the tech-heavy Nasdaq is up 34.1 per cent. The Dow is up 4.8 per cent.
"We've kind of entered this point of the year where economic data and earnings are mostly set, in terms of the market's expectations," said Michael Antonelli, market strategist at Baird. "But if we get cooler jobs data, cooler inflation data, if we get cooler spending data, that's what brings rates down dramatically and that gooses stocks higher. That's kind of what we saw this week."
On Thursday, the government reported that a measure of inflation closely tracked by the Federal Reserve remained low in July. The latest update for personal consumption and expenditures, or the PCE report, is the latest sign that price increases are cooling.
The central bank has raised its main interest rate aggressively since 2022 to the highest level since 2001. The goal has been to rein inflation back to the Fed's target of 2 per cent. PCE measured 3.3 per cent in July, matching economists expectations. That's down from 7 per cent a year ago.
The latest inflation data follows updates on jobs and consumer confidence this week that also supports hopes for the Fed to pause interest rate hikes. The central bank held rates steady at its last meeting and is expected to do the same in September. Investors are expecting rates to hold steady for the remainder of 2023, according to CME's FedWatch tool.
The Fed has maintained that it is ready to keep raising interest rates if it has to, but will base its next moves on the latest economic data.
Bond yields fell again Thursday. The yield on the 10-year Treasury slipped to 4.10 per cent from 4.11 per cent late Wednesday. The yield on the 2-year Treasury, which tracks expectations for the Fed, edged lower to 4.85 per cent from 4.88 per cent late Wednesday.
Wall Street has one more big economic update to look forward to this week. On Friday, the government will report employment data for August.
Markets in Europe mostly fell.
Source: Thanks smh.com