Can Target get out from Kmart's shadow?
Target, the 97-year-old retailer well known for its bargains and its bullseye logo, may have managed to ride out the pandemic but now finds itself in an unfamiliar position.
Long seen as the classier joint for well priced goods and clothes, Target is increasingly playing second fiddle to its superstar sibling, Kmart. Which in turn puts the owner of both discount department store brands – retail heavyweight Wesfarmers (which also owns Bunnings and Officeworks) – in a tricky spot.
As it laid out its financial results last week, Wesfarmers said that Target had delivered strong numbers despite consumer spending starting to soften. However, most of the attention was on the success of Kmart, which managed to grow sales in every category and every state during the year.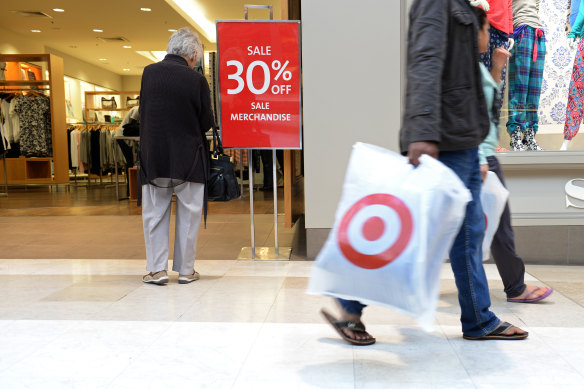 Target, by comparison, was less consistent throughout 2023. "Second half performance was variable across categories, with relatively stronger performance in apparel compared with challenging trading conditions in home and toys," the company said.
It's been three years since Wesfarmers undertook a major overhaul of the Target brand, involving the closure of some stores and the conversion of others to Kmart shopfronts as part of a major restructure.
And while the retail giant says the moves have put Target on a stronger footing, a piece of news last month ignited conversations in the retail sector about the road ahead for Target as discount shopping takes centre stage.
Wesfarmers confirmed a month ago that it will merge the technology and systems of Kmart and Target, essentially building a discount department mega-store, at least as far as the back office is concerned. It's a way for Wesfarmers to keep costs in check without passing too much of the burden on to its customers.
That news fuelled speculation about the long-term viability of the Target brand, if the back office is already under the one umbrella, how long before Kmart takes over from Target for good?
To add more fuel to the fire, Kmart's influence on Target at Wesfarmers' financial results presentation loomed large, as the conglomerate revealed that products from Kmart's blockbuster home-brand, Anko, would be rolled out across all Target stores from the second half of the 2024 financial year.
While Wesfarmers boss Rob Scott was keen to point out that Target was performing well and still had significant brand value, some product lines in its stores are clearly struggling to compete with the resounding success of Anko. Scott puts this down to the strong crossover appeal of Anko.
"What we're seeing is that in some categories such as home products, it's a lot harder to differentiate the offer relative to Kmart's Anko offer," he said when discussing Wesfarmers' financials last week.
"What's happened in the last five years or more is the quality of the Anko product in Kmart is just such great quality at such remarkable prices."
However, he denied that Kmart will completely consume Target in the long run, saying the plan is to continue operating both brands.
"We don't see there will be change — there will continue to be Kmart and Target stores," he said.
Despite that vote of confidence, the big challenge for Target in the new post-pandemic, high-interest rate environment is to carve out a specific identity. One that will make shoppers prioritise Target stores over other discount retailers, especially Kmart.
Australian Bureau of Statistics data for July suggests spending in department stores jumped by 3.6 per cent for the month, but spending in the sector has been largely flat since late last year.
Other discount department store operators are also cautious about the outlook, with Big W's operator Woolworths' boss Brad Banducci saying last month that sales trends at Big W indicate shoppers are pulling back on purchases like small kitchen appliances.
Fashion could be the category that gives Target a point of difference, with the retailer working hard to improve its clothing offer and Wesfarmers would look to position it as the destination for more budget-conscious clothing purchases.
"We're working really hard on apparel in both Kmart and Target, and we're seeing some good results because we feel like we're delivering better value than the majority of players in the market," Ian Bailey, the executive looking after the combined Kmart/Target operations told analysts when discussing the results.
For now, there are no indications of Target stores being shuttered and all the commentary from its owner seems supportive. But Kmart's dominance in the discount retail market, and its growing hold on the public, means its shadow is never too far away from Target.
The Business Briefing newsletter delivers major stories, exclusive coverage and expert opinion. Sign up to get it every weekday morning.
Source: Thanks smh.com