Why a referendum on a Joyce to parliament would fail
If there were a referendum held today on a Joyce to parliament, it would fail. The prime minister should reconsider his advocacy, lest he go down with it.
Qantas CEO Alan Joyce has become a major drag on a prime ministership with alarming parallels to Qantas flights: oversold, likely to disappoint or be cancelled, and designed to privatise gains while socialising losses.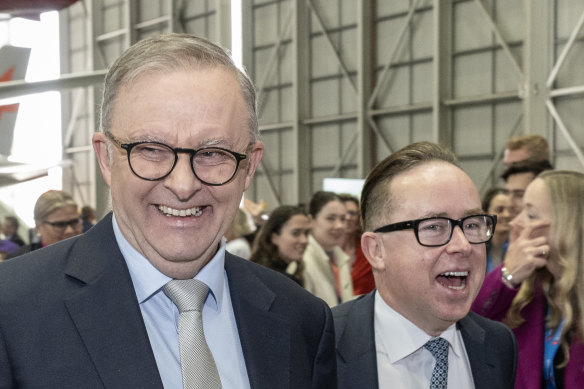 Anthony Albanese's political honeymoon is over; now voters are keen to know how – what with the difficulty of cashing in flight credits and prices sky-high – he got tickets for a honeymoon in the first place.
In 2010, Albanese was named Aviation Minister of the Year; in the same year, The Australian Financial Review dubbed Joyce "the Wizard of Oz". Joyce and Albanese were close even then, with the CEO praising Albanese as understanding "that a strong local aviation sector is essential to our national wellbeing". The Wizard of Oz moniker proved prophetic. In the story, the wizard's trickery is exposed, revealing a small man manipulating perceptions with pulleys and levers. Now Joyce's magic trick has been demystified, his tawdry collection of political levers and accounting pulleys is on full display.
Qantas under Joyce is a case study of evasive accounting. Literally. In the Australian Institute of Company Directors' course, Qantas is used as an example of accounting practices which are used to shape a narrative. Joyce likes to announce "underlying profit" to the media, which is a measure calculated to reflect a company's truth about how much money it generates, rather than the truth generally arrived at under international accounting standards, found in the statutory accounts.
The institute teaches cohorts of company directors to look out for the discrepancies between the two truths. The way Qantas reports is legal, to be clear, but when I did the institute course last year, I bluntly paraphrased the Financial Literacy and Performance unit facilitator in my notes: "using 'underlying profit' as a measure in company accounts is a warning sign – underlying profit is often higher than statutory profit, so it can indicate that the company is hiding something".
The government isn't averse to a bit of post-modernist accounting in its own federal budget, perhaps one of the reasons Joyce is naturally simpatico in Canberra. The prime minister Albanese is also not a known fan of hard numbers, having chosen to study "political economy" at university. That's the economics you're doing when you're not doing maths.
But for those who have the wherewithal to look, the signs have long been there that Qantas was having a lend and not a repay. As one jaded financial services professional points out, in 2014, Qantas announced a statutory loss of $2.8 billion. In the face of this terrible result, Joyce announced that Qantas would undergo a "transformation". Miraculously, in 2015, he was able to announce a $975 million underlying profit.
In that same year, Joyce commissioned and issued a Deloitte Access Economics report detailing "the Qantas Group's contribution to the Australian Economy". Unsurprisingly, it is splendiferous, finding that Qantas is an economic keystone which contributes 0.7 per cent of gross domestic product. Why did Qantas feel the need to issue such a document? Well, let's just say it's come in handy over the years.
In 2018, Joyce found himself defending the fact that the airline, despite "transformation", had not paid tax in three years. Nothing to see here. "Corporations tax is a tax on profits," he condescended. "If you don't make money, you don't pay the tax." And quite right he was. But Qantas profits bounce around erratically and quite conveniently.
A couple of years later, Qantas' huge contribution to the national economy was augmented by its absolutely essential role in bringing home Australians stuck abroad. Between that and its contribution to the national economy, a $2 billion taxpayer handout to the airline was a no-brainer.
Except that Qantas didn't bring many home, so it wasn't. Qatar was the airline that flew most Australians home after Qantas parked its fleet in the Californian desert. Now that Qatar wants to add more flights, maybe reducing the cost of airfares a bit, Joyce is arguing that competition would kill the flying kangaroo and probably plunge the nation into penury. Don't forget that 0.7 per cent of GDP!
But years of playing aerial acrobatics with the airline's accounting is starting to catch up with the Irishman. Qantas was, until this past week, looking like it would hold onto the pandemic billions, hold onto customer credits issued due to COVID cancellations, and hold onto its uncompetitive position in the market.
Then Qantas was forced by public outcry to extend the life of credits for flights cancelled during the pandemic. They had been due to expire on December 31, meaning Qantas customers would have forfeited their money to the airline's bottom line. The Australian Competition and Consumer Commission is also alleging Qantas sold tickets it knew it couldn't honour, and ACCC chief Gina Cass-Gottlieb wants the penalty to be something that can't be absorbed as a regular cost of doing business. She's hinted she wants a fine of more than $500 million.
An adverse Federal Court finding could wipe out any profit for the airline. Now, remember it was only last week that Joyce told us he was going to repay the pandemic handout with corporate tax. Perhaps that idea won't fly: "If you don't make money, you don't pay the tax."
Qantas' troubles have leapt out of the financial press and into the mainstream because they're hitting regular folk where it hurts: right in the cost of living.
Meanwhile, in bad news for Canberra, Alan Fels, the former head of the competition watchdog, is making sure that politicians can't slink out of the Chairman's Lounge unimplicated. Fels told ABC radio this week, companies should be looking after shareholders but the government should be looking after consumers, not companies.
That's a painful lesson for a Labor government to be schooled on publicly. As Qantas chairman Richard Goyder told the Australian Institute of Company Directors, "the biggest challenges are poor decisions made and also reputational issues". If only Albanese had been across the details of the Joyce to parliament, he might have realised – as prime minister – what a reputational risk the relationship posed.
Parnell Palme McGuinness is managing director at award-winning campaigns firm Agenda C. She has done work for the Liberal Party and the German Greens.
Source: Thanks smh.com