ASX lifts on lithium fever and energy stocks
Welcome to your five-minute recap of the trading day, and how experts saw it.
The numbers
Energy companies and miners powered the Australian sharemarket on Monday as takeover target and lithium minnow Liontown Resources' shares buoyed the materials sector. Investors were also in an upbeat mood after the latest economic data from the US showed jobs growth was starting to moderate.
The S&P/ASX 200 was up 40.5 points, or 0.56 per cent, to 7318.8 at the close, with consumer staples and utilities underperforming in the session.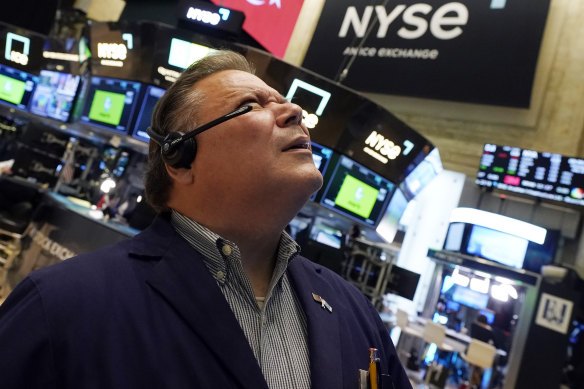 The lifters
Miners (up 2 per cent) were among the strongest companies on the local bourse on Monday as lithium and iron ore companies advanced. Liontown (up 8.8 per cent) was the biggest large-cap advancer after it said it would accept an improved $6.6 billion takeover bid from US giant Albemarle if given a binding offer at that price. Meanwhile, iron ore heavyweights BHP (up 2.7 per cent) and Rio Tinto (up 2.5 per cent) also stepped up.
The energy sector (up 1.6 per cent) was also stronger, bolstered by Woodside (up 1.7 per cent) and Santos (up 1.3 per cent) following a 2.4 per cent increase in Brent crude oil prices.
The laggards
On the losing end, Qantas (down 2.9 per cent) was among the biggest large-cap decliners, along with Ramsay Health Care (down 3 per cent) and Boral (down 2.1 per cent).
Consumer staples (down 0.6 per cent) was the weakest sector as supermarket giants Woolworths and Coles shed 0.5 per cent and 0.6 per cent respectively.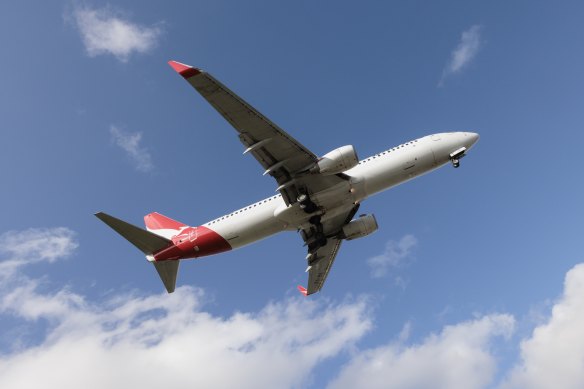 Utilities (down 0.5 per cent) were also weaker, with Origin Energy (down 1 per cent), APA (down 0.2 per cent) and Mercury NZ (down 0.2 per cent) all lower. SkyCity Entertainment Group fell 14.8 per cent to $1.85 after the casino operator said its New Zealand licence had come under regulatory scrutiny over alleged compliance failure.
Those slides came as the latest data from the Australian Bureau of Statistics showed household spending was 0.7 per cent lower when compared to July last year.
The lowdown
The Australian sharemarket turned around its losses from Friday, climbing on the back of commodity prices including iron ore and Brent crude which both rose. While consumer spending and company profits ticked down according to the latest data from the ABS, job ads remained resilient, gaining 1.9 per cer in August.
On Tuesday, the Reserve Bank is widely expected to keep the cash rate at 4.1 per cent for the third month in a row, which would help bolster investor confidence.
Earlier, a choppy day of trading led to Wall Street ending the week with slight gains, as the market notched its second straight winning week.
The market got a boost early on from a closely watched government report that showed US job growth increased at a healthy but more moderate pace last month. The report supports investors' hopes that the Federal Reserve will hold off on raising interest rates again in its bid to lower inflation.
After initially rising as much as 0.8 per cent following the release of the jobs report, the major indexes shed most of their gains and spent the day wavering between small gains and losses.
The S&P 500 finished 0.2 per cent higher. The benchmark index was coming off its first monthly loss since February. The Dow Jones Industrial Average rose 0.3 per cent, and the Nasdaq composite closed less than 0.1 per cent lower. Still, that slight dip broke its five-day winning streak.
The Department of Labor reported on Friday that employers added a solid 187,000 jobs in August. The job growth marked an increase from July's revised gain of 157,000, but still pointed to a moderating pace of hiring compared with earlier this year. From June through to August, the economy added 449,000 jobs, the lowest three-month total in three years.
The report also showed that the unemployment rate rose from 3.5 per cent to 3.8 per cent, the highest level since February 2022, though still low by historical standards.
Wall Street welcomed the latest monthly labour market snapshot, as it roots for the economy to show signs of lower inflation and cooling job growth so that the Fed will be able to ease up on its rate hike campaign.
"Today's employment report will add to recent data which indicates the Fed can pause on raising interest rates," said Steve Wyett, chief investment strategist of BOK Financial.
The strong job market, along with consumer spending, has so far helped thwart a recession that analysts expected at some point in 2023. But they also made the central bank's task of taming inflation more difficult by fuelling wage and price increases.
Market jitters over the possibility that the Fed might have to keep interest rates higher for longer – following reports showing the US economy remains remarkably resilient – led to the market's pullback in August.
But this week, stocks mostly rallied following reports showing job openings fell to the lowest level since March 2021, consumer confidence tumbled in August and a measure of inflation closely tracked by the Fed remained low in July. The recent economic snapshots have bolstered the view on Wall Street that the Fed may hold rates steady at its next policy meeting in September.
"From a data-dependent Fed perspective, the economic data we have seen in August in conjunction with today's jobs report certainly reinforces the idea that we have seen the last rate hike during this cycle," said Charlie Ripley, senior investment strategist for Allianz Investment Management.
The central bank has raised its main interest rate aggressively since 2022 to the highest level since 2001. The goal has been to rein inflation back to the Fed's target of 2 per cent. The Fed has maintained that it is ready to keep raising interest rates if it has to, but will base its next moves on the latest economic data.
Bond yields mostly rose on Friday. The yield on the 2 Year Treasury, which tracks expectations for the Fed, got as high as 4.91 per cent at one point, but fell to 4.88 per cent by late afternoon. It was at 4.87 per cent late on Thursday. The yield on the 10 Year Treasury, which influences interest rates on mortgages and other consumer loans, rose to 4.17 per cent from 4.11 per cent.
Banks and financial services stocks accounted for a big share of the gains among S&P 500 companies. Charles Schwab rose 2.3 per cent and US Bancorp added 1.5 per cent.
Rising oil prices helped push energy stocks higher. ExxonMobil rose 2.1 per cent and Chevron was up 2 per cent.
The price of US crude oil has continued to climb as production cuts by major producers continue to prop up the market. Many industry analysts are expecting Saudi Arabia to extend those cuts through to October.
Communications stocks were among the laggards. Disney dropped 2.4 per cent after the entertainment giant pulled its programming, including ESPN, from Charter Communication's Spectrum TV after the companies failed to come to terms on a new distribution deal. Charter was down 3.6 per cent.
Walgreens Boots Alliance fell 7.4 per cent after the company announced that chief executive Rosalind Brewer was stepping down at the end of the month and that Ginger Graham would take over as interim CEO.
All told, the S&P 500 rose 8.11 points to 4515.77 on Friday. The Dow gained 115.80 points to 34,837.71, and the Nasdaq slipped 3.15 points to 14,031.81.
US markets will be closed on Monday for Labor Day.
Tweet of the day
Quote of the day
"We openly acknowledge that our service standards fell well short and we sincerely apologise. We have worked hard to fix them since and that work continues," said Qantas in a statement to the ASX on Monday, while pushing back on claims that it engaged in charging "fees for no service".
You may have missed
The Australian arm of one of the world's biggest hotel businesses and most recognisable brands, Hilton Worldwide, is locked in a battle with the Tax Office over allegedly unpaid taxes amid accusations it set up a scheme to deliberately minimise its tax in Australia.
With AP
The Market Recap newsletter is a wrap of the day's trading. Get it each weekday afternoon.
Source: Thanks smh.com