ASX dips despite energy rally; $A slumps
Welcome to your five-minute recap of the trading day, and how experts saw it.
The numbers
The Australian sharemarket dropped on Wednesday, dragged down by financials and information technology companies after a weaker session on Wall Street overnight.
The S&P/ASX 200 was down 57.2 points, or 0.8 per cent, to 7257.1 at the close as all sectors except energy traded in the red.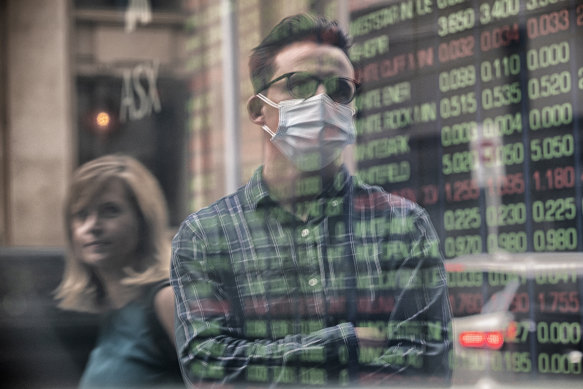 The Australian dollar fell sharply. It was fetching 63.91 US cents at the close.
The lifters
Coal miner Yancoal added 2 per cent and heavyweight Woodside rose 1.3 per cent, bolstering the energy sector (up 1 per cent) after a 1 per cent increase in Brent crude oil prices overnight.
Qantas (up 1.5 per cent) was also among the biggest large-cap advancers on the day that its new CEO Vanessa Hudson took over the reins.
Iron ore heavyweight Fortescue (up 1.5 per cent) was stronger after a tough week in which three senior figures exited the business.
The laggards
The financials sector (down 1.1 per cent) traded lower as CBA (down 0.7 per cent) declined despite earlier gains on news it would acquire cloud-based invoice lending platform Waddle.
Macquarie lost 3.8 per cent after revising its short-term outlook. The company said income from its green energy investments would be lower in the first half of its financial year due to the timing of asset sales. The news came ahead of Macquarie's presentations at the Jefferies Asia Forum in Hong Kong and Goldman Sachs Annual ANZ Investment Forum in London this week.
Healthcare companies (down 0.5 per cent) also weighed down the local bourse, with Sonic (down 3.2 per cent) and Resmed (down 2.8 per cent) declining. UBS downgraded Resmed citing the rise of weight loss drugs such as Novo Nordisk's Ozempic, which could hurt demand for its sleep apnoea products.
Information technology companies (down 1.5 per cent) were also among the weakest on the index as WiseTech (down 0.5 per cent), Xero (down 1.6 per cent) and Altium (down 4.4 per cent) all declined.
The lowdown
Novus Capital senior client adviser Gary Glover said it was a bit of a weak day for the Australian sharemarket despite stronger-than-expected gross domestic product data.
"The GDP data today was reasonably positive, but sometimes bad data is good for markets because it helps to keep interest rates down," he said.
Glover said while an increase in oil prices overnight was positive for the energy sector, it added to overall negativity around inflation.
"If the oil price moves up, that puts inflationary pressure on many companies," he said.
The information technology sector was weaker following a period of strong performance, Glover explained.
"Growth sectors have been humming along, so the sell-off might be a bit of profit-taking," he said. "But trading overall has been pretty volatile since earnings season started."
Overnight on Wall Street, the major US stock indexes closed lower, giving back some of their recent gains as traders returned from the Labor Day long holiday weekend.
The S&P 500 fell 0.4 per cent, while the Nasdaq composite slipped 0.1 per cent. Both indexes were coming off their second weekly gain. The Dow Jones lost 0.6 per cent.
The selling was widespread, with decliners outnumbering advancers by more than 3 to 1 on the New York Stock Exchange.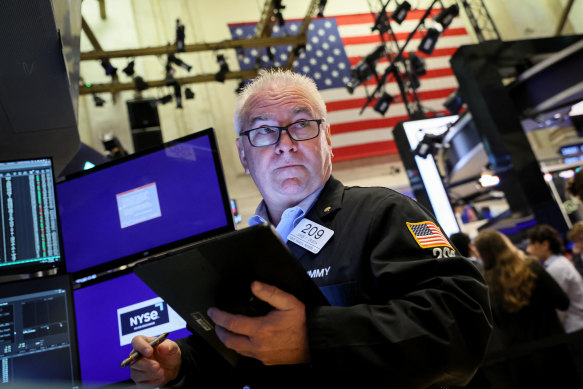 Losses in industrial, health care and financial stocks were the biggest drag on the benchmark S&P 500.
Technology stocks were the biggest bright spot. Microsoft rose 1.5 per cent.
Smaller company stocks also lost ground, sending the Russell 2000 index 2.1 per cent lower.
The yield on the 10-year Treasury, which influences interest rates on mortgages and other loans, rose to 4.27 per cent from 4.18 per cent late on Friday. The yield on the 2-year Treasury, which tracks expectations for the Fed, rose to 4.96 per cent from 4.88 per cent.
Coming off the Labor Day holiday, investors have few economic reports to look forward to this week, while the latest round of corporate earnings is essentially finished.
"There's not much going on other than investors doing the mental arithmetic over whether the Federal Reserve will or will not continue to hike interest rates," said Sam Stovall, chief investment strategist at CFRA.
Last week, US investors were busy reviewing a heavy load of economic data as they try to get a better picture of the economy. Much of the information fuelled hopes that the Fed might moderate interest rate increases to fight inflation, which has been easing for months.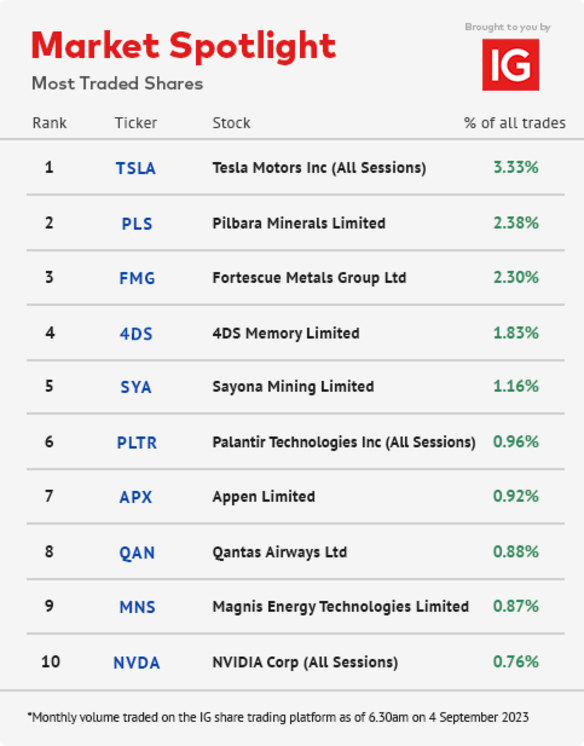 Wall Street expects the Fed to hold its benchmark interest rate steady at its next meeting later in September, just as it did at its previous meeting. Investors are mostly betting that the central bank will maintain that pause through the rest of the year.
The central bank has raised its main interest rate aggressively since 2022 to the highest level since 2001. The goal has been to rein inflation back to the Fed's target of 2 per cent. Several measures of inflation have gotten closer to that target and the economy is still growing. That has alleviated concerns about the aggressive rate hikes pushing the economy into a recession.
Analysts are still concerned about the potential for a recession, but those concerns have lessened as inflation cools and the economy remains resilient.
Markets in Europe and Asia closed mixed. Hong Kong's benchmark fell 2.1 per cent, as investors sold real estate shares which have gained recently following government efforts to support the ailing industry.
BHP chief executive Mike Henry said the world's biggest miner still has "some ways to go" to create a safe environment for all female employees after the company recently saw a 20 per cent increase in reported sexual harassment.
With AP
The Market Recap newsletter is a wrap of the day's trading. Get it each weekday afternoon.
Source: Thanks smh.com