Developers in $1.6b building blitz in Sydney's north
Developers are targeting Sydney's northern suburbs in a $1.6 billion building blitz of mixed-use master-planned estates that will add a swathe of new apartments, community areas and infrastructure to cope with the influx of residents.
With traditional commercial property sales at a near-standstill, developers are focused on mixed use, higher density projects that are aimed at helping to alleviate the supply issues with closer proximity to transport and the city precincts.
Frasers Property Australia and its partner Mitsui Fudosan will develop three additional apartment developments, with a combined end value of about $797 million, at the $2.2 billion Midtown MacPark master-planned community in Macquarie Park.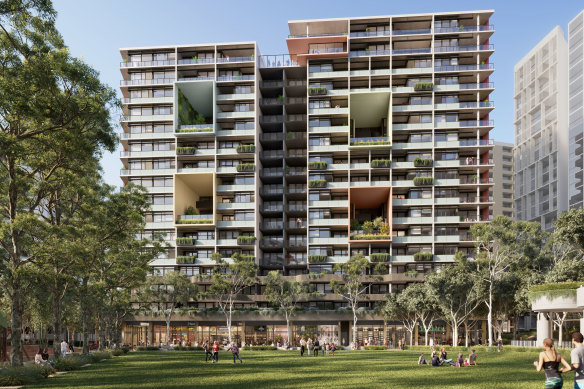 Frasers Property and Mitsui Fudosan are delivering the community's first building, MAC Residences, in a joint venture established in early 2022.
The expanded 50-50 partnership encompasses four buildings, including the landmark Treehouse development. In all, the joint venture is delivering a total of 1149 apartments and four terraces across the four buildings.
Mark Gleeson, executive general manager investments at Frasers Property said MAC Residences was Mitsui Fudosan's first foray into the Australian market, while the expanded joint venture at Midtown MacPark is their second.
To be developed in stages over the next 10 to 12 years, Frasers Property is working with the NSW government to deliver the $2.2 billion Midtown MacPark mixed-tenure community, which will integrate 3300 apartments with a range of community facilities.
Gleeson said Midtown MacPark, which sits 13 kilometres north of the city, will bring more open space, new amenity and infrastructure to the zone, including a central village green, pocket parks and playgrounds, cycling and walking trails.
He said within the Midtown MacPark's 269 apartments, only seven remain unsold. A range of buyers have included first home buyers, young families, singles and couples, downsizers and investors. It was designed by Bates Smart.
At Castle Hill, Sydney property developer, Ellipse Property has appointed construction company Decode Group to build stage one of its $850 million master-planned community. Decode has an iCIRT rating, which is obtained through a thorough assessment of all aspects of a business, aimed at building transparency in the industry.
Located at 36 Carrington Road, opposite the Hills Showgrounds Metro Station and in the heart of Castle Hill, Carrington Place will comprise 771 apartments across five eight- to 12-storey buildings. The first stage, Atrium, will comprise 151 apartments within one mid-rise eight-storey building and offers a wide range of amenities.
Decode director Divya Mehta said being a rated builder "means we have a proven track record of success and that we stand behind our projects for long after they are completed".
NSW Building Commissioner David Chandler said the Decode project "aligns with Construct NSW".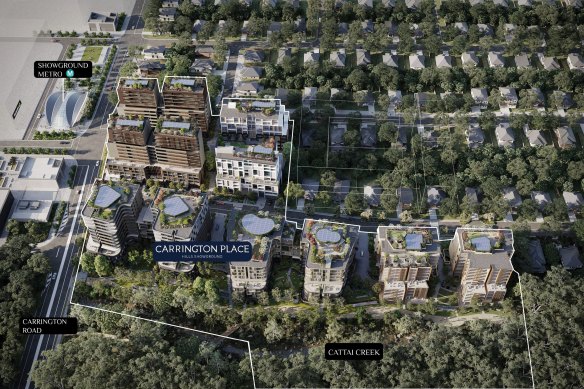 "The industry is starting to get on board with the massive reforms and Decode is a leader as one of the first 20 movers into iCIRT rating," Chandler said.
Carrington Place is designed by Tony Owen Partners together with Stanisic Architects and will include 20,000 square metres of outdoor recreational space and gardens, conceived by Site Image Landscape Architects.
Construction is planned to start soon, with stage one of Atrium due for completion in the third quarter of 2025. The entire five-stage precinct is due for completion in 2032.
The Business Briefing newsletter delivers major stories, exclusive coverage and expert opinion. Sign up to get it every weekday morning.
Source: Thanks smh.com