Miners, tech companies weigh down ASX as BHP goes ex-dividend
The Australian sharemarket declined on Thursday, dragged lower by miners and technology companies after heavy losses on Wall Street overnight. Index heavyweight BHP slumped as it started trading without the right to its latest dividend.
The S&P/ASX 200 was down 88.4 points, or 1.2 per cent, at 7168.70 shortly after 12:30pam AEST, with all sectors trading in the red.
Miners (down 2.4 per cent) led the losses, with the world's largest mining company BHP down $1.94, or 4.2 per cent, as it went ex-dividend, which means its stock traded without the rights to its latest $1.25 shareholder payout for the first time. Rivals Rio Tinto and Fortescue Metals Group lost 1.4 per cent and 0.3 per cent, respectively.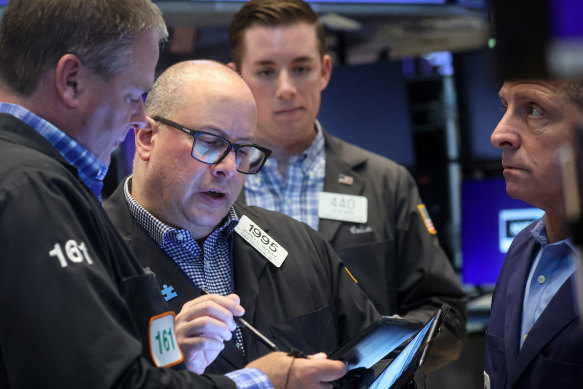 Lithium miners Allkem and Pilbara Minerals also declined, falling 3 per cent and 1.7 per cent, respectively. Exchange platform operator ASX (down 3.3 per cent) and coal miner Whitehaven (down 2.8 per cent) were other large-cap decliners.
Qantas (down 2.2 per cent) moved lower again as the fallout that culminated in the early departure of its CEO Alan Joyce continues. Information technology companies (down 1.4 per cent) were also among the weakest on the index, with WiseTech dropping 1.9 per cent.
On the flip side, real estate investment trusts were the strongest sector on the local bourse, led by Goodman Group, which gained 0.6 per cent, and GPT Group, which advanced 0.1 per cent.
Lithium miner Liontown (up 7.9 per cent) was the biggest large-cap advancer followed by Boral (up 1.1 per cent) and gold miner Evolution Mining (up 1 per cent).
Bendigo and Adelaide Bank (up 0.7 per cent) rose after the regional lender said it planned to redeem all of its $275 million subordinated notes maturing in November 2028 with an optional early redemption date set for November this year.
In overseas markets, US stocks fell again, extending Wall Street's weak stretch during the week shortened by Monday's Labour Day holiday.
The S&P 500 dropped 0.7 per cent, losing nearly half of last week's gains in two days of trading. The Dow Jones fell 0.6 per cent and the Nasdaq composite ended 1.1 per cent lower.
Big technology stocks were among the biggest drags on the market. Apple fell 3.6 per cent and Nvidia dropped 3.1 per cent.
The latest pullback in stocks came as Treasury yields climbed following data showing the US services sector remains strong.
The Institute for Supply Management's latest survey showed that the sector, which employs most Americans, grew at a faster pace than economists expected in August. The sector is among the biggest pieces of the US economy, and it has remained resilient throughout 2023 despite persistent inflation and rising interest rates squeezing consumers.
Bond yields jumped following the report. The yield on the 10-year Treasury, which influences interest rates on mortgages and other loans, rose to 4.30 per cent from about 4.25 per cent just prior to the survey's release.
The yield on the 2-year Treasury, which tracks expectations for the Federal Reserve, rose to 5.04 per cent from 4.96 per cent just prior to the survey's results being released.
The dominant economic theme in the US continues to be inflation and interest rates, which the Fed has boosted in an effort to bring down prices. Investors are hoping that the Fed might moderate interest rate increases going forward as inflation has been easing for months.
Inflation has been easing for months under the weight of the Fed's aggressive rate hikes that started in 2022 and brought its main interest rate to the highest level since 2001. The policy raised concerns that the central bank might be too aggressive and hit the brakes on economic growth with enough force that the economy would be thrown into a recession.
A strong jobs market and consumer spending have propped up the broader economy and staved off a recession, so far. Wall Street will get several more economic updates on inflation and retail sales later in September ahead of the Fed's next meeting.
Beyond the recent mix of economic reports, rising oil prices and a stronger US dollar may also be putting traders in a selling mood.
"The dollar has really had a strong move alongside a big move higher in oil prices, both of which in a vacuum are negative for corporate profits," Mayfield said.
With AP
The Market Recap newsletter is a wrap of the day's trading. Get it each weekday afternoon.
Source: Thanks smh.com