NAB boss says rates to drop next year with migration to boost growth
National Australia Bank chief executive Ross McEwan says interest rates will probably begin to drop next year and the economy is set to avoid a recession, even as growth slows.
On Thursday, McEwan told an Australian Lebanese Chamber of Commerce function that he would be "a wee bit surprised" if the Reserve Bank raised interest rates again this year.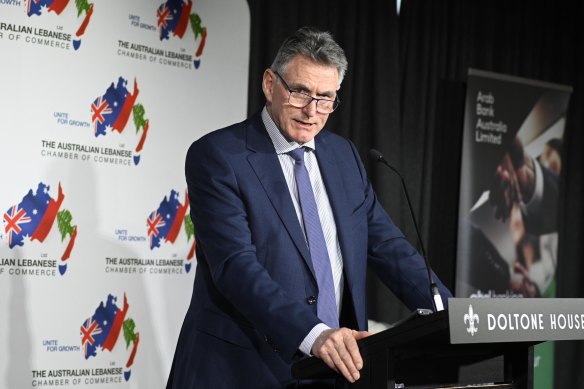 "I do feel that interest rates have got to the peak," he said. "They could [raise rates] but I think at around 4.1 per cent, things are slowing down enough that it's showing the big tool the Reserve Bank has is working. If we get another one, I don't think it'll make much difference."
McEwan said by next year, interest rates could begin to drop.
"I suspect midway to the latter part of next year, we may even see interest rates coming off a wee bit," he said. "That's when we'll have to get this economy moving again, and there's always a big lag between the rate changes and for them to work through the economy."
While the Australian economy has been slowing, McEwan said it has remained resilient despite 12 interest rate increases within 12 months. He noted this week's figures showing a slowdown in gross domestic product (GDP) growth, but predicted Australia would avoid a recession, which commonly refers to two quarters in a row where the economy contracts.
"It's clear that activity has slowed from this time last year, and we saw that in the GDP stats that came out this week," he said. "There are groups that are really struggling, but what's been really interesting is that households have been very resilient. I believe that towards the end of next year, we will be talking about an economy that is starting to grow steadily again."
McEwan said migration would bolster this growth. "The word is that there's 400,000 people coming to this great country, and it's very hard to have a recession when you've got that number coming over that need somewhere to live, that need the food and that need the services."
In his final speech on Thursday, Reserve Bank governor Philip Lowe said the share of Australians with a job had never been higher than it has been recently and that "it is possible that Australia can sustain unemployment rates below what we have had over the past 40 years."
McEwan said while labour shortages were "quietening down", they remained an issue, especially in the construction industry and for big infrastructure projects.
Lowe said the country was in an environment of stronger growth in nominal wages. "My recent focus has been the risk that the period of high inflation could lead to wages growth and profits running ahead of the rate that is consistent with a sustainable return of inflation to target," he said. "While recent data provide some comfort on this front, we need to remain alert to this risk for if it were to materialise, inflation would become sticky, which would require tighter monetary policy and more economic pain later on."
Despite challenges and indications of a softer growth, McEwan said Australia would remain resilient. "It's slowing down, but I think we've still got a pretty robust economy tucked in underneath."
Source: Thanks smh.com