Opening auction bid leaves other buyers in dust
Chemist Warehouse associate Michael Spektor splashed out $10.93 million on a pharmacy in a pocket of Hawthorn resplendent with chemist shops.
Industry sources report Spektor was the winning bidder at last week's auction of 736-740 Glenferrie Road, a double-storey shop within spitting distance of two Chemist Warehouse outlets – across the road at number 745 and next door – which are rented by the pharmacy chain.
Spektor's property company National Retail Group is part-owned by Chemist Warehouse directors. They are regular buyers of the freehold properties housing Chemist Warehouse outlets around Melbourne.
A $5 billion stock market listing for Chemist Warehouse has been on the cards for the past five years.
Two other bidders competed in the auction for the 716 square metre shop, with other parties left in the dust by the opening bid of $9.8 million. It was on the market at $10.05 million, before selling $880,000, or 8.75 per cent, above its reserve.
The auction was handled by Gorman Allard Shelton's Peter Bremner, Stephen Gorman and Jonathon McCormack. The sale reflects a yield of 4.7 per cent and a building rate of $14,030 a square metre.
Terry Smart pharmacy has a further seven years and two five-year options remaining on the lease.
Two weeks ago, the agents sold another chemist shop in Doncaster East. Chandra Pharmacy has occupied the shop at 274-276 Blackburn Road for around 50 years. It fetched $4.77 million at auction, reflecting a yield of 4.6 per cent and a building rate of $17,363 a sq m.
Bremner said the buyer lived locally and was looking for a secure, long-term tenant.
Kew
Another local – a land-banking private investor – is paying $12.18 million for a small 1980s-era shopping centre in Kew Junction.
The 1296 sq m building at 4-14 Walpole Street is on a large 1570 sq m site in a Commercial 1 zone which could yield a new five-storey building.
Fitzroys' David Bourke, Chris James and Ben Liu sold the property, which is opposite Woolworths supermarket, for a family who originally developed it more than 30 years ago.
Bourke said 12 offers were lodged, from a mix of local and Asian-capital backed buyers.
The deal reflects a sharp yield of 2.5 per cent. It is fully leased to nine tenants on a range of long leases.
Kew Junction is poised for a renaissance. Chef Guy Grossi recently opened a new Italian restaurant in the Clifton Hotel, down the hill.
Kilmore
An as-yet unnamed private school is understood to be paying around $17 million for the 5.01 hectare property which once housed the Kilmore International School.
Skywriters, the vendor of the historic property at 32-42 White Street, also owned the rights to the Kilmore International School name. It is owned by British Virgin Islands-based company Chang Mao International Education Investment Holdings.
The school, established in 1990 for local and international students, collapsed last year owing more than $6.5 million. It was originally built in 1887 for the Marist Brothers and included a separate primary school, a library, sporting and dining facilities and separate boarding houses for boys and girls. Savills agents Julian Heatherich and Tanya Su brokered the deal but declined to comment.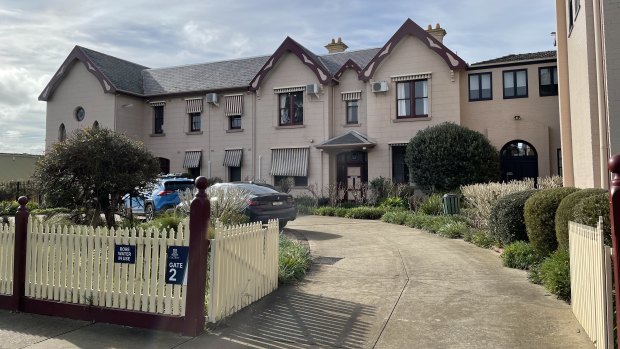 Richmond
A developer came out ahead at 294-298 Swan Street, on the corner of Mary Street in Richmond, paying around $15 million for the 1313 sq m plot.
Near Burnley railway station, the property is leased to Red Rooster and the Back in Motion Health Group, which pay a total $304,000 a year in rent.
JLL's Josh Rutman, Jesse Radisich, Nick Peden and MingXuan Li handled expressions of interest, with Urbis acting as transaction advisor.
Baby clothes maker Pure Baby has spent $7 million on 112-114 Cubitt Street, Cremorne, and will move out of rented space at 8 Sturt Street, Collingwood. The three-level 622 sq m office building is on a 600 sq m land parcel and has space for 18 car parks.
Colliers agent Alex Browne, who did the deal with Ben Baines and Lucas Soccio, said the buyer "out-muscled developers" to buy the property, which was an amalgamation of six strata suites.
Developments
Back on the market is the former Como Private Hospital in Parkdale, in the bayside suburbs, and a former car dealership in Doncaster.
The 3500 sq m hospital at 152 Como Parade is about 10 minutes' walk from Mentone beach and has had quite the storied history in the past five years.
The building is on juicy 4765 sq m of land and sold in 2018 to collapsed property developer Stellar for $11 million, though the deal never settled.
After Stellar's demise, the hospital sold to its tenant Calvary Healthcare, which paid $10.2 million and was considering its own development on the site. Calvary has given up on that plan and listed it with Savills agents Julian Heatherich, James Latos and Benson Zhou.
The site – expected to fetch north of $9 million – is leased at $528,000 a year to the Level Crossing Removal Authority, which is removing the crossing and rebuilding Parkdale rail station.
On the Doncaster Hill, the team has listed a former Volkswagen dealership at 811-813 Elgar Road, which has most recently been a vaccination and COVID-19 testing centre.
The 8176 sq m site has planning approval for an 11-storey apartment development, and last changed hands in 2015 for $22 million. It is expected to sell for more than $20 million this time around.
Interflora
Flower delivery business Interflora is making a move from Prahran to West Melbourne, and has listed for sale its St Edmonds Road premises.
The two-level, 1202 sq m property is on a 964 sq m parcel of land at 4-12 St Edmonds Road, with access to Macquarie Street at the rear. It is off High Street and has Activity Centre zoning that allows for multi-level redevelopment.
The street is already full of low-rise modern apartments and townhouses and developers are expected to feature among the bidders.
Gorman Allard Shelton agents Peter Bremner and Jonathon McCormack are running the expressions of interest campaign. It is expected to sell for between $9.5- $10 million.
Interflora will be pocketing some change. Records show it paid $2.58 million for new digs at 114-118 Miller Street in January 2022.
Source: Thanks smh.com