ASX slides lower to kick off the week; banks step up
The Australian sharemarket opened in the red on Monday after four consecutive days of decline last week, despite Wall Street breaking its losing streak.
The S&P/ASX 200 was down 7.4 points, or 0.1 per cent, to 7149.3 about 11.50am AEST, dragged down by information technology and healthcare companies.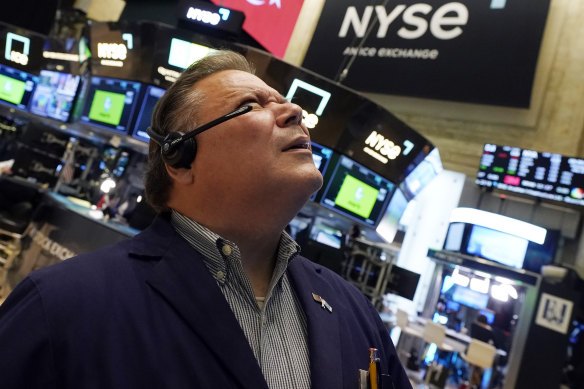 Energy companies (up 0.4 per cent) were among the strongest stocks on the local bourse as Brent crude oil prices edged up 0.6 per cent. Heavyweights Woodside (up 0.5 per cent) and Santos (up 0.6 per cent) both advanced alongside Ampol (up 0.5 per cent).
Financials (up 0.8 per cent) led gains on the index as the big four banks traded higher. ANZ (up 1.1 per cent), NAB (up 0.9 per cent), CBA (up 0.8 per cent) and Westpac (up 0.8 per cent) were among the biggest large-cap decliners.
Shares in Bendigo and Adelaide Bank (up 2.6 per cent) increased after the bank announced David Foster as its next chair following the retirement of Jacqueline Hay. Foster was most recently chief executive of Suncorp Bank from 2008 to 2013 and joined Bendigo's board in 2019.
Suncorp (up 0.9 per cent) and Macquarie Group (up 0.8 per cent) were also stronger.
Meanwhile, lithium miners were among the biggest large-cap decliners with Liontown losing 1.2 per cent despite US lithium giant Albemarle's proposed $6.6 billion takeover of the company taking another step forward. Allkem (down 1.8 per cent) and Pilbara Minerals (down 2.7 per cent) both declined.
The information technology sector (down 1.8 per cent) dropped as Xero (down 2.7 per cent) and WiseTech (down 0.9 per cent) both slipped lower.
Real estate investment trusts (REITS, down 1.1 per cent) were also weaker as Goodman Group dropped 1 per cent, Vicinity Centres lost 2.5 per cent and Mirvac declined 1.7 per cent.
Cleanaway Waste (down 3.2 per cent) was the biggest large-cap decliner.
Elsewhere, stocks edged higher, but not by enough to keep Wall Street from closing out its first losing week in the last three.
The S&P 500 ticked up 0.1 per cent after falling for three straight days. It lost 1.3 per cent for the week, which was shortened by the Labor Day holiday.
The Dow Jones rose 0.2 per cent and the Nasdaq composite added 0.1 per cent.
Those indexes also fell for the week because of worries that a too-warm economy will push the Federal Reserve to keep interest rates high for longer. Traders ratcheted back expectations for cuts to rates next year by the Fed, after reports showed the US economy remains resilient despite much higher rates and struggles for other economies around the world.
Such data have pushed yields higher in the bond market, which hurts stock prices. But yields held relatively steady on Friday, helping to keep Wall Street quiet.
The upcoming week could be a busier one for markets globally. The centrepiece is likely the latest monthly update on inflation in the United States, due on Wednesday. Economists expect it to show prices at the consumer level were 3.6 per cent higher in August than a year earlier.
Inflation has been generally cooling since peaking above 9 per cent last summer, but the worry is the last bit of improvement to get to the Fed's 2 per cent target may prove the most difficult. That's why strong economic reports recently have unsettled the market. They could be providing fuel for US households to keep spending, which encourages companies to try to push prices up further.
Bank of America says the slow moderation of the job market could push the Fed to hike rates again in November. Most of Wall Street expects the Fed to stand pat on rates at its next meeting later this month.
Also coming this week will be a decision on rates by the European Central Bank and more data about China's economy. China's recovery since removing anti-COVID restrictions has fallen well short of expectations, which has removed a big driver of growth for the global economy but also helped to remove some upward pressure on inflation.
With AP
The Market Recap newsletter is a wrap of the day's trading. Get it each weekday afternoon.
Source: Thanks smh.com