Rock and roll all night, and school every day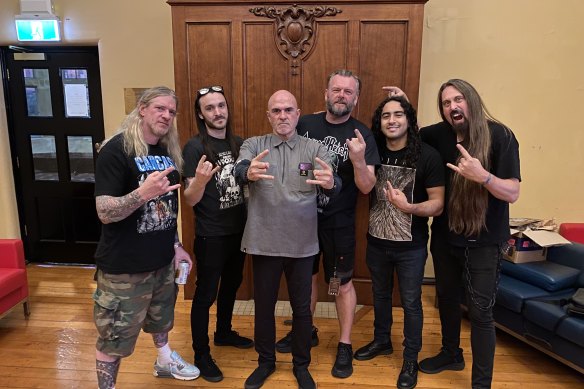 Name: Mark Snedden
Job title: Principal Kotara High School
What do you do – what does a typical workday/week look like for you?
The most important parts of my job are interacting with students, staff, and the community. I don't think that you can lead a school without being visible and approachable. It never slows down and no two days are the same.
How long have you been doing this job, and what first sparked your interest in this area?
I have been a principal for 14 years in three different high schools. As a principal, you can have a huge impact on students and the broader community.
What do you like most about the job?
The difference you can make and the relationships you form with students, staff and the community. Supporting young people moving through their education and helping them to be successful is what this role is all about. There are not many professions where you get to work so intensely with young people for such a long period of their lives.
What was the most unexpected thing you have had to do in your job?
I've done a range of left-field things from hosting Super Car drivers at an assembly, graduating a guide dog, speaking at an assembly for a Japanese secondary school, accompanying music students as a vocalist for HSC examinations and setting up a hairdressing salon in a school.
In your spare time you dabble in a bit of work as a roadie for rock bands, how did you get into that?
I used to be a singer in a band and got involved that way. It's such a change of pace from school! I recently did some roadie work with US thrash metal bands Sacred Reich and Vio-lence. It was so much fun and great to see the bands play every night.
What's been your biggest brush with fame or memorable moment when being a roadie?
I've been lucky enough to have worked with English hard rock icons Iron Maiden since 1997. I've written their fan club biography, contributed to their website and magazine, and toured with them. They are such a great band to be around; professional, hardworking and very supportive.
And what's the toughest gig, managing a large group of teenagers or a catering to the whims of a rock band? Are some of the skills transferable?
Ultimately, it is all about working with people. I really don't think you can be an effective principal if you can't build rapport, and you can't work on the road with bands without this skill either.
Did you have any other careers before you became a teacher and principal? What did you do before and how were those skills relevant to what you do now?
I always wanted to work in public education and was fortunate to go through my schooling in the public system. The support and inspiration I had from staff at Barnsley Public School and then West Wallsend High School in Newcastle made the decision easy for me.
What advice do you have for people wanting to get into this career? What should they study and what experience do they need to get into this field?
That you are a teacher of young people before being a teacher of subjects. The job goes well beyond the classroom.
What personal skills do teachers need?
Empathy, communication and emotional intelligence. Students don't always remember what you have taught them, but they will always remember how you made them feel.
The Market Recap newsletter is a wrap of the day's trading. Get it each weekday afternoon.
Source: Thanks smh.com