ASX set to edge lower as Wall Street slides; Apple drops
US stocks are drifting as Wall Street waits for highly anticipated reports later this week about inflation and the economy.
The S&P 500 was 0.5 per cent lower in afternoon trading. The Dow Jones was down 0.1 per cent and the Nasdaq composite was 1 per cent lower. The Australian sharemarket is set to retreat, with futures at 4.57am AEST pointing to a drop of 4 points, or 0.2per cent, at the open. The ASX added 0.2 per cent on Tuesday.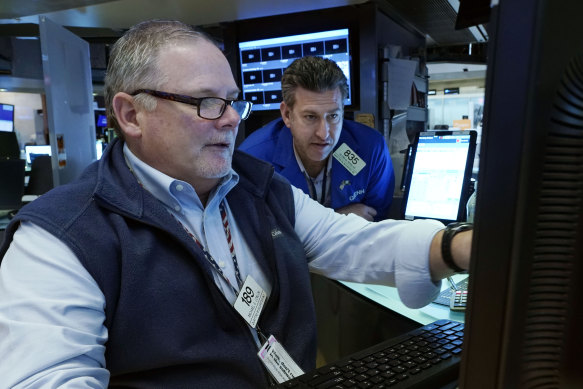 Software giant Oracle was weighing on tech stocks after reporting revenue for the latest quarter that fell just short of what analysts expected. Its stock tumbled 14.1 per cent, even though its profit topped expectations.
Oracle's forecast for how much revenue it will make in the current quarter wasn't as strong as some analysts expected, even as it touts customers signing up for services because of the boom around artificial-intelligence technology.
Apple was 2.4 per cent lower after it unveiled its latest phone models and other devices. The stock soared through much of this year, which is crucial for many investors because it's the most valuable company on Wall Street and has more sway on the S&P 500 than others. But it's been struggling since the end of July and has reported three straight quarters where its revenue fell from year-earlier levels.
Alphabet, meanwhile, was 0.8 per cent lower as an antitrust trial against Google opens in federal court. It's the biggest such trial since regulators took Microsoft to court in 1998. The US government is accusing Google of abusing its position as the world's dominant search engine and forcing consumers to settle for inferior search results.
On the winning side of Wall Street, stocks of oil producers rose with the price of crude. Exxon Mobil rose 2.7 per cent and was the single strongest forces pushing upward on the S&P 500. Occidental Petroleum gained 4 per cent.
Oil prices have been climbing since the end of June after mostly falling for a year. A barrel of US crude rose 1.9 per cent to $US88.94, while Brent crude, the international standard, added 1.6 per cent to $US92.06 per barrel.
Stocks broadly have been see-sawing in recent weeks amid uncertainty about whether the Federal Reserve is done with its avalanche of hikes to interest rates. The central bank has already pulled its main interest rate to the highest level in more than two decades, as it tries to get inflation back down to its target of 2 per cent.
High rates work to undercut inflation by slowing the entire economy and knocking down prices for stocks and other investments.
Several strong reports on the economy recently have allayed worries about a painful recession, defying long-held predictions for just that. But they also may be adding more fuel to pressures keeping inflation high, which could push the Fed to keep rates higher for longer.
Hopes for the economy to remain resilient mean professional fund managers are globally feeling less pessimistic about stocks. They're investing the most in stocks that they have in the past 17 months, according to a survey by Bank of America, though they're not going all-in and continue to keep a significant chunk of their portfolios in the safety of cash.
Sixty percent of fund managers say they think the Fed is done hiking rates, investment strategists led by Michael Hartnett wrote in a BofA Global Research report. That's a sharp turnaround from July, when just 9 per cent were saying that.
Several reports coming up this week could sway the Fed's thinking. On Wednesday will come the latest monthly update on prices that US consumers are paying across the country.
Economists expect it to show that prices were broadly 3.6 per cent higher last month than a year earlier. Inflation has been mostly cooling since peaking above 9 per cent last summer, but economists warn the last bit of improvement may be the most difficult to win.
On Thursday will come reports about inflation at the wholesale level and about sales at US retailers. Strong spending by US households has been a main driver keeping the US economy humming, but it could also be encouraging companies to keep trying to raise their prices further.
Most traders expect next week's meeting by Federal Reserve to leave interest rates where they are. But stronger-than-expected reports this upcoming week could sway things for later this year, where traders see a higher risk of another hike to rates.
Traders have also been paring expectations for cuts to interest rates that could occur next year.
In the bond market, the yield on the 10-year Treasury slipped to 4.27 per cent from 4.29 per cent late Friday. The two-year Treasury yield, which moves more on expectations for the Fed, rose to 5.01 per cent from 4.99 per cent.
In stock markets abroad, Japan's Nikkei 225 jumped 1 per cent, while indexes were weaker across much of the rest of Asia.
Stocks were mixed across Europe. Later this week, the European Central Bank will meet to decide what to do with interest rates for countries that use the euro currency.
AP
Source: Thanks smh.com