ASX steps up after jobs data; Wall Street scuffles on inflation report
Welcome to your five-minute recap of the trading day, and how experts saw it.
The numbers
Miners and banks powered the Australian sharemarket on Thursday as it reemerged from the red following a highly anticipated inflation report in the US overnight and jobs data domestically.
The S&P/ASX 200 was up 32.6 points, or 0.5 per cent, to 7186.5 as all sectors except healthcare, consumer staples and consumer discretionary companies traded in the green.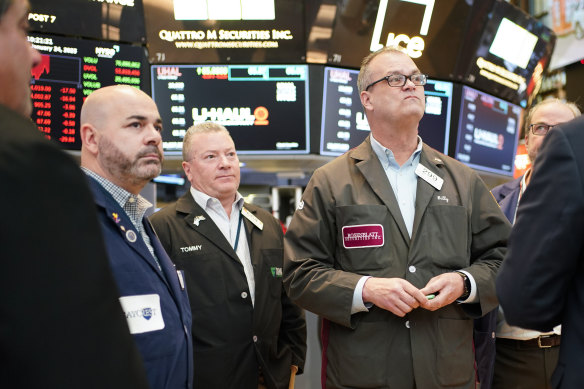 The lifters
Miners (up 1 per cent) were among the strongest on the local bourse, led by iron ore heavyweight Fortescue (up 4.1 per cent). Rio Tinto (up 1.8 per cent) and BHP (up 0.8 per cent) were also stronger after the iron ore price climbed to $120 a tonne.
The big four banks also traded higher, with CBA gaining 0.4 per cent, NAB advancing 1.1 per cent, ANZ climbing 1.1 per cent and Westpac adding 0.6 per cent.
Energy companies (up 0.4 per cent) also gained, with coal miners New Hope (up 2.5 per cent) and Whitehaven (up 3.4 per cent) among the biggest large-cap advancers. Heavyweights Woodside (up 0.1 per cent) and Santos (up 0.1 per cent) edged up despite a 0.3 per cent slide in Brent crude oil prices.
The laggards
Meanwhile, Spark New Zealand (down 4 per cent) was the biggest large-cap decliner.
Healthcare (down 0.6 per cent) was the weakest sector, with shares in EBOS declining 1.9 per cent, Resmed shedding 1.6 per cent and CSL losing 0.9 per cent.
Consumer-facing companies slipped lower as supermarket giants Woolworths (down 0.6 per cent) and Coles (down 0.2 per cent) declined and Wesfarmers shed 0.2 per cent.
Industrials companies Cleanaway Waste Management (down 1.2 per cent) and Auckland International Airport (down 1.1 per cent) were also weaker.
The lowdown
IG Australia market analyst Tony Sycamore said the Australian sharemarket had been trading sideways for the past five months, with data suggesting the US and Australian economies were failing to cool sufficiently to allow central banks to draw a line beneath their rate-hiking cycles.
"Today's labour force report showed the Australian economy added 64,900 jobs in August against the expected 25,000," he said. Even after accounting for the drop in employment in July, around the school holiday period, Sycamore said, "today's set of numbers won't give the RBA the breathing room it might have been hoping for to sign off on its rate hiking cycle".
Miners and banks were among the key lifters in the Australian sharemarket on Thursday, Sycamore said. "The big miners led the ASX 200 higher today as the price of iron ore climbed to $120 per tonne," he said, while the banking sector gained as bond yields eased following US inflation data on Wednesday night.
The US inflation report led to a mixed finish on Wall Street after it showed inflation accelerated across the US last month, but not by much more than expected.
The S&P 500 edged up by 0.1 per cent after flipping between small gains and losses a few times through the day. The Dow Jones dropped 0.2 per cent and the Nasdaq composite rose 0.3 per cent.
The modest moves followed a shaky immediate reaction to the inflation report across financial markets, where bond yields and stock prices swung back and forth several times. The report said US consumers paid prices last month that were 3.7 per cent higher than a year earlier, up from July's inflation rate of 3.2 per cent.
That's discouraging for shoppers paying higher prices, but much of the acceleration was because of higher fuel costs, which can swing very sharply and quickly. Ignoring those, underlying inflation trends still look to be pointing towards continued moderation, economists said. Inflation has been generally cooling since peaking above 9 per cent last year.
The inflation report was so highly anticipated because it will help steer what the Federal Reserve does next on interest rates. The Fed has already raised its main rate to the highest level in more than two decades, which hurts prices for stocks and other investments, and the hope on Wall Street is that inflation has cooled enough for the central bank to be done.
Wednesday's data likely keeps the Fed on track to keep rates steady at its meeting next week, said Gargi Chaudhuri, head of iShares Investment Strategy, Americas. It could also mean trends continue in such a way that the Fed does not hike rates any more during this cycle.
But she also said expectations among traders on Wall Street for cuts to interest rates next year may be too aggressive. Such cuts can act like steroids for stocks and other investments, but inflation is still above the Fed's target rate of 2 per cent.
"If anything, higher headline inflation is proof that the Fed will need to keep rates higher for longer and that heavy rate cuts next year are mispriced," Chaudhuri said.
Stocks of airlines were some of the biggest losers in the S&P 500 after a couple of them warned of the hit to profits they're taking because of higher costs.
American Airlines cut its forecast for profits during the northern hemisphere summer because fuel costs are running higher than it expected. It also had to pay about $US230 million ($358 million) in retroactive pay to pilots after they ratified a new labour contract. Its stock fell 5.7 per cent.
Spirit Airlines said it's also paying higher fuel costs than expected, roughly $US3.06 per gallon instead of the $US2.80 it had earlier forecast.
On the winning end of Wall Street were high-growth stocks that could be big beneficiaries if the Fed is indeed done hiking interest rates. High rates hurt all kinds of investments, but they often most hurt technology companies and others that run high on debt with promises of big growth far out in the future.
Amazon climbed 2.6 per cent and was one of the strongest forces pushing upward on the S&P 500. Microsoft gained 1.3 per cent, and Nvidia rose 1.4 per cent.
In the bond market, the yield on the 10-year Treasury edged down to 4.26 per cent from 4.27 per cent late Tuesday. It had swung as high as 4.34 per cent immediately after the inflation report.
The two-year Treasury yield, which moves more on expectations for Fed action, slipped to 4.99 per cent from 5.02 per cent late Tuesday. It also leaped earlier and was as high as 5.07 per cent a minute after the inflation report's release, as traders digested the numbers.
The report said that prices paid by US consumers rose 0.3 per cent in August from July, after ignoring costs for food, petrol and other energy prices that can swing quickly. That was a touch faster than the 0.2 per cent month-over-month inflation rate that economists expected.
Tweet of the day
Quote of the day
"The customer wants new stuff – they are not going to buy any of the old product," said Myer boss John King, with shoppers continuing to splash cash on spring and summer fashion, travel goods and kidswear despite evidence that spending is slowing at the department store.
You may have missed
Australia's biggest business organisation says employers will be on notice over how they move to outsource work, after a landmark High Court ruling that Qantas illegally sacked 1700 staff during the depths of the COVID-19 pandemic.
With AP
The Market Recap newsletter is a wrap of the day's trading. Get it each weekday afternoon.
Source: Thanks smh.com