Miners, banks drive ASX surge after Wall Street rallies
Wall Street rose after a blizzard of reports suggested the U.S. economy is still humming, though inflation may be too.
The S&P 500 climbed 0.8 per cent for its best day in two weeks. The Dow Jones rallied 1 per cent, and the Nasdaq composite added 0.8 per cent. The Australian sharemarket is set to rise, with futures at 5.05am AEST pointing to a rise of 88 points, or 1.2 per cent, at the open. The ASX added 0.5 per cent on Thursday.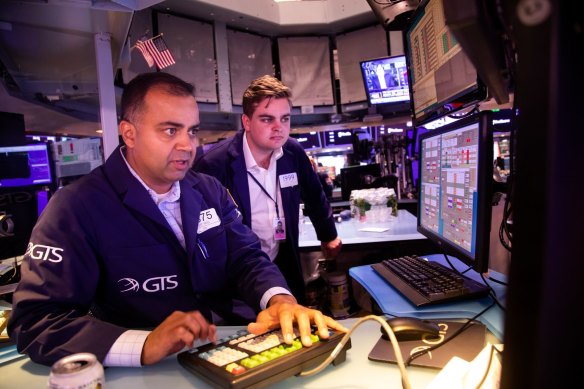 Some of the strongest action was in the bond market, where Treasury yields swung several times following the mixed economic data. While the reports added to evidence suggesting the US economy may avoid a deep recession, the strength could also be adding upward pressure on inflation.
One report said US shoppers spent more at retailers last month than economists expected. Such spending has been a linchpin for the economy, but it could also encourage retailers to keep trying to raise prices further.
The strong spending is a result of a remarkably resilient job market, which has withstood a steep jump in interest rates since early last year. A separate report Thursday morning said fewer workers applied for unemployment benefits last week than expected, which implies the number of layoffs remains low.
A third report said prices getting paid at the wholesale level rose more last month than economists expected. That could be a discouraging signal for households if the higher-than-expected inflation gets passed on to shoppers at the consumer level.
To try to get inflation back down to its 2 per cent target, the Federal Reserve has been increasing interest rates sharply. The hope on Wall Street is that a slowdown in inflation since last summer means the Fed is done with its rate hikes, which slow the economy and hurt investment prices.
Treasury yields initially jumped following Thursday's reports on fears they could push the Fed to raise rates again or at least to keep rates higher for longer. But economists pointed out much of last month's acceleration in wholesale inflation was due to higher fuel prices, which can shift direction sharply and quickly.
Ignoring those and other particularly volatile prices, underlying inflation trends in Thursday's report were closer to economists' expectations. That echoed a report from a day earlier on inflation at the consumer level, which showed overall inflation accelerated to 3.7 per cent in August largely because of a leap in fuel prices.
The yield on the 10-year Treasury initially jumped to nearly 4.30 per cent immediately after the economic data's release on Thursday morning. But it later eased back, only to swing again. It was sitting at 4.28 per cent, just above 4.25 per cent from late on Wednesday.
The two-year Treasury yield, which more closely tracks expectations for the Fed, also bounced up, down and back again following the reports. It rose to 4.99 per cent from 4.98 per cent late Wednesday. Earlier, it briefly leaped above 5.02 per cent.
Traders pared back expectations for the Fed to raise rates again some time this year, though they're still betting on a roughly 40 per cent chance of that, according to data from CME Group.
Optimism that the Fed may be done hiking rates may be overdone, warned Mike Loewengart, head of model portfolio construction at Morgan Stanley Global Investment Office.
"The Fed is still likely to remain on hold next week, but if the economy continues to surprise to the upside, all bets are off as to what they'll do after their final two policy meetings of the year," he said.
In the stock market, shares of chip designer Arm Holdings jumped 24.7 per cent in their debut. The strong welcome could be an encouraging signal for the IPO market, which has slowed since the stock market began tumbling early last year on fears about higher interest rates.
Stocks of energy producers also rose, thanks to another rally for oil prices. Crude has been climbing for months as oil-producing countries try to support its price by curtailing their supplies. A barrel of US crude rose back above $US90, helping ExxonMobil to climb 1.8 per cent and Marathon Oil to rise 2.9 per cent.
HP slumped 1.8 per cent after Warren Buffett's Berkshire Hathaway revealed it trimmed its stake in the personal computer and printer company. Berkshire still owns 115.5 million shares in HP after selling 5.5 million earlier this week.
Delta Air Lines, meanwhile, became the latest airline to cut its profit forecast because of higher costs. It said higher-than-expected costs for fuel and maintenance are cutting into its earnings, and its stock slipped 0.6 per cent.
All told, the S&P 500 gained 37.66 points to 4,505.10. The Dow rose 331.58 to 34,907.11, and the Nasdaq climbed 112.47 to 13,926.05.
In stock markets abroad, indexes rose in Europe after the European Central Bank raised its key interest rate to a record high but also made statements seen as hinting that it won't raise rates again for a while.
The hike is supposed to help undercut inflation among the countries that use the euro currency, but it adds pressure to an economy already seen at risk for a recession.
France's CAC 40 rose 1.2 per cent, and Germany's DAX returned 1 per cent.
Source: Thanks smh.com