ASX set to edge lower as Wall Street slips ahead of Fed decision
Stocks are slipping as Wall Street waits for the Federal Reserve's latest decision on interest rates.
The S&P 500 was 0.3 per cent lower in late trading. The Dow Jones was down 149 points, or 0.4 per cent and the Nasdaq composite was 0.4 per cent lower. The Australian sharemarket is set to edge lower, with futures at 5.01am AEST pointing to a fall of 10 points, or 0.1 per cent, at the open. The ASX lost 0.5 per cent on Tuesday.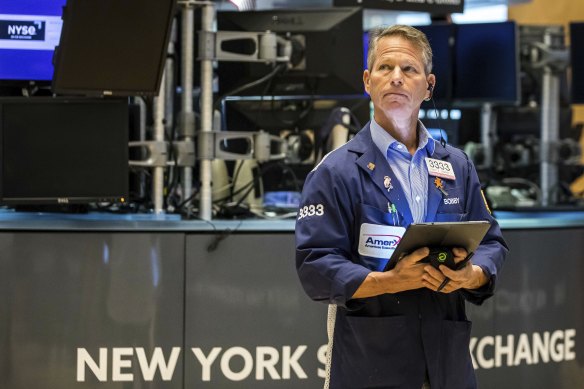 Stocks have been seesawing for weeks on uncertainty about whether the Fed is done with its market-shaking hikes to interest rates. By pulling its main interest rate to the highest level in more than two decades, the Fed has helped inflation to cool from its peak last year but at the cost of hurting prices for investments and damaging some corners of the economy.
The Fed is beginning its latest meeting on interest rates Tuesday, with an announcement scheduled for Wednesday. The overwhelming expectation is for the Fed to announce no change to rates. More focus will be on updated projections Fed officials give for where they see rates heading in upcoming years.
Traders are split on whether the Fed may raise rates one more time this year, but they're largely expecting the Fed to begin cutting rates next year. Such cuts can act like steroids for financial markets, giving a lift to all kinds of investments.
Optimists say inflation has come down enough for the Fed to cut rates meaningfully next year, while the economy continues to hum due to a solid job market. Pessimists say the Fed may need to keep rates higher for longer than investors expect to get inflation down to its 2 per cent target, while the threat of a recession still looms.
A soft landing, where inflation gets back to the Fed's target without the economy having to suffer a painful recession, "is still possible, but not probable in our view," according to Joe Davis, chief global economist and head of Vanguard's investment strategy group.
A risk remains that the Fed could misread a temporary slowdown in inflation as having accomplished its mission, which could lead to a cycle reminiscent of the late 1960s where inflation reaccelerates, the Fed hikes rates further and a recession eventually hits.
High rates have already hit the manufacturing and housing industries. A report Tuesday showed that homebuilders broke ground on fewer new homes in August than economists expected. The 11.3 per cent drop from July's level was much worse than the 0.8 per cent forecasted. But activity for building permits, a possible indicator of future activity, rose more than expected.
On Wall Street, shares of Instacart jumped 21.3 per cent in their first day of trading. The company raised $US660 million ($1.02 billion) in its initial public offering, which priced the stock at $US30 per share.
It arrived on the heels of another highly anticipated IPO by chip designer Arm Holdings. The offerings could mark a warming environment for IPOs, which fell off sharply after stocks tumbled last year with worries about higher interest rates. Arm jumped in its first day of trading on Thursday but has since followed that with three days of losses.
Instacart's IPO valued the company at around $US10 billion. It was thought to be worth $US39 billion in 2021.
The Walt Disney Co. fell 3.2 per cent for one of the larger losses in the S&P 500 after it announced a big investment plan for its theme parks and cruise lines. It plans to double its investment in its parks, experiences and products business to $US60 billion over the next 10 years versus the prior decade.
Shares of AutoZone slipped 1.4 per cent after swinging between gains and losses earlier. The auto parts retailer reported stronger profit for the latest quarter than analysts expected. The company also said growth in its domestic commercial business was weaker than expected.
US Steel rose 2.9 per cent after it said it expects to deliver strong results for the summer, above what analysts were expecting. That's even with the impact on steel demand expected because of the limited strike by the United Autoworkers against Detroit's Big 3 automakers.
Ford and General Motors were holding steadier after falling a day earlier, as the strike against them continues. The leader of the UAW said late Monday its limited strike could expand unless "serious progress" toward a new labour deal is made by Friday at noon. Ford rose 1.7 per cent, and GM rose 2.2 per cent.
In the bond market, the yield on the 10-year Treasury rose to 4.36 per cent from 4.30 per cent late Monday. It's near its highest level since 2007.
The two-year Treasury yield, which moves more on expectations for the Fed, rose to 5.10 per cent from 5.05 per cent.
Yields have been climbing with expectations that rates may stay higher for longer, as well as with crude oil prices.
The price for a barrel of benchmark US crude swung through the day, rising more than 1 per cent at one point before ending the day down 28 cents at $US91.20. It's climbed roughly 13 per cent this year as oil-producing countries curtail some production in hopes of boosting its price.
Brent crude, the international standard, fell 9 cents to $US94.34 per barrel.
In stock markets abroad, indexes were mixed across Asia and Europe.
Source: Thanks smh.com