ASX rebounds from 60-day low after Wall Street slump
Welcome to your five-minute recap of the trading day, and how experts saw it.
The numbers
The Australian sharemarket recovered from a two-month low on Friday after Wall Street recorded its worst day of trading since March on expectations that US interest rates would stay higher for longer.
The S&P/ASX 200 was up 3.6 points, or less than 0.01 per cent, to 7068.8 at the close as energy companies, miners and utilities helped lift the local bourse out of its earlier slump.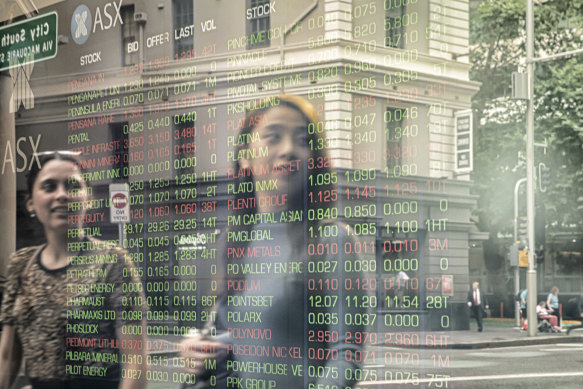 The lifters
Lithium miners helped the index recover its losses with Pilbara Minerals (up 6.8 per cent) and Allkem (up 3.2 per cent) among the biggest large-cap advancers. Iron ore heavyweights BHP (up 0.5 per cent) and Fortescue (up 1.5 per cent) also helped pare back earlier losses.
Utilities (up 0.8 per cent) was the strongest sector on the local bourse as Mercury NZ (up 4.1 per cent), Meridian Energy (up 2.5 per cent) and Treasury Wine Estates (up 2.6 per cent) all advanced.
Industrials (up 0.4 per cent) were also relatively stronger, bolstered by Qube Holdings (up 3.1 per cent) and infrastructure investment firm Infratil (up 1.7 per cent).
The laggards
IDP Education (down 5.9 per cent) was the biggest large-cap decliner, dampening the consumer discretionary sector (down 0.6 per cent).
Real estate investments trusts (REITS, down 1.4 per cent) was the weakest sector, weighed by Goodman Group (down 2.2 per cent), Stockland (down 1.5 per cent) and Mirvac (down 2.3 per cent).
Healthcare (down 1 per cent) and information technology firms (down 0.9 per cent) also dragged the index lower as Altium lost 1.7 per cent and CSL shed 1.6 per cent.
The financial sector increased 0.2 per cent with CBA slipping 0.02 per cent, NAB adding 0.5 per cent, ANZ dropping 0.1 per cent and Westpac climbing 0.7 per cent.
The lowdown
Shaw and Partners senior investment advisor Adam Dawes said the Australian sharemarket had a "fantastic recovery" from the depths of its low at 6957 points on Friday.
"There was a 100-point retracement which shows the resilience in our market," he said. "The ASX got smacked with what happened in the US overnight but the recovery showed we can stand on our own two feet."
Dawes said the lithium sector led the charge, with investors seeing value in companies such as Pilbara Minerals, and the broader index falling into good buying territory earlier in the session.
Meanwhile, REITS remained weak, he said, amid talk of the possibility of one or two more interest rate hikes in the US.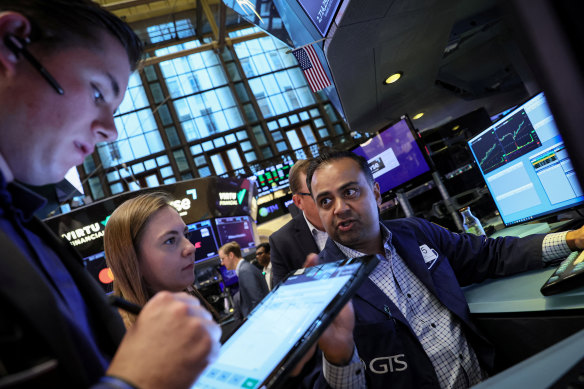 Wall Street fell sharply in an ugly day for stocks worldwide, on expectations that US interest rates will stay high well into next year.
The S&P 500 lost 1.6 per cent for its worst day since March. That followed a drop of 0.9 per cent from Wednesday after the Federal Reserve indicated it may cut interest rates next year by just half of what it had earlier predicted. The Fed has already hiked its main interest rate to levels unseen since 2001, which helps slow inflation, but at the cost of hurting investment prices.
High-growth stocks are typically among the hardest hit by high rates, and Big Tech stocks took the brunt of the pain for a second straight day. The Nasdaq composite dropped 1.8 per cent as Amazon fell 4.4 per cent, Nvidia dropped 2.9 per cent and Telsa lost 2.6 per cent. The Dow Jones Industrial Average dropped 370 points, or 1.1 per cent.
A 10-year Treasury is offering a yield of 4.48 per cent, up from 4.40 per cent and from only 0.50 per cent three years ago. It's near its highest level since 2007.
Tweet of the day
Quote of the day
"We recognise Qantas has not been where it needs to be for a long time," said Qantas boss Vanessa Hudson, committing to a comprehensive review of all "outdated" customer policies after issuing an apology on behalf of the business for failing to strike the balance between managing the expectations of passengers and investors.
You may have missed
Australia's largest horticulture giant Costa Group will return to its previous owner, US private equity firm Paine Schwartz, and delist from the ASX after accepting a $1.5 billion takeover bid that is $100 million lower than its original offer.
With AP
The Market Recap newsletter is a wrap of the day's trading. Get it each weekday afternoon.
Source: Thanks smh.com