'He loves the Australian papers': Lachlan Murdoch to leave print empire intact for now
Lachlan Murdoch won't be tearing up the Murdoch newspaper empire in Australia in a hurry after taking over the top job both at News Corp and Fox Corp, with media insiders pointing to his affection for the company's stable of newspapers.
Lachlan Murdoch's ascent comes after his father Rupert announced he was stepping down as chairman of Fox Corporation and executive chairman of News Corp on Friday, taking on the title of chairman emeritus.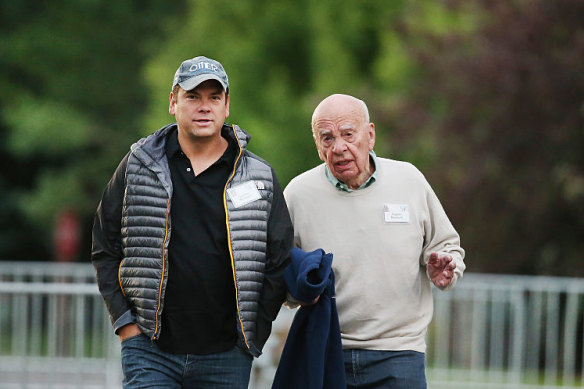 Paddy Manning, Lachlan Murdoch's biographer and the author of The Successor: The High-Stakes Life of Lachlan Murdoch, said the changing of the guard shouldn't deliver dramatic changes to News Corp's papers.
"Lachlan, of the Murdoch kids, has been the one most fond of, or attached to the newspaper business," he said on Friday. "Neither Liz nor James never took much interest."
"I think that Lachlan would be open-minded about the value of continuing to print physical newspapers in Australia, but I don't think he would do anything irrational," he added.
Rupert Murdoch's retirement was widely expected by News Corp insiders, with a source close to the Murdochs, who spoke anonymously, confident it will be business as usual in Australia.
"I don't see a lot of change from this announcement," the source said.
Another source, close to Lachlan Murdoch, who spoke anonymously, pointed to his keenness to keep running the papers in Australia."More than his father, he loves the Australian papers," the source said.
According to Manning, while The Australian – launched by Rupert Murdoch in 1964, has made some progress in replicating the all Street Journal as a quality subscription product, the future of the tabloids – The Daily Telegraph and The Herald Sun – remains "murkier".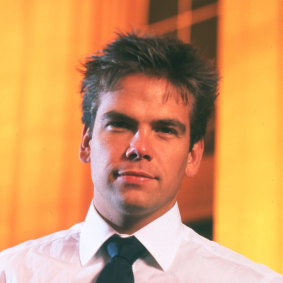 "They are making a painful and slow transition to become fully digital businesses and the Wall Street Journal has certainly shown the way for broadsheets, that if you can continue to maintain a reputation for quality, you can make money."
One move that has been heavily touted in media circles, is whether Lachlan Murdoch opts to install former Daily Telegraph and Australian editor Paul Whittaker as News Corp's local boss, replacing current executive chairman, Michael Miller.
Such a move could be telling for the future of the Murdoch newspapers in Australia.
Whittaker's appointment, now CEO at Sky News Australia and chair of a newly installed editorial board at The Australian, would "be the end of the company", one former News executive said, citing Whitaker's lack of commercial nous despite his editorial prowess.
Rather than shake-up the newspapers, Manning added the two pressing issues for Lachlan Murdoch locally are resolving the future of Foxtel, which is still touted to land on the Australian Stock Exchange, and News Corp's controlling stake in online property listing portal Real Estate Australia.
A merger between Fox and News in America also remains on the cards and could have significant implications for the future of REA, Manning said.
Rupert Murdoch has built his media empire across seven decades off the back of his vast portfolio of newspapers, wielding political influence across Australia, the United Kingdom and later, the United States.
The influence of News Corp's metro mastheads in Australia have waned somewhat, with subscriber growth across the four key markets stalling, according to an internal report, published in The Australian Financial Review in August.
However, Mark Day – former editor-in-chief of The Australian, and the first publisher of the paper – said newspapers remain a key part of News' arsenal in shaping public discourse.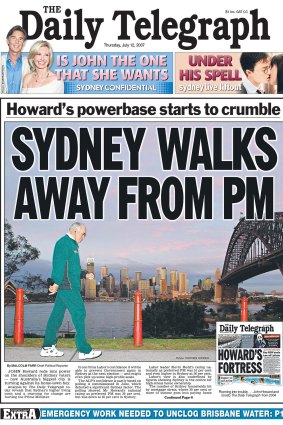 "Headlines can be moulded to fit an agenda, less easy to do on television and radio," highlighting Rupert Murdoch's reputation for letting editors know when they went wrong, describing him as "absolutely fearsome".
Tony Blair, before he became the UK prime minister, famously flew to Australia in 1995 to win favour with Murdoch. Two years later, News title The Sun endorsed Blair's New Labour to an electoral landslide.
Closer to home, former prime minister Kevin Rudd attributed his downfall partly to attacks from News, telling an inquiry into media diversity in 2021 "everyone's frightened of Murdoch. They really are. There's a culture of fear across the country".
However, former editor of the Sunday Telegraph Neil Breen told the ABC on Friday that Murdoch-endorsed editorials aided Rudd's election in 2007.
"There was an editor's dinner late in 2007 at Rockpool attended by Rupert Murdoch and every major News Corp editor in Australia. He asked us to go around the room and explain what our election editorials were going to say and why. Some backed Rudd, some stuck with Howard, everyone gave their reasons and no one was issued with any instructions. Rudd won."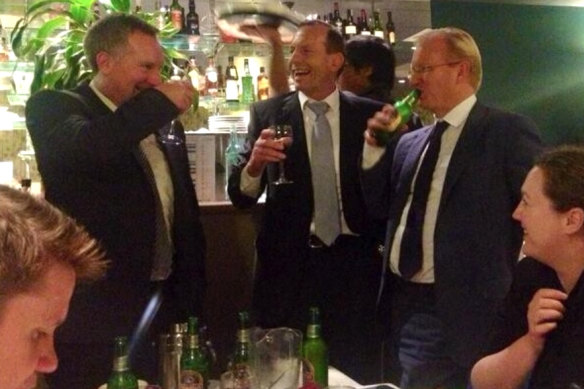 Fellow billionaire media proprietor, owner of the Seven Network and The West Australian, Kerry Stokes said while Lachlan Murdoch is a worthy successor, he expects Rupert to continue to play an important role in both groups (Fox and News).
"Lachlan Murdoch will handle the position of chairman with aplomb," Stokes said.
Meanwhile, communications Minister Michelle Rowland said Rupert Murdoch leaves behind a lasting legacy in international media and business, wishing both him and Lachlan Murdoch well for the future.
Source: Thanks smh.com