ASX drops as Wall Street slumps; US state and federal govts sue Amazon
Healthcare, technology and consumer discretionary companies dragged the Australian sharemarket lower on Wednesday after Wall Street tumbled for the fifth time in six days.
The S&P/ASX 200 was down 15.8 points, or 0.2 per cent, to 7022.4 about 12.35pm AEST, with all sectors except real estate investment trusts (REITS), financials and miners trading in the red.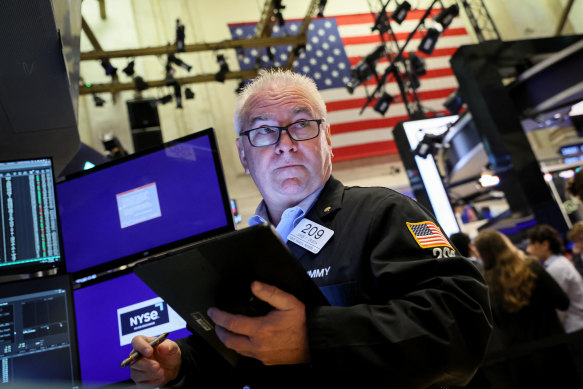 Monthly consumer price index data released by the Australian Bureau of Statistics showed prices rose 5.2 per cent in the 12 months to August, broadly in line with expectations.
Resmed (up 6.2 per cent), Ramsay (up 1.1 per cent) and Fisher and Paykel Healthcare (up 0.8 per cent) offset some of the losses among healthcare companies (down 1 per cent), leading gains on the local bourse.
Miners (down 0.01 per cent) were relatively resilient as iron ore heavyweight Fortescue climbed 1.6 per cent, lithium miner IGO added 0.7 per cent and BHP gained 0.4 per cent.
Financials (up 0.1 per cent) gained on the back of the big four banks, which all traded higher. NAB (up 0.9 per cent), ANZ (up 0.9 per cent) and Westpac (up 0.7 per cent) were among the biggest large-cap advancers while CBA (up 0.3 per cent) also edged up.
Betashares reached an agreement to acquire Bendigo and Adelaide Bank's superannuation business, in the ETF provider's first venture into the superannuation sector. Betashares, which manages $30 billion in funds, said it was part of a longer-term strategy to expand the business into the broader financial sector. Shares in Bendigo increased 0.6 per cent on the news.
Meanwhile, healthcare heavyweight CSL shed 18 per cent, weighing down the healthcare sector and insurance companies IAG (down 3.5 per cent) and Suncorp (down 2.9 per cent) gave back some of their gains from Tuesday.
Gold miners Newcrest (down 2.3 per cent) and Evolution (down 3.2 per cent) were also among the biggest large-cap decliners after the spot gold price dropped 0.9 per cent overnight.
Wall Street's ugly September got even worse Tuesday, as a sharp drop for stocks brought them back to where they were in June.
The S&P 500 tumbled 1.5 per cent for its fifth loss in the last six days. The Dow Jones dropped 1.1 per cent, and the Nasdaq composite lost 1.6 per cent.
September has brought a loss of 5.2 per cent so far for the S&P 500, putting it on track to be the worst month of the year by far, as the realisation sets in that the Federal Reserve will indeed keep interest rates high for a long time. That growing understanding has sent yields in the bond market to their highest levels in more than a decade, which in turn has undercut prices for stocks and other investments.
Treasury yields rose again Thursday following a mixed batch of reports on the economy.
The yield on the 10-year Treasury edged up to 4.55 per cent from 4.54 per cent late on Monday and is near its highest level since 2007. It's up sharply from about 3.5 per cent in May and from 0.5 per cent about three years ago.
One economic report on Tuesday showed confidence among consumers was weaker than economists expected. That's concerning because strong spending by US households has been a bulwark keeping the economy out of a long-predicted recession.
Besides high interest rates, a long list of other worries is also tugging at Wall Street. The most immediate is the threat of another US government shutdown as Capitol Hill threatens a stalemate that could shut off federal services across the country.
Wall Street has dealt with such shutdowns in the past, and stocks have historically been turbulent in the run-up to them, according to Lori Calvasina, strategist at RBC Capital Markets.
After looking at the seven shutdowns that lasted 10 days or more since the 1970s, she found the S&P 500 dropped an average of roughly 10 per cent in the three months heading into them. But stocks managed to hold up rather well during the shutdowns, falling an average of just 0.3 per cent, before rebounding meaningfully afterward.
Wall Street is also contending with higher oil prices, shaky economies around the world, a strike by US autoworkers that could put more upward pressure on inflation and a resumption of US student-loan repayments that could dent spending by households.
On Wall Street, the vast majority of stocks fell under such pressures, including 90 per cent of those within the S&P 500.
Big Tech stocks tend to be among the hardest hit by high rates, and they were the heaviest weights on the index. Apple fell 2.3 per cent and Microsoft lost 1.7 per cent.
Amazon tumbled 4 per cent after the Federal Trade Commission and 17 state attorneys general filed an antitrust lawsuit against it. They accuse the e-commerce behemoth of using its dominant position to inflate prices on other platforms, overcharge sellers and stifle competition.
In China, concerns continued over heavily indebted real estate developer Evergrande. The property market crisis there is dragging on China's economic growth and raising worries about financial instability.
France's CAC 40 fell 0.7 per cent, and Germany's DAX lost 1 per cent.
Crude oil prices rose, adding to worries about inflation. A barrel of benchmark US crude climbed 71¢ to $US90.39. Brent crude, the international standard, added 67 cents to $US93.96 per barrel.
With AP
The Market Recap newsletter is a wrap of the day's trading. Get it each weekday afternoon.
Source: Thanks smh.com