Qatar Senate inquiry LIVE updates: New Qantas boss Vanessa Hudson grilled; former ACCC boss says Alan Joyce's pay packet 'excessive'
Pinned post from
LIVE: Airline Senate inquiry
The inquiry is under way and you can watch it live below. Qatar Airways representatives spoke this morning, followed by the Australian Airports Association.
Bonza's chief executive Tim Jordan is appearing just after 11am before the 11.30am to 12.30pm lunch break, then Professor Allan Fels AO from the University of Melbourne will speak at 12.30pm; Virgin Australia and Bain Capital at 1pm; and Professor Rod Sims of the Australian National University at 2.15pm.
There'll then be another break at 2.45pm, before Qantas representatives appear at 3pm; the Business Chamber Queensland at 4.15pm; and Rex Group at 4.45pm. Click here for a list [PDF] of those expected to appear on behalf of the companies.
Hudson says salary passes the pub test
By
Amelia McGuire
Qantas boss Vanessa Hudson has been slammed by the Senate for claiming customers can choose between multiple carriers, with Gladstone-Senator Penny Allman-Payne quick to disagree
"Until Bonza, we had to fly to Brisbane," Allman-Payne said.
Qantas has the highest-paid aviation workers in the country, Hudson said.
"Do you think it passes the pub test for customers knowing the cabin crew are being paid 300 times less the chief executive?" , Allman-Payne asked.
Hudson said she thought it was reasonable chief executives be remunerated competitively to ensure the best candidates seek out the airline business.
Former Qantas boss Alan Joyce may walk away with up to $23.6 million for the 2023 financial year if the bonuses the airline group has withheld are ultimately granted.
Goyder claims he has the support of 'at least' 14 major Qantas investors despite calls for resignation
By
Amelia McGuire
Qantas chair Richard Goyder has told the Senate at least fourteen of Qantas' top 20 shareholders are still behind him, despite the businesses share price plummeting by more than 15 per cent in one month.
He neglected to name the institutional investors, but said he may be open to submitting a list to parliament if confidentiality was guaranteed.
Major proxy groups which advise major investors have expressed serious concerns with the governance of Qantas, and individual major shareholders have told this masthead on multiple occasions faith in the current board is at an all-time low.
Broker CLSA became the first broker to recommend investors sell their shares in Qantas on Tuesday, the first sell rating the business has received in one year.
Hudson says JobKeeper went to Qantas employees, not business
By
Amelia McGuire
Qantas boss Vanessa Hudson has said it's "unreasonable" to ask its employees to pay back JobKeeper, after Senator David Pocock asked her why the airline has refused to pay back the $900 million it received over the COVID-19 pandemic.
"We have had discussions about it," Hudson said, after stressing the bulk of the amount went to the business' 3200 employees and not its bottom line.
Qantas recently posted a record underlying profit of $2.47 billion for the 2023 financial year, after accruing more than $7 billion of debt over the three years preceding.
Qantas boss says business not using a lobbyist
By
Amelia McGuire
Qantas boss Vanessa Hudson has told the Senate she's confirmed the business is no longer using any lobbyist, despite SEC Newgate appearing on its lobby register.
"We do not have any employed lobbyists. Notwithstanding the notification by the new gag order, we do not have any lobbyists in this respect, Hudson said.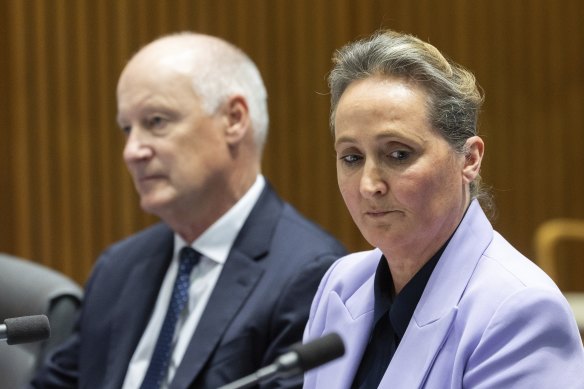 Hudson said Qantas does not keep a log of informal conversations between the airline and the government on any issue.
"In stepping into the CEO role, I did inquire of our government relations team, both in terms of head of corporate affairs Andrew McGinness and also his team, who confirmed to me that there were conversations and representations," Hudson said, dubbing the interactions a "normal" practice between corporates, the government and the opposition on any issue.
Qantas confirms it will provide documents to committee, but not public, after Minister claimed immunity
By
Amelia McGuire
Qantas has committed to providing details of its communication with the government on Qatar Airways' application to the committee, but not the public, after Transport Minister Catherine King claimed immunity last week.
Qantas boss Vanessa Hudson confirmed the group would provide its submission against the additional flights for Qatar Airways, so long as it is able to redact all information which is commercial in confidence.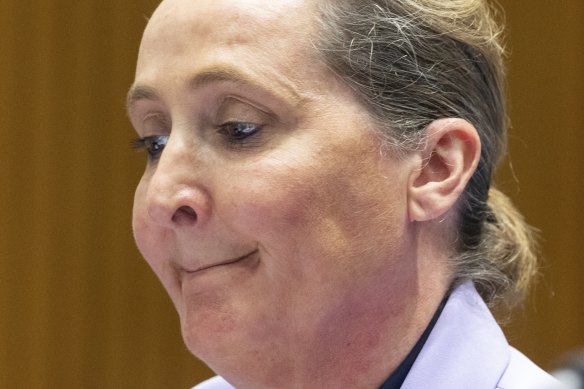 It ruled out providing this information publicly, which was met with disappointment from the Senate committee.
King has ruled out appearing before the committee on this issue as she is on annual leave.
Before going on leave, she claimed "public interest immunity" and withheld documents from parliament over her decision to reject Qatar Airways' bid for more flights.
King said on September 15 disclosing the material could reveal the sensitive details about relations between countries.
Goyder says 1700 illegal sackings were backed by 'sound commercial reasons'
By
Amelia McGuire
Qantas chair Richard Goyder has told the Senate its illegal sackings of 1700 ground handlers was backed by "sound commercial reasons".
Last week, Qantas lost its appeal in the High Court after being twice found by the Federal Court to have illegally outsourced 1700 ground handling roles in 2020. The business is now participating in a compensation case lodged by the Transport Workers Union on behalf of the affected workers.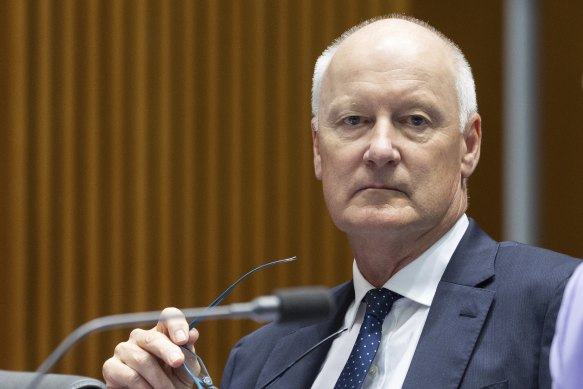 "Well, the reality was we did have sound commercial reasons and I do apologise and deeply regret the circumstances," Goyder told the Senate after intense questioning from Senator Tony Sheldon, a long-term critic of the airline business and former TWU stalwart.
Sheldon said Goyder was avoiding answering whether he stood by the 2020 decision, which has since been found to be illegal, and was aghast Goyder "had the hide to say there's nothing to apologise for."
Goyder said his previous comments did contain an apology to the workers.
Sheldon said Qantas' treatment of workers is the reason the government's labor hire bill, which seeks to close what he deemed to be "Joyce" loopholes, is so important.
The Labor hire bill seeks to prevent companies from reducing workplace rights through creating another subsidiary company after it has negotiated an agreement with part of its workforce. This results in employees being entitled to different pay and conditions.
Qantas is one company often alleged to partake in this practice; the airline technically employs workers across 38 companies.
Goyder again rules out resigning as Qantas chair
By
Amelia McGuire
Qantas chair Richard Goyder has doubled down on his prior refusals to step down from the job, saying he will remain in his post unless he loses the support of shareholders.
"I'll continue to serve because I think we've got some very significant challenges in front of us and issues to deal with, and I think that's the best outcome. But if that confidence [in his governance] isn't maintained, then clearly I'll review that decision," Goyder told the Senate.
Goyder has been the subject of extensive criticism over his ability to adequately govern Qantas, with politicians, industry experts and major proxy advisers quick to question the board's role in Qantas' horror month.
"I've navigated the company through the global financial crisis, chaired Qantas through the most existential crisis we've ever had as an airline. And right now, the major shareholders and the board feel that I'm the best person to chair the board to navigate us through the current situation we've got," Goyder said.
All directors received pay rises in 2023, sparking further backlash this week.
Labor Senator Tony Sheldon slammed Goyder's refusal to stand down.
"Mr Goyder, you still stand by the fact that the way you've managed these events as chairman of the board, including allocating bonuses, paying both yourself … and other directors extra money this year?
"In light of all the things that have been happening? All the illegal actions that Qantas has been found to have carried out? All of what the public has had to endure under your chairmanship and stewardship of Qantas? And you think nothing has got to change?" Sheldon exclaimed.
Bridget McKenzie infers Qatar decision was 'quid pro quo' for Voice endorsement
By
Amelia McGuire
Committee chair Bridget McKenzie has asked Qantas why it chose to endorse the Voice to Parliament by putting its logo on three aircraft, inferring it was some sort of "quid pro quo" in exchange for the government's rejection of Qatar Airways' request for more flights, as previously asserted by the Opposition.
"There were no negotiations per se with the government around Qantas' support for the Yes campaign," Qantas' senior council Andrew Finch said.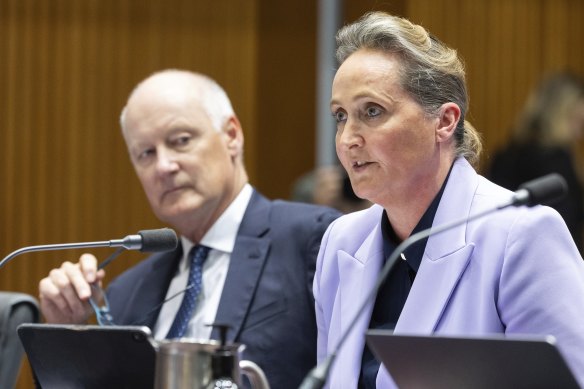 Hudson tried to interject to tell the inquiry Qantas had long supported reconciliation for Indigenous Australians, but she was quickly cut off by Mckenzie who said that's the consensus across the board.
"Filibustering may have been the strategy of the former chief executive, I don't appreciate it from the current one," she said.
Goyder then asked McKenzie to elaborate on exactly what she meant by what the "quid pro quo" referred to. McKenzie declined and said her views on this matter were well documented and the airline business should be in a position to answer.
There is no evidence to indicate Qantas' support of the Voice to Parliament has anything to do with the government's rejection of Qatar Airways' application for additional flights.
Opposition Leader Peter Dutton has said multiple times he thinks the two issues are related, and the government needs to provide more information.
Hudson said the airline's commitment to the Voice was "completely unrelated" to its opposition to Qatar Airways' request for more flights.
"Our commitment to the voice, as I was saying before, has come from over a decade of support for Indigenous reconciliation, we started that [support for the Voice] formally in 2014, and we have long been supporters of the Uluru statement from the Heart," Hudson said.
Qantas chair Richard Goyder defends Joyce's pay packet
By
Amelia McGuire
Qantas chair Richard Goyder has defended the size of the cut to former boss Alan Joyce's 2023 remuneration.
Joyce's pay packet has so far been docked by $500,000, with millions more subject to clawback depending, on the outcome of legal action lodged by the Australian Consumer and Competition Commission (ACCC) in the Federal Court over allegedly extensive breaches of consumer law.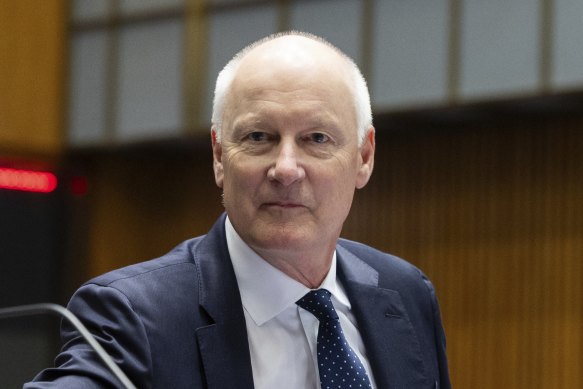 Joyce's pay for 2023 has been set at $21.4 million, with a further $2.2 million in bonuses withheld while the airline waits for more clarity on the ACCC's case.
Joyce may walk away with significantly less than the $21.4 million if the board chooses to claw back a further $8.3 million in bonuses and revoke his short-term $2.2 million payment. If not, he could receive up to $23.6 million for the 2023 financial year.
"As you know, there's a significant sum of money that is subject to malus and clawback depending on how various things unfold," Goyder said.
He then said that he's not "standing by his man" in Alan Joyce– who he once dubbed the best chief executive "by a length of a straight". Now that Joyce has retired, Goyder said he was instead standing by new boss Vanessa Hudson.
"I made that comment some years ago to go. Alan did an excellent job as CEO for 15 years in what is a demanding industry. I recognise everything Vanessa just said about our need to rebuild trust with our customers and with our shareholders and our stakeholders," Goyder said.
Qantas boss Vanessa Hudson commits to providing a submission to Senate
By
Amelia McGuire
Qantas has committed to providing a submission to the Senate select committee into bilateral air rights, having failed to do so ahead of today's hearing.
Committee chair Bridget McKenzie said she was "somewhat perplexed" as to why Qantas did not provide a submission when smaller carriers including Virgin and Rex could.
"You have significant resources, I can see an army of people behind you, and I know there's an army behind the army that could have actually put pen to paper and provided this committee with a detailed submission," McKenzie said.
Hudson said the airline business would commit to providing a submission after giving evidence.
Source: Thanks smh.com