Alan Jones' radio show revenue down by 50pc as boycott bites
Macquarie Media breakfast host Alan Jones' 2GB morning radio show has lost about half its advertising revenue after a boycott over the radio veteran's comments about New Zealand Prime Minister Jacinda Ardern.
Mr Jones has faced a commercial backlash since he made comments in August that Ms Ardern should be given "backhanders" and have a sock shoved down her throat.
Despite Mr Jones apologising on air, brands have continued to abandon his top-rating show that typically brings in about $12 million a year and is worth under 10 per cent of the network's revenue.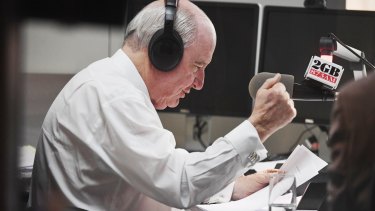 Sources with knowledge of the commercial dealings at the radio business said that on an annualised basis the backlash could cost the show about $6 million in advertising, though some of the advertisers had switched to other shows at the network helping limit the hit to Macquarie's revenues overall. In September the damage was estimated to be about $1 million.
Mr Jones re-signed a two-year contract worth about $4 million a year in May after tense negotiations between the radio network's management and the star broadcaster.
This came after a string of on-air blunders for Mr Jones, including having to apologise to Opera House boss Louise Herron in October 2018 for saying she should be sacked for pushing back against plans to have the horse racing Everest Barrier Draw projected on the building's iconic sails.
Immediately after the comments about Ms Ardern, more than 80 brands left the show. More pulled marketing since, after activist groups Sleeping Giants Oz and Mad F–king Witches attacked the companies advertising during his morning timeslot. The activists claim Mr Jones' comments encourage violence against women in Australia.
Whereas past boycotts have seen brands quickly resume their advertising with broadcasters when the backlash dies down, this time online groups have been quick to attack returning advertisers and have maintained momentum criticising those who choose to return.
Source: Thanks smh.com