The era of Silicon Valley hero worship may be at an end
The last time Larry Page gave someone else his job, it was under very different circumstances. It was 2001, in the aftermath of the dotcom crash, and Google was a scrappy search engine, competing against the likes of MSN and AltaVista for market share.
The 28-year-old Page, who had incorporated Google along with his Stanford classmate Sergey Brin three years earlier, then made way for Eric Schmidt, an experienced software executive brought in to turn Google into a real business.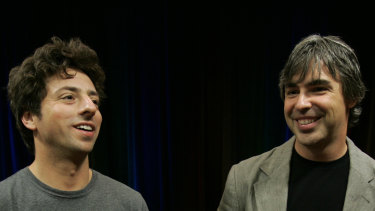 Such moves were typical in Silicon Valley at the time. The price of a nascent start-up receiving venture capital investment was adult supervision.
When Page resigned from Google's parent company Alphabet last week, it was in a very different environment. Having returned as Google chief executive in 2011, and run Alphabet since it was created four years later, he said he would leave the running of both to Sundar Pichai, his long-trusted lieutenant.
Despite suggestions that Page and Brin, who also resigned from his role as Alphabet president, had checked out years ago, the move was still seen as a momentous occasion because today there exists a practically umbilical connection between tech companies and their founders.
The same year that Schmidt replaced Page, Apple released the iPod. The music player became an icon, and solidified the resurrection of the company under its own founder, Steve Jobs.
Jobs, too, had been replaced by more seasoned leaders before returning in 1997. The ensuing success of the iPod and iTunes, and his position as the face of the company, meant his and Apple's stock rose in tandem. It appeared to demonstrate the value of visionary company founders over the uninspiring management types that had almost bankrupted Apple.
The rise of Amazon and then Facebook, led by Jeff Bezos and Mark Zuckerberg, reinforced the idea the best companies were led by founders.
Meanwhile, Google's initial public offering in 2004 popularised a dual-class share structure, previously reserved almost exclusively for family-run firms, which allowed founders to retain shareholder voting control while only holding a minority economic interest. It has since been copied by founder-run companies like Facebook, Snap and LinkedIn. The structure means that even after leaving Alphabet, Page and Brin control 51 per cent of shareholder voting rights between them. But if Page making way for Schmidt in 2001 was the last move of its kind, before the founder became ascendant, his exit last week may bookend the era.
The founders that have dominated the headlines more recently have done so for less auspicious reasons. Much of the controversy surrounding WeWork could be linked directly to Adam Neumann, who started the company in 2009 but whose chaotic leadership wiped billions off its valuation and forced it to cancel its flotation, before Neumann eventually stepped down. Before Neumann, there was Travis Kalanick, the brash Uber founder who was forced out after fostering a culture that allegedly enabled harassment and law breaking.
Notable other founder exits this year include Patrick Byrne, who launched e-commerce site Overstock two decades ago but left after the disclosure of a relationship with a woman accused of being a Russian spy.
There may be no obvious thread running through these incidents, but research from the US consultancy Challenger, Grey and Christmas shows that chief executives are leaving tech companies at a record rate: 181 left between January and October, up from 154 in the same period a year ago.
The firm puts the rise partly down to an increased number of founder exits, saying the unprecedented current period of growth has meant many start-ups outgrowing the people who created them, and that fears of an impending downturn mean boards are looking for chief executives with a different skill set – steadying ships and cutting costs, rather than presenting grand, world-changing visions.
This gets at the centre of why founders might be less fashionable in the future. Major companies are bigger, richer and more complicated. Presiding over them is a delicate balancing act.
Running Apple in 2019, for example, requires keeping a volatile US president onside, managing a global supply chain, continuing to operate in China, while appearing to espouse Western values, and attempting to maintain a reputation for innovation. It is hard to imagine Steve Jobs doing all of this; the more operationally minded Tim Cook manages it adroitly.
Founders such as Bezos and Zuckerberg continue to hold the reins at their companies, but have managed to do so through reinventing themselves, dedicating their time to grappling with myriad political and social controversies.
Page and Brin, who at Alphabet had to deal with employee revolts, sexual harassment allegations and monopoly inquiries, were less willing – or able – to do the same. Other founders may follow in their footsteps.
Telegraph, London
Source: Thanks smh.com