Arrium shareholders chalk up win over liquidators in court joust
A former director of collapsed steel maker Arrium could face a compulsory examination by class action lawyers who are preparing a case against the failed steel mill operator, its directors and its advisers including auditor KPMG and financial adviser UBS.
In the latest development of one of Australia's biggest corporate collapses, lawyers for liquidators to the former operator of the Whyalla steel mill are trying to stop a move by class action firm Squire Patton Boggs to examine Colin Galbraith, also a former director of Commonwealth Bank of Australia, to gather evidence for its planned action.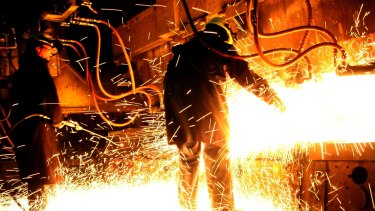 In November Supreme Court of New South Wales judge Ashley Black found the class action lawyers were allowed to examine Mr Galbraith to further their investigations into whether the company engaged in misleading and deceptive conduct before its collapse.
However, lawyers for liquidators from KordaMentha earlier this month appealed against the ruling to the Court of Appeal. The examination orders have been stayed until after the appeal is heard in March next year.
A key reason for the appeal is concern in the liquidator's camp that the Supreme Court ruling will set a precedent for how liquidations of listed companies are operated and allow interventions by class action lawyers looking to shore up their cases against directors or the company.
Arrium called in administrators in April 2016 with debt of $4 billion.
The remnants of the business were later put into administration following the sale of Whyalla to billionaire Sanjeev Gupta for $700 million and Arrium's MolyCop business, which makes steel balls to grind ore, to American Industrial partners for $1.6 billion.
Since then KordaMentha has been picking over the wreckage of Arrium, conducting its own examinations and preparing court cases against the company's former directors to claw back more money for creditors.
The liquidators, who were represented in court by Arnold Bloch Leibler's Caroline Goulden, are focusing on a claim based on their belief Arrium was trading while insolvent.
Squire Patton Boggs partner Amanda Banton, the lawyer for the class action lead plaintiffs, is taking a different tack, instead focusing on representations made by the company to its shareholders during its 2014 disastrous capital raising and its accounts in 2014 and 2015. Mr Galbraith was a director of Arrium from 2000 to 2015.
Ms Banton has left the door open to pursue KPMG, which audited Arrium's accounts, and UBS, which was the underwriter of Arrium's $465 million institutional placement in September 2014. However, the court threw out an earlier order that would have forced KPMG to hand over its documentation of the audits and against UBS.
"The plaintiffs and many other shareholders have likely suffered loss from their investment in it; and, on the face of it, the plaintiffs seek to examine Mr Galbraith as to matters as to which the liquidators could properly have examined him, although the liquidators have made a reasoned decision that their resources are better directed to the insolvent trading claim," Justice Black said in his judgment letting lawyers for the shareholders examine Mr Galbraith.
"The information likely to be produced by the plaintiffs' examination of Mr Galbraith would also likely advance the interests of Arrium and its creditors, so far as it either produces additional relevant information that supports further causes of action by Arrium, or does not do so and therefore supports the liquidators' present assessment that their insolvent trading claims are more likely to benefit Arrium and its creditors than the claims which the plaintiffs seek to investigate."
Ms Banton, UBS and lawyers for Mr Galbraith did not respond to inquiries. Lawyers for the liquidators and representatives of KPMG declined to comment.
Source: Thanks smh.com