Australian shares ease lower in pre-Christmas trade
Australian shares drifted lower in quiet, pre-Christmas trade, mirroring the pattern seen on Thursday when early gains were slowly eroded away throughout the day.
The benchmark S&P/ASX 200 finished down 16.8 points, or 0.3 per cent, at 6816.3, trimming its weekly advance to 1.1 per cent.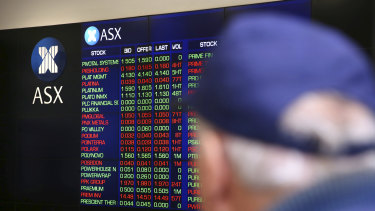 "From the news flow to indicators of activity and liquidity, things are starting to get that holiday vibe," IG Markets analyst Kyle Rodda wrote.
Across the sectors, energy led the declines with a fall of 0.9 per cent, dragged lower in part by a 1.8 per cent slide in Origin Energy which closed at $8.62. Consumer staples also shed 0.8 per cent, with Woolworths finishing down 1.6 per cent at $37.24. Metcash also skidded 1.5 per cent to $2.60.
Elsewhere, communications and financials lost 0.4 per cent apiece, the latter reflecting falls of between 0.4 per cent to 0.6 per cent in the big four banks. Macquarie managed to buck the broader trend, lifting 0.2 per cent to a fresh record closing high of $140.25.
Modest gains of between 0.2 per cent to 0.5 per cent for industrials, REITs, utilities and materials helped to partially offset weakness in all other sectors. Materials were supported by a 1.4 per cent gain in Rio Tinto to $103.66.
The top performer on the benchmark was wireless communications firm Speedcast International, which jumped 4.9 per cent to $0.745 having fallen 74.4 per cent over the year.
Curiously, other big gainers on the broader All Ordinaries were also stocks that have either fallen sharply in recent trade or over the course of the past 12 months.
At the other end of the scoreboard, online lottery retailer Jumbo Interactive shares tumbled 14.5 per cent to $15.74 after delivering a trading update that fell short of lofty market expectations. Even with the decline, the company's shares have still gained 120 per cent this year.
Lendlease was also pressured, sliding 4.6 per cent to $18.02 after announcing it has conditionally agreed to sell its engineering unit for $180 million.
Despite Friday's losses, the benchmark index has now gained for two consecutive weeks, leaving it just over 1 per cent below the record high hit in late November.
Most of the weekly gains came on Monday following news the United States and China had finally managed to cobble together a phase one trade agreement and the thumping victory for Boris Johnson's Conservative Party in the UK general election.
"Australian shares benefited from the positive global lead," AMP head of investment strategy and chief economist Shane Oliver told clients. "Our best guess though is that shares will continue to push up into year-end reflecting the positive seasonal tailwind, but with the risk of a short-term pull back early in the new year."
Source: Thanks smh.com