That's a wrap: Christmas wrapping goes green
Vivienne Anthon is a gift wrapping expert and she spends each December educating Australians on how not to waste — or get tangled up in — paper.
"Most people use four or five times more paper than they need," the founder of gift wrapping business Daily Wrap says.
It's been five years since Ms Anthon left the corporate world as a consultant for the Australian Institute of Management to become a professional wrapper and, in that time, the war on waste has well and truly taken hold.
Tens of millions of unwanted gifts and their wrapping will end up in landfill this Christmas.
For companies that work with paper products, that has meant rethinking the art of presenting gifts to loved ones.
Ms Anthon now generates about $200,000 a year in revenue by helping small businesses and corporate clients present professional-looking end-of-year gifts.
It's "the most bizarre thing in the universe", but after watching hundreds of Australians try to wrap presents, she says it is obvious most of us don't think the process through and end up wasting plenty of materials.
For 2019, her key advice to clients has been to avoid non-biodegradable wrapping such as paper with glitter and to try to use alternative materials whenever possible.
"People are sticking with paper but they're being far more mindful of the paper they're using," she says.
Magazines like Good Weekend can also be a good canvas because of their full-page images, she says.
"Recycled paper is fabulous — I love wrapping with newspaper or with maps I've already collected. You get a lot of ephemera, you can be using that."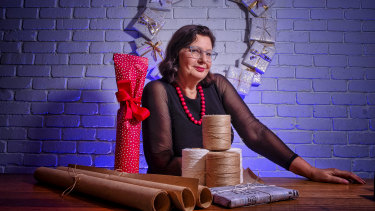 General manager of The Wrapping Paper Company, Jarrod Dam, says there has been little drop-off in demand for paper goods across the wholesale and retail markets this year.
Mr Dam oversees the brands Wrap Co and Inky Co, which supply paper for complementary gift wrapping services across the country. Over the years the business has had to face up to the environmental impact of paper goods, and has an environmental impact statement detailing its investments in renewables projects, including Hepburn wind farm in Victoria.
"Wrapco uses 100 per cent Greenpower accredited wind energy supplied by Powershop and a 60 kilowatt solar system to fulfil our power usage," he says.
As concerns about sustainability impact customer spending habits, eco-focused brands say their wrapping products are also in demand.
Adelaide-founded Earth Greetings sells its sustainable greeting cards and wrap through retailers across Australia.
This Christmas it's already sold out of bamboo decorations, while its recycled cards and wrap and hemp wrapping twine are key categories this time of year.
"We're hoping that people are more environmentally-conscious. There's lots of plastic this time of year including around cards and wrapping paper. All of our products are completely plastic-free," sales manager Rebecca Robinson says.
Source: Thanks smh.com