Telstra agrees to match staff salary donations for bushfires
Telstra is the latest Australian company to stump up cash for bushfire relief with the telecommunications group agreeing to match every dollar donated by staff who agree to give a portion of their salary to the Red Cross.
From Monday until the end of January, Telstra staff will be able to donate a portion of their salary to the Red Cross and Telstra will match the donations in an initiative that could extend beyond the month depending on the bushfire situation.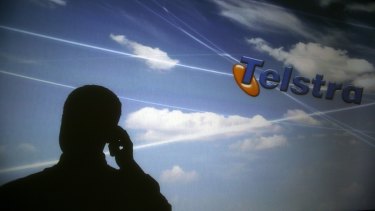 Telstra will also support the Australian Red Cross Disaster and Recovery Fund for bushfire assistance for the year through the program.
A note sent to staff by chief executive Andy Penn said the initiative was in response to questions about how staff could donate to those in need.
"This is a great opportunity for our staff to ensure their giving goes even further."
The latest initiative comes a week after the telecommunications provider announced it would write off volunteer firefighters' mobile phone bills for December and January to provide them with free telecommunications services.
Telstra anticipates the total donation to the national bushfire crisis through its assistance packages and donations will generate about $10 million, excluding the cost of damages to infrastructure.
Mr Penn said the donations would ensure the organisation could continue to work through the crisis and develop long-term plans to help communities that had been affected.
Separately, a group of high-profile retailers have joined forces to raise funds for the bushfire appeal, pledging to donate 100 per cent of all profits made on Thursday's sales to the Red Cross.
More than 45 local and international merchants pledged on Wednesday to donate all profits from the following day's sales to bushfire victims in what they said was an effort to make a "real difference" as part of what they have dubbed as the "All In" initiative.
Participating brands include Afterpay, The Iconic, Stussy, Lacoste, eBay, Lee Jeans, Temple and Webster, Wrangler, Ugg and General Pants, along with a host of other retailers. The entire cohort has a collective network of more than 1000 stores.
The companies will also be taking additional donations from customers both online and in-store.
Some of Australia's largest technology businesses including Atlassian and Canva have signalled longer-term support for those affected by fires and additional leave provisions for staff affected by fire.
It comes as senior technology leaders, most notably Atlassian co-founder Mike Cannon-Brookes, pledge via social media to continue a focus on reducing carbon emissions in the face of extreme weather events.
Canva said it will undertake a variety of projects in the coming year, including donating a week's worth of image revenue, worth at least $500,000, to the New South Wales Rural Fire Service and the Red Cross.
with Emma Koehn
Source: Thanks smh.com