Zip shares jump as 'older millennials' look to buy now, pay later
The chief executive of Afterpay rival Zip Co Larry Diamond has attributed a sharp jump in quarterly revenue to an expansion of the service's retail partners and a focus on "older millennials"
Shares in the buy now, pay later provider jumped 3 per cent on Monday after a market update showed revenue hit $38.5 million in the December quarter, a 24 per cent increase on the previous quarter and more than double the corresponding period a year earlier.
Zip increased its customer numbers to 1.8 million and signed up new merchants including a partnership deal with Amazon Australia.
Managing director and co-founder Larry Diamond said the Afterpay competitor is adding swathes of retailers and customers each month.
"What's unique about Zip versus some of the other buy now pay laters is we are more of an account concept," he said. "You can add to your account and pay it off at the end of the month or pay it off over time."
Mr Diamond said Zip could operate across categories and was continuing to execute on its strategy of adding everyday spend to the Zip digital wallet by signing up ride share service Ola.
We are bringing on a different type of customer who is a little bit of an older millennial.

Larry Diamond
"We can penetrate the every day spend and we see payments as the access points to customers," he said.
Mr Diamond said while Zip was not yet profitable it was "cash flow break even" in Australia.
"Our view is there is a huge opportunity in Australia we want to continue to drive continued volume," he said.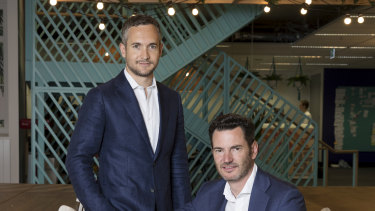 Mr Diamond said the popularity of interest free finance in Australia had led to the rise of the buy now pay later sector with competitors including market leader Afterpay and Sezzle.
"Interest free consumer finance was invented by [Harvey Norman founder] Gerry Harvey many years ago and if you look at other countries they have tried to adopt interest free now," he said. "That has really been a stand out for Australia picked up globally."
He said Zip's product was "fundamentally different" to its buy now pay later competitors as an account product.
"We are bringing on a different type of customer who is a little bit of an older millennial," he said. "We empower them and they choose when they want to pay back. We believe retailers should be able to offer payment solutions that can coexist and are complimentary."
Royal Bank of Canada analyst Tim Piper said Zip's quarterly transaction value of $662 million meant the company's was on track to beat its end of financial year annualised target of $2.2 billion.
Mr Piper said the transaction value was driven by a "double digit uplift" in value per customer in Australia on the basis of a higher number of active customer transacting more frequently on the Zip platform.
"In particular, the company noted that the month of December was the strongest to date recording transaction value exceeding $200 million (annualising at $600 million a quarter)," he said. "The company's current run-rate sees it well placed to exceed the end of financial year transaction value target of $2.2 billion."
He estimated Zip will record $2.5 billion in sales and said it targeting 2.5 million in customers, up from 1.8 million currently.
"Strong offshore growth is required to reach that target in our view," he said with RBC giving Zip an outperform rating with a $4.40 share price target.
Zip's shares opened trading at $3.53 and reached a high of $3.74 during Monday's trade.
Source: Thanks smh.com