ASX 200 hits fresh highs, 7000 point level looms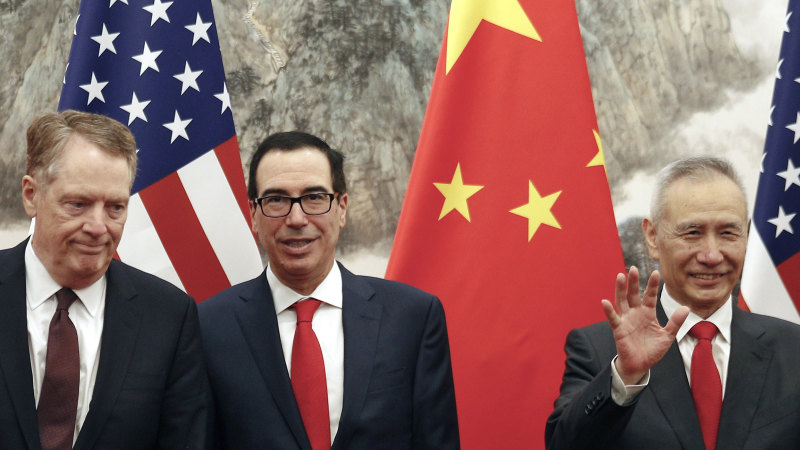 Summary
S&P/ASX 200 climbs to fresh highs, 7000 point level in sight
Most sectors gain, led by industrials and utilities.
Wall Street closes mixed on trade progress doubts
US and China to ratify phase one trade agreement later today
Loading Chart…
EML still climbing after securing contract
Payments provider EML has continued to rally in early trade, hitting fresh record highs after announcing it has secured a contract with NSW Health to be its provider of branded General Purpose Reloadable card programs for employee Salary Packaging on Tuesday.
Its shares are up 2.1 per cent at $5.34.
7000 looming for the benchmark
SPI futures were bang-on with their assessment on how local stocks would begin Wednesday's trading session with the benchmark S&P/ASX 200 up 15.4 points, or 0.2 per cent, at 6977.6 after 12 minutes of trade. That's a new record high. The 7000 level is quickly looming on the horizon.
Utilities are up 0.8 per cent, leading market gains. REITS and industrials have added 0.6 per cent, consumer staples and tech 0.4 per cent, while materials and consumer discretionary have risen 0.3 per cent.
Financials and energy are up less than 0.1 per cent while healthcare and communications are flat.
Resolute announces asset sale
Gold producer Resolute Mining has sold its Ravenswood gold mine in Queensland to private equity firm EMR Capital in a deal worth up to $300 million.
"Sale proceeds of up to $300 million in cash to be received by Resolute comprising $100 million of upfront value and up to $200 million in potential payments contingent on future gold prices, future gold production from the Ravenswood Gold Mine, and the investment outcomes from the Ravenswood Gold Mine for EMR Capital," the company told the ASX on Wednesday.
Completion of the transaction is targeted to occur prior to March 31, 2020, subject to the satisfaction of conditions precedent.
Resolute said proceeds from the sale will be used to reduce debt and strengthen the Company's balance sheet.
"We have strengthened our balance sheet with a combination of immediate cash and the potential for future upside as well as removing the requirement of a large near-term capital investment," Resolute's MD and CEO John Welborn said. "[We] can now focus our attention and energy on our African portfolio and the abundant opportunities our experience provides for further growth and value creation."
Chinese coal imports plunge
Most Chinese commodity imports remained strong in December, especially iron ore, crude oil and copper. Coal was one notable exception with imports tumbling to 2.8 million tonnes, down over 70 per cent from the same month a year earlier. Rather than reflecting weak demand, ANZ Bank's senior commodity strategist said there was another factor behind the sudden plunge.
"[It suggests] the government was trying to keep annual imports below 300 million tonnes," Mr Hynes told clients. "Higher inventories of coal at thermal plants also kept the import requirement lower."
Vivek Dhar, mining and energy commodities analyst at the Commonwealth Bank, notes China has an undeclared cap of 300 million tonnes of coal imports per annum, with the steep decline in December seeing annual imports come in just under this figure.
As such, Mr Dhar suspects coal imports will normalise as soon as this month.
"We are surprised though by the degree of reduction in China's coal imports last month and suspect that cargoes were deliberately delayed so as to count towards the 2020 coal import quota," he said.
FOMO still driving equity market gains
Forget optimism towards the outlook for US corporate earnings or hopes for improved trade relations between the US and China. Nomura's global macro and quantitative strategy team believes there's another reason equities continue to rally: the fear of missing out, or FOMO.
"The strong tone in global stock markets has broadly held up," they told clients earlier this week. "Some commentators have blithely chalked this up to the market taking a liking to the news that the US and China plan to sign their 'phase one' trade deal this week, but we would also point to the likelihood that some speculative players have resigned themselves to joining the herd in chasing the market up, as the almost uniform rise in the market has not served up any convincing dips to buy."
Source: Thanks smh.com