'Never been here before': Harvey Norman profits up 185 per cent as retailer captures more COVID spending
Harvey Norman founder Gerry Harvey is feeling increasingly optimistic Australia's retail environment will recover in time for the key Christmas trading period after his company's sales boomed 30 per cent over July and August.
In a trading update provided to investors on Monday morning, Harvey Norman revealed its sales for July 1 through to September 17 were up 30.6 per cent on the prior year.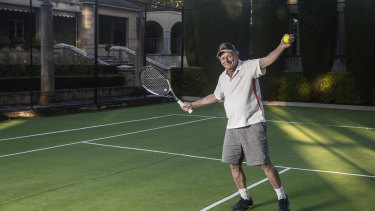 Profit before tax for July and August also rose significantly, coming in at $178.1 million compared to $62.3 million in the same two months last year, a 185.8 per cent increase.
Mr Harvey continued to be astounded by the figures, saying this sort of rise had "never happened in my lifetime". He attributed the booming sales to shoppers globally having limited opportunities to spend and taking the opportunity to spruce up their homes.
"People can't spend their money on other things anymore, so they spending time upgrading their home," he said. "And that's happening right across the world."
"There's also been so much money thrown into these economies, and because they can't spend it [elsewhere], we're getting the advantage of that. We're in a very fortunate position."
Shares in the retailer were trading 3 per cent higher at $4.48 just before midday.
A rebound at Harvey Norman's international operations helped fuel the sales rush. Trade in Slovenia and Croatia rose 27.2 per cent, and sales in Ireland, a previously troubled market for the retailer, jumped 61.7 per cent.
The company's largest markets, Australia and New Zealand, also boomed. Local sales jumped 33.8 per cent for the period despite 18 stores in Melbourne being shut thanks to the state government's stage four lockdown restrictions.
New Zealand sales also rose 18.8 per cent, despite a similar but much briefer lockdown in Auckland.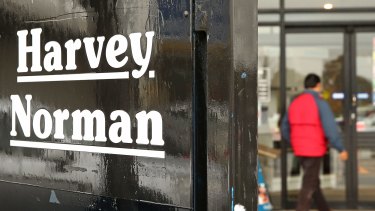 Mr Harvey had previously curtailed his expectations for the key Christmas trading period due to the unpredictable nature of the virus and the continuing lockdowns, however, the veteran businessman said he was beginning to feel more optimistic.
"Every day that goes by encourages you to think it'll be better. I'd still say I don't know, but now I'm more confident than I was a week ago," he said.
"But we've never been here before. We've never gotten a 185 per cent increase in profit."
Some retailers, including the major supermarkets, had raised the alarm over potential stock shortages in the lead-up to Christmas thanks to crippled supply chains in Victoria coupled with heightened demand.
Harvey Norman has not seen any significant shortages as yet, the founder said, though some specific products and brands were seeing delays as long as 20 weeks.
Mr Harvey, who owns around 32 per cent of the retailer, has been a prime beneficiary of the company's stellar performance during the coronavirus pandemic, with the value of his stake in the company worth around $1.8 billion.
The retailer's success has far outshone the businessman's other investments, such as the Magic Millions horse auction and his investment in the redevelopment of Moore Park's entertainment quarter.
"In the horse industry, I'm being knocked around badly. In EQ where I have a major interest, that's being knocked around too. So doesn't matter how good you are at something, sometimes it's just if you're in the right place."
Source: Thanks smh.com