Gas sector bets on hydrogen as Australia targets 'net zero' emissions
Oil and gas companies are pushing hydrogen as a key to Australia's pathway to net-zero emissions, with new modelling suggesting that using the fuel source to replace natural gas in stoves, heating and industrial processes will be cheaper than going fully electric.
As decarbonisation goals threaten long-term demand for emission-intensive fossil fuels, industry groups for gas producers, pipeliners and electricity-grid operators have launched a report into the costs of hitting carbon neutrality by 2050 under a range of different scenarios.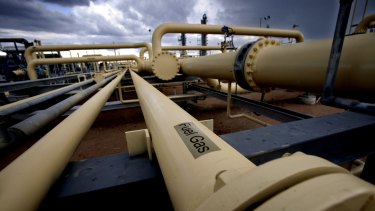 Switching natural gas with hydrogen made from renewably-sourced energy, in applications other than power generation, would achieve a carbon-neutral goals at about half the cost of the "full electrification" scenario under which gas networks were decommissioned and replaced with new electric infrastructure, the report from Frontier Economics found.
"There is a role for electricity and a role for gas in a low-carbon future; this report demonstrates
it's not one or the other," said Tamantha Smith of Energy Networks Australia.
"Policy settings aimed at reducing emissions should recognise that continuing to use gas infrastructure is the lowest-cost option to reach net-zero emissions from the energy sector by 2050."
Hydrogen, which burns cleanly and emits only water, is touted as a growth industry in the energy sector, both for its potential application as an alternative fuel for industrial processes that require high heat, and for its ability to soak up and store energy from renewable sources such as wind and solar.
Technology to create hydrogen out of renewable energy (green hydrogen) and from natural gas when emissions are captured in the conversion process (blue hydrogen) are being increasingly funded by governments around the world amid efforts to meet their carbon reduction goals. Hydrogen is also being embraced by oil and gas producers as a possible lifeline through which they can diversify.
Energy and Emissions Reduction Minister Angus Taylor this week named "clean hydrogen", low-emissions steel and aluminium production and carbon capture and storage (CCS) as the government's primary energy technology priorities, alongside energy storage and soil carbon sequestration.
However, the heavy focus on the ongoing role of gas has fuelled concerns from environmentalists and some business leaders who believe funds would be better spent on expanding clean energy not carbon-intensive fossil fuels.
Climate advocates said although gas for chemical processes and household stoves and heating would be around for some time, there was no disputing that gas-fired electricity was going to drop of "very, very quickly".
"So that gas industry is saying, 'We want a big slice of the future that [will] rely on developing more gas fields within Australia'," said Greg Bourne, a former BP Australasia president, now a member of Australia's Climate Council. "This is the last gasp for the industry."
Mr Bourne said gas companies, seeking to stem the losses as electrification accelerates, were eager to overstate the cost of switching to electric and understate the costs of developing carbon capture and storage technology needed for blue hydrogen.
The Australian Petroleum, Production & Exploration Association (APPEA) described the Frontier report as an "important recognition" that a range of new technologies such as CCS and hydrogen could achieve large-scale emissions abatement while sustaining the oil and gas sector's significant contribution to the national economy.
"These are areas where Australia's existing comparative advantage and experience in natural gas development and exports provide significant opportunities for the further development of these technologies," APPEA chief executive Andrew McConville said.
"The industry will play a key role as Australia moves towards a cleaner-energy future."
Source: Thanks smh.com