Packer's CPH sent secret Crown forecasts to Melco before $1.7b sale
James Packer's private company sent confidential Crown Resorts financial forecasts to Hong Kong group Melco Resorts as they were negotiating the sale of a 19.9 per cent stake in the Australian casino giant for $1.7 billion, an inquiry has heard.
The NSW Independent Liquor and Gaming Authority inquiry into Crown also heard on Wednesday that Mr Packer's Consolidated Press Holdings (CPH) explored the idea of selling some of his 46 per cent Crown stake to the notorious casino "junket" operator Suncity, whose owner Alvin Chau has been linked to Triad gangsters.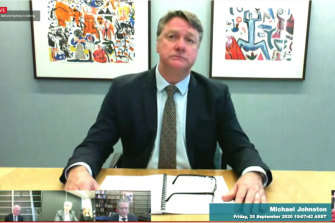 Long-time Packer family lieutenant Michael Johnston, who is both a Crown director and CPH executive, told the probity inquiry that CPH sent a report to Melco during their sale negotiations in May last year which revealed Crown's financial forecasts. Mr Packer had demanded the profit outlook from Crown's chief financial officer Ken Barton earlier that month, and Mr Johnston had encouraged Mr Barton to revise his draft forecasts higher, the inquiry heard.
Mr Johnston told the inquiry that while information CPH sent to Melco was "confidential", he did not consider it to be "price sensitive" because the forecasts were broadly in line with the consensus forecasts of market analysts.
Counsel assisting the inquiry Adam Bell, SC, asked if Mr Johnston saw "even the potential conflict of interest in you suggesting positive amendments to financial forecasts whilst at the same time your company is involved in negations to sell its Crown resorts shares?"
"Given that I was not inputting into the pricing discussions, no I didn't," Mr Johnston said. "I was just commenting on this in the same way that I would comment on… any other budget process."
Mr Barton, who is now Crown's chief executive, told the inquiry this week he would have reconsidered sharing the information with CPH had he known about the negotiations with Melco. He shared almost daily financial updates with Mr Packer under a "controlling shareholder protocol" that stipulated information could not be shared if it was improper to do so or might benefit another party.
Melco's investment in Crown was scuttled by the NSW probity inquiry, which is also investigating whether the sale agreement breached Crown's Sydney casino licence. The licence forbids any involvement in Crown by Macau casino kingpin Stanley Ho – Melco boss Lawrence Ho's father, who died in May this year – and a list of related entities.
Mr Johnston told the inquiry he was not aware at the time CPH sold the shares to Melco that a Ho family trust forbidden by Crown's was a significant shareholder in Melco. That is despite that information being detailed in several corporate and legal documents in his possession, the inquiry heard.
Mr Johnston said that CPH was exploring several options for its Crown shares in early 2019, including offloading most of them and approaching Crown's biggest "junket" tour partner Suncity as a possible buyer. Suncity has been a focus of the probity inquiry due to the extensive warnings Crown has received about its ties to Asian organised crime gangs, which have led to its boss Alvin Chau being banned from visiting Australia.
Mr Johnston told the inquiry he was informed in mid-2015 that Chinese police had detained one of Crown's staff members and questioned him on suspicions of gambling crimes.
However he did not share that with the rest of Crown's board, he said, because he did not think it was a "serious issue". Chinese police arrested and jailed 19 Crown staff in October 2016 for 10 months in an event that rocked the company.
"It seemed as though Crown's Chinese lawyers were dealing with the matter – they weren't raising any alarms," Mr Joshnton said. "I'm not an expert in doing business in China."
Mr Johnston agreed that in hindsight, the event was an obvious escalation of risk that should have been raised with the rest of the board. If he had done so, it could have led to a change in strategy to protect Crown's staff in China, he said.
The inquiry, which is considering whether Crown should keep the licence for its Sydney casino, will continue its public hearings next week with Mr Packer, former chairman John Alexander and other Crown directors due to give evidence.
Business Briefing
Start the day with major stories, exclusive coverage and expert opinion from our leading business journalists delivered to your inbox. Sign up for the Herald's here and The Age's here.
Source: Thanks smh.com