Bank of Queensland warns investors of major loan impairments
The Bank of Queensland has increased its provision for coronavirus-related loan impairments by more than 13-fold since April, as the bank factors in higher-than-expected unemployment rates, lower property prices and a longer and deeper recession.
The bank on Tuesday said it had set aside $133 million for COVID-19 related loan impairments for the financial year compared with $10 million put aside in April. Overall loan impairments have also increased by six-fold, from $28 million to $175 million.
The bank has revised its modelling to include the increasingly severe economic impact of the pandemic that has resulted in 12 per cent of home owners and 16 per cent of small business customers applying for loan relief.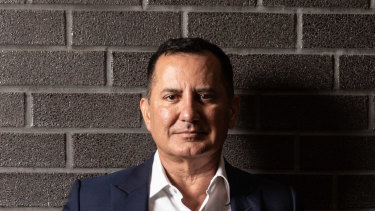 The revised modelling was based on new economic assumptions using Reserve Bank and internal data. The base case scenario for 2020 predicts gross domestic product (GDP) will contract by 6 per cent, unemployment will reach 10 per cent, residential property prices will fall by 6 per cent and commercial property by 10 per cent.
On the most severe scenario, weighted by the bank as having a 5 per cent probability, GDP could contract by as much as 9 per cent, unemployment would reach 12 per cent and commercial property prices would fall by 20 per cent this year.
Chief executive George Frazis said he was pleased that a quarter of BOQ customers who applied for loan relief had started making full or partial repayments.
"As we all know, this has been an unprecedented year and BOQ is committed to supporting our customers throughout this period. We are very pleased to see many of our customers returning to work and reopening their businesses and will continue to work closely with those that require further assistance," Mr Frazis said.
BOQ also announced it had conducted an audit of employee remuneration after underpayments had been reported in the industry and found $2.4 million in superannuation had not been paid properly. The bank has set aside $11 million for further wage problems, as the investigation remains ongoing.
Mr Frazis apologised for the errors and committed to contacting all impacted employees in the coming months. "We will get this right and we will make sure our people, past and present receive every cent they are owed. This is an absolute priority," he said.
Mr Frazis did not provide an update on whether the bank would pay shareholders a dividend this year, only to say he realised how important these payments are to retail investors.
"We have completed our scenario analysis in relation to dividends and have consulted with APRA in line with the guidance issued on 29 July 2020. The board will make a determination on dividends in relation to FY20 at our full year results," Mr Frazis said.
BOQ's full-year results will be announced on October 14.
Business Briefing
Start the day with major stories, exclusive coverage and expert opinion from our leading business journalists delivered to your inbox. Sign up for the Herald's here and The Age's here.
Source: Thanks smh.com