James Packer admits threatening businessman over privatisation deal
Billionaire James Packer threatened an unnamed businessman in a series of emails in 2015 that also referred to Israeli intelligence agency Mossad, he has admitted to the Crown inquiry.
Mr Packer told the inquiry it "came as a surprise" to him that the businessman, whose name has been suppressed, might have been put in fear by the threat. But under questioning he agreed the emails were "shameful" and "disgraceful".
He said he had been mentally ill at the time with bipolar disorder.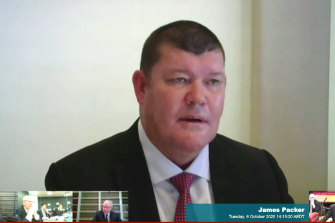 The exact contents of the emails were suppressed by the inquiry, but the context is that, in 2015 Mr Packer was exploring a privatisation of Crown and was talking to a potential buyer, a private equity firm the inquiry referred to only as "Z Co", and its representatives "Mr X" and "Mr Y".
Counsel assisting the inquiry Adam Bell asked Mr Packer, who is giving evidence via video link from his yacht: "You accept you were making threat against Mr X in these emails?
Mr Packer replied, "Yes".
Mr Bell then put the question to Mr Packer: "How can the NSW [gambling] regulator have any confidence in your character and integrity in light of these emails?" Mr Packer responded: "Because I was sick at the time". He then said he was now being treated.
However, Mr Packer agreed that he had not disclosed that fact either to his then colleagues on the board of Crown, nor to the shareholders and the market when he resigned from the company. He conceded that, in the context of keeping the market fully informed, he should have done so.
The significance of this questioning is that the inquiry appears to be looking at whether Mr Packer should be allowed to be a "close associate" of Crown. If the inquiry says he cannot be, for character reasons, then he may be forced to sell down his shareholding in Crown its current 36 per cent to less than 10 per cent.
The line of questioning came after a long adjournment in the inquiry after a request for from his lawyers that the questions be asked in private because of concerns about Mr Packer's state of mind at the time of writing the messages.
Over the past couple of months, the inquiry has been examining various probity issues at the casino giant and will make a recommendation to the NSW government on whether Crown should keep the licence for its new casino at Barangaroo.
Mr Packer owns 36 per cent of Crown and was its chairman for many years but has not had an official role with the company since he left its board in 2018. However the inquiry has heard the billionaire has continued to wield significant influence at the ASX-listed group.
Witnesses are appearing at the inquiry via video link due to COVID-19. For Mr Packer, that means he's dialling in from his $200 million superyacht, IJE, which we believe is moored somewhere in the South Pacific.
This inquiry – which has the same powers as a royal commission – was triggered by a series of reports last year by The Age, Herald and 60 Minutes which revealed that Crown went into business with "junket" tour figures linked to Asian organised crime groups, allowed itself to be used to launder drug money, and put its staff at risk of arrest in China.
Source: Thanks smh.com