You can bet that Packer's 'shameful' inquiry bombshell won't be the last
James Packer made history yesterday at the NSW inquiry into the activities of casino giant Crown Resorts, but for all the wrong reasons.
While he'll be back on Wednesday to give more evidence, it was Tuesday where he made admissions about his conduct that could haunt him for a long time and put Crown's NSW licence at risk.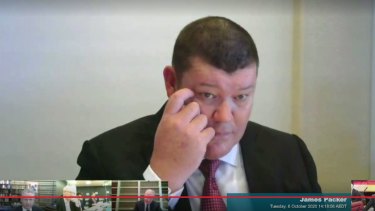 It was conduct the billionaire son of media mogul Kerry Packer admitted was "shameful and disgraceful", though he revealed he was bipolar and suffering from serious mental health issues at the time.
The NSW inquiry is reviewing serious allegations against Mr Packer's casino business including that it was used by Chinese crime gangs to facilitate money laundering as well as operating an unlicensed business in China.
Mr Packer owns 36 per cent of Crown and was its chairman for many years but has not had an official role with the company since he left its board in 2018. However, the inquiry has heard the billionaire has continued to wield significant influence at the ASX-listed group.
During today's hearing Mr Packer was taken to an email that showed him threatening a mysterious Mr X over a proposed deal to take Crown private and de-list from the Australian Securities Exchange.
This was an email that Mr Packer's legal team had tried to keep confidential and for good reason.
Mr Packer was asked about the email and said he was surprised Mr X took the threat seriously.
But that offhanded comment backfired as counsel assisting the inquiry Adam Bel, SC to shot back: You accept your conduct in these emails was shameful, do you?
Mr Packer responded simply with an '"I do".
Mr Bell then doubled down asking Mr Packer: You accept that your conduct in these emails was disgraceful don't you?
And the billionaire businessman, responded, again in the affirmative. "Yes."
It's important to remember that while the full contents of those emails are being kept confidential from the public, they are not being kept secret from the inquiry and Commissioner Patricia Bergin will have seen them in all their glory.
But with Mr Packer in the witness box for only two hours yesterday the inquiry has only started digging into Crown's activities in China, including the infamous staff arrests in 2016.
It has also not touched on allegations about the ASX-listed company's unusual disclosure practices that appear to favour its largest shareholder over all others.
With that likely to be examined at length tomorrow, it's a good bet there will be more bombshells to come.
Source: Thanks smh.com