Is insurance inside super worth the cost to your retirement savings?
Like many people in their 20s, until recently, I was hopelessly out of touch with my superannuation.
The accounts with pockets of cash in Hostplus and Unisuper revealed the part-time jobs that took me through university.
When the newly consolidated super annual statement landed in my email inbox last week, I decided to study it. It was here I learnt my life insurance death benefit was worth $147,000. I'm also covered for up to $2200 per month in income protection (for two years) and would get a one-off payment of $56,000 should I be hit by a car or suffer a breakdown so severe I can no longer work.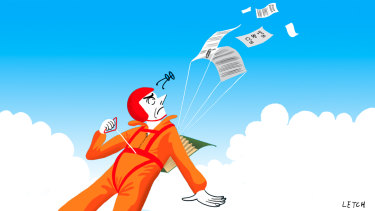 The insurance policies I have were decided for me by my super fund. For this service, I am billed $12.36 per month – $6.64 for the death payment, $2.11 for the total and permanent disability payment (TPD) and $3.61 for the income protection component.
It sounds like only a small amount to pay for peace of mind but is it really worth it – and would I be better off adding that money into my growing pool of retirement savings?
Let's start with the death payment.
According to the latest Australian Institute of Health and Welfare report, the leading cause of death for Australians in my age bracket is suicide, followed by accidental poisoning, land transport accidents, coronary heart disease and breast cancer. So, it's probably safe to say $6.64 per month in compounding contributions, rather than premiums, would better serve my retirement. The death insurance needs to go.
For the income protection component, I'm covered for up to $2200 per month. Before we get into the myriad of problems faced by claimants, around $550 per week is a pretty low starting base.
Right now is possibly the best time to lose your job. Even the reduced JobKeeper and JobSeeker rates pay $600 per week, already beating my super fund's offer. However, these schemes' days are numbered and the government's regular unemployment support is barely enough to keep you above the poverty line.
The unemployment payment before COVID-19, Newstart, pays $565.70 per fortnight. The maximum basic rate for disability support is $860.60 per fortnight.
For income protection, I pay $43.32 per year in premiums and could be paid a maximum of $1100 per fortnight. Despite this being a relatively small sum, by any measure it's more generous than what the government pays. Verdict – income protection can stay.
Now finally, to TPD payments. This is the cheapest component of the insurance policy and can be seriously useful for when you are suddenly faced with a horrible new reality. TPD payments should be processed quickly so claimants can make home adjustments or start receiving therapy.
The insurance industry's code of conduct says life insurers should take six months to process TPD claims, but it regularly takes longer. Law firm Maurice Blackburn released a report in May showing insurers breached the code at least 315 times in six months. KPMG research found the number of mental health TPD claims had doubled in the five years to 2019 and these tended to take longer to process than others, with the average delay being 10 months.
Consumer advocates say stringent terms and conditions also make TPD the hardest part of your insurance to claim.
SuperConsumers sent letters to 15 of the country's largest super funds last month, including IOOF and AustralianSuper, to ask for the Activities of Daily Living test (ADL) be scrapped. The test requires claimants to show they can't perform two or more of the following activities: feeding yourself, walking, dressing, getting out of bed and/or bathing and using the bathroom.
Super Consumers managing director Xavier O'Halloran says the ADL test should be abolished, with research showing members who face the test are five times less likely to have their TPD claim approved than more standard tests.
Of the funds contacted, Aon, Aware Super (formerly First State Super), and Commonwealth Super and Sunsuper committed to removing the ADL test. Other large funds like IOOF and AustralianSuper said these policies would be reviewed, but made no hard commitments to phasing them out.
"These junk policies make it much harder for people who are unemployed or working limited to claim, in the current climate delaying their removal will be catastrophic for some people," Mr O'Halloran said.
I'll be taking a magnifying glass to my fund's TPD product disclosure statement in future.
Source: Thanks smh.com