Adore defends sky-high valuation as it prepares to list
Adore Beauty's founder Kate Morris says the online beauty retailer deserves to be valued as a technology company, as it gets ready to land on the ASX with a lofty valuation of $616 million.
The Melbourne-based retailer's value, based on 3.9 times forecast 2020 calendar year revenue of $158.2 million and 96 times forecast earnings before interest, tax, depreciation and amortisation (EBITDA), has raised eyebrows in the market.
Despite some concerns about Adore being valued on a revenue multiple akin to a technology company, Ms Morris said there was no reason the retailer couldn't replicate the success of listed e-commerce juggernauts Kogan and Temple & Webster.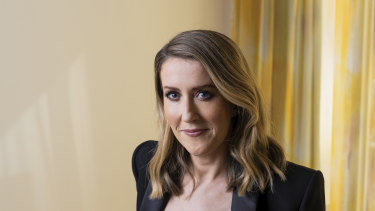 "Kogan's valued like that, Temple & Webster is valued like that," she said. "If you don't like it, don't buy it, I think what the market is finally realising is that ecommerce is going to be a thing and all of the growth in retail is going to come from e-commerce not from bricks and mortar."
Ms Morris added that Adore had redefined the way consumers interact with the beauty category and had the runs on the board to prove its proposition.
"This is not an overnight success and it's not a flash in the pan, (Adore) is a business that has been grown carefully and sustainably and with love for the last 20 years," she said. "You can't please everybody and not everybody's going to get it. That's okay."
Adore is raising $269.5 million at $6.75 a share, including $40 million in new shares and is due to list on October 23.
Ms Morris and her long-time partner James Height are set to each receive $45.9 million by selling 40 per cent of their shares while private equity heavyweight Quadrant, which acquired 60 per cent of Adore last year, is set to receive $137.2 million by selling 40 per cent of its shares.
Ms Morris said Quadrant's involvement had been important as it had been difficult at times for investors, predominantly male, to see the value proposition in a beauty company.
"We started talking to institutional fund managers and most of them are men, I would say at least 90 per cent," she said.
"You're trying to explain a business to someone who isn't your customer and maybe doesn't understand even just the emotive nature of the category," she said.
"We would get questions like 'Why would you be busier during COVID because people aren't going out so why would they need beauty products?' It's like 'Oh we don't use it for that, it's actually self care, it's about making yourself feel good' and so there's just an extra level of work that has to be done to explain the business."
Chief executive Tennealle O'Shannessy said Adore's growth through the pandemic was set to continue with customer numbers staying "much higher" in Queensland, Western Australia and South Australia which hadn't been in lockdown for several months and where retail stores are open.
Adore is planning to launch a mobile app and a customer loyalty program to further build on its momentum.
"Those things coming together give us really strong confidence that what we're seeing is a structural transition to e-commerce and online shopping," Ms O'Shannessy said.
Source: Thanks smh.com