Former Fairfax chief Greg Hywood named new Free TV chair
Former Fairfax Media boss Greg Hywood has urged global tech giants Google and Facebook to back down from their threats to ban news articles in Australia as the competition regulator finalises a code to make them pay publishers.
Mr Hywood, who will be announced as chair of industry body Free TV today, has flagged further media consolidation and the removal of fees for broadcast transmission as priorities for the group, which represents the interests of broadcasters such as Nine Entertainment Co, Seven West Media and Network Ten.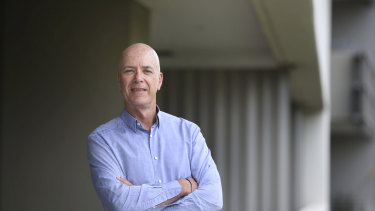 "No idea [if they will follow through with threats]. That's up to them. I will be urging them to be part of this ecosystem and public responsibility, which involves participating in the delivery of content and paying for the contribution of that content," Mr Hywood said. "These big operators have all said they are not publishers. They're publishers, they are distributing content."
Under a proposed version of the code, media companies will have three months to negotiate with Google and Facebook over how much they should be paid for use of content. If an agreement cannot be made, an arbitrator will hear the final two offers and make a decision. But while the move has been welcomed by the local media industry, it has been strongly opposed by the tech giants. Facebook has said it will remove news articles from its algorithm and industry sources have previously said Google is warning government it could withdraw services from Australia altogether.
"This is a negotiation and they are going to negotiate as hard as they possibly can. The issue is not the nature of the negotiations. The issues is the outcome and the outcome should be that the content is available and there's a price against it," he said.
Mr Hywood is the first chairman of Free TV since the departure of prominent media buyer Harold Mitchell, who resigned from the role in 2018 when the Australian Securities and Investments Commission (ASIC) launched federal court action against him over his involvement in Tennis Australia's broadcast negotiations.
The role is Mr Hywood's first permanent job in the industry since he departed Fairfax Media in 2018 following the merger of the publishing company with Nine, the owner of this masthead. Earlier this year, Mr Hywood was hired by Seven West Media boss James Warburton to review the company's West Australian Newspaper business.
Among the priorities for Mr Hywood and his chief executive Bridget Fair are the news media bargaining code, which is expected to be tabled in parliament before the end of the year, and a review of the amount of money television broadcasters pay for spectrum (which allows content to be beamed to televisions across the country).
Television broadcasters suffered sharp falls in advertising spending earlier this year because of economic factors related to the coronavirus pandemic and a range of measures were introduced by the government to help them adapt. A 12-month spectrum fee relief package and the temporary removal of rules on how much Australian drama and children's shows and films needed to be aired on television were among the initiatives. As part of the 2020 Federal Budget, Communications Minister Paul Fletcher announced a permanent change to content quotas, but the broadcasters are still want fees to be reviewed.
"The government is going to review the spectrum arrangements," Mr Hywood said. "The Australian networks pay vastly more spectrum fees than the US and the UK – vastly more. There's value in spectrum. It's just what is the right value in 2020."
Mr Hywood, who said he watches a range of morning television programs, news and current affairs and the odd reality program, also flagged further industry consolidation. Regional broadcasters are lobbying to relax a rule that prevents a broadcaster from operating more than one TV licence in a market, and loosen the voices test, which requires four separate media companies to run in regional areas. Some metropolitan broadcasters disagree with this reform.
Mr Hywood was behind the 2012 Fairfax of the Future Plan, which involved cutting 1,900 jobs over three years, shutting printing centres and shifting to a digital first strategy. But he also saw the benefit of merging media companies and held merger talks with Seven before announcing plans to merge with Nine. He was heavily involved in lobbying the government to relax media laws in 2017.
"I'm an instinctive de-regulator, anti-protectionist," he said. "When you look at industries which are going through very significant structural disruption, you need to make sure that the regulatory environment is relevant. Within the TV industry, there's divergent views around where consolidation should go, if at all. The members have to make up their own view but there's absolutely no doubt that in a broader sense, the regulatory environment…has to be dealt with."
Ms Fair said Mr Hywood would add significant value to the industry body. "We are delighted that Greg has agreed to take on the role of chairman," Ms Fair said. "He has shown that he has a deep understanding of the challenges and opportunities facing the Free TV sector and the media landscape more broadly."
Source: Thanks smh.com