Ray Martin to front regional media lobbying effort
Regional media companies are urging the Morrison government to change media laws which prevent the industry from consolidating in a major lobbying push fronted by well-known TV presenter Ray Martin.
Antony Catalano's Australian Community Media, Southern Cross Austereo, Prime Media Group and Bruce Gordon's WIN Corporation have united to argue that consolidation will prevent the commercial regional media industry from shutting down news bulletins and closing newspapers.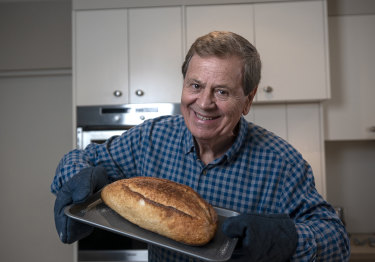 The organisations were under significant financial pressure before the coronavirus pandemic but the long-term viability of the sector is in question because of significant falls in advertising spending driven by the recession and weak consumer sentiment. All four companies are requesting the removal of the 'one-to-a-market' rule, which prevents a television broadcaster from operating more than one TV licence in a market. They also want a relaxation of the 'voices' test, which in regional areas requires four separate media companies to operate.
This is the second time the regional media industry has come together publicly to push for changes to media law. WIN, Southern Cross and Prime launched Save Our Voices for the first time in 2015 and advocated for the removal of the "reach rule", preventing networks from broadcasting to more than 75 per cent of the population, and the "two out of three rule", preventing media companies from owning a TV network, radio station and a newspaper in the same market. The laws were changed in 2017.
Since then media companies including Nine Entertainment Co (owner of this masthead) have merged to compete against tech giants Google and Facebook. Seven West Media tried to merge with Prime last year, but the deal was thwarted by WIN owner Mr Gordon and Mr Catalano.
The renewed attempt by the broadcasters and ACM follows a proposal sent to Communications Minister Paul Fletcher earlier this year proposing different ways to help the sector survive. No changes have been made to the laws despite the proposal.
"Media ownership laws blocking regional media companies from operating efficiently are outdated and from the pre-internet era," WIN boss Andrew Lancaster said.
Despite no change to current media laws, regional media companies did receive financial relief this year from the government.
Regional media outlets were preparing to stop news bulletins and shut down broadcast signals altogether in April because they were facing the prospect of running out of cash last financial year. The organisations were put on JobKeeper and some executives took large pay cuts. Mr Catalano suspended multiple non-daily newspapers and temporarily closed print centres. Most titles returned in print but the centres were closed permanently to free up cash.
The regional broadcasters had spectrum fees waived and received funding under a grant for local journalism which was provided in a government relief package. Mr Catalano also received a large amount of funding.
"We are grateful to the government for acting quickly during the COVID-19 pandemic to help fund public interest journalism via its PING program," Prime chief executive Ian Audsley said. "However, we need the government to act quickly again on a more economically sustainable plan to ensure regional Australians receive the very best local media services beyond 2021."
The government has commissioned two reports in the last 12 months to assess whether regional media companies can survive under the current framework.
Advisory firm KordaMentha was paid $99,000 by the Department of Infrastructure, Transport, Regional Development and Communication last November to conduct 'independent research or assessment' on regional broadcasters, three months after a report was completed by retired PwC partner and media and telecommunications industry leader Megan Brownlow.
Ms Brownlow's report agreed with the view of regional broadcasting executives that there neeed to be regulatory change to prevent closures in the near term (12-18 months). But industry sources familiar with KordaMentha's research said it painted a rosier picture of the regional broadcasting sector, indicating that the companies would not shutdown properly until the middle of the decade.
"Regional media outlets that have been part of their communities for decades – and in the case of a number of ACM's newspapers more than 150 years – need the freedom to structure our businesses efficiently so we can achieve the scale necessary to compete with the unregulated digital services of metropolitan media and global internet giants," Mr Catalano said.
Source: Thanks smh.com