Airtasker uses COVID boost to launch into New Zealand and Singapore
Australia's largest gig economy outfit Airtasker is extending its reach into New Zealand and Singapore, as the coronavirus pandemic forces more people to look for a way to supplement their income.
The Sydney-based online jobs outsourcing platform, backed by Seven West Media, has more than 4.1 million members and saw an initial drop in activity of about 25 per cent at the onset of the pandemicin March. However, Airtasker co-founder and chief executive Tim Fung said those offering their services on the platform were quick to shift their focus to contact-free delivery, home office installation and bicycle repairs.
"Where we find ourselves now is actually that the marketplace has accelerated and compared to 2018 and 2019 is actually growing at a faster rate."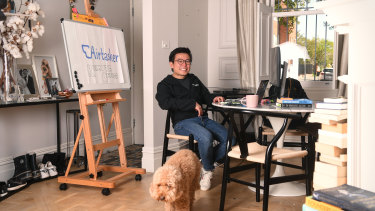 "We forecast that there was going to be even a bigger problem of people needing to find ways to earn money and create income during the aftermath of this pandemic," he said. "We saw that this was going to be an issue, not just in Australia, but in countries all over the world."
The startup, founded in Sydney in 2012, has raised $94 million in equity and already operates in the United Kingdom and Ireland.
Mr Fung said Airtasker was able to fund the expansion after becoming profitable last year and the company was cash flow positive on a monthly basis.
"It's a really huge milestone for me personally as the founder and for the company especially as a marketplace, which really requires that upfront capital investment in the marketplace," he said.
"There's a balance between our top line growth and managing profitability and I think we've done well in managing that."
Airtasker's most recent public financial records for 2017 and 2018 record $11.4 million in revenue from commissions on jobs transacted through its platform.
Mr Fung added that New Zealand and Singapore had similar market dynamics to Australia, both in the way users rely on technology platforms to access services and the overall competitive landscape for services.
"We're not going to get everything right at day one and there is a lot for us to learn along the way," he said. "As a startup our mode of operation is to get out there and give it a crack."
Airtasker is putting small teams on the ground in New Zealand and Singapore but Mr Fung said as a technology product company the vast majority of Airtasker's investment was in product engineering and design across its 130 strong workforce based out of Sydney and Manila.
Despite a flurry of technology companies launching initial public offerings on the ASX, Mr Fung said Airtasker was not priming itself up for a listing.
"Certainly looking to the future, Airtasker has got big ambitions," he said. "There's definitely a real opportunity in the capital markets and we are observing what's happening in the IPO space but we are in a position now where we are not reliant on that kind of funding to grow."
Business Briefing
Start the day with major stories, exclusive coverage and expert opinion from our leading business journalists delivered to your inbox. Sign up for the Herald's here and The Age's here.
Source: Thanks smh.com