Diggers and Dealers strikes it lucky in pandemic-free WA
Diggers and Dealers chairman Jim Walker is predicting this year's event will be one of the most interesting ever thanks, in part, to the industry-altering impacts of COVID-19.
The event, which has run for 29 years in the famous gold mining town of Kalgoorlie just over seven hours drive east of Perth, has become a platform for big merger announcements as well as a nursery for future deals conceived over a few pints in one of the city's many watering holes.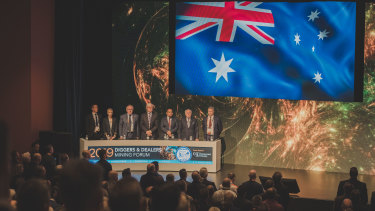 Mr Walker is a well known and respected WA mining entity having led Westrac for 13 years, but this is his first Diggers and Dealers event as chairman and it's the event's first time running with a global pandemic lingering in the background.
After making the decision in March to postpone the three-day conference from its traditional spot in August Mr Walker said the whole team and delegates he had spoken to were thankful they were able to put it on at all.
"Basically everyone has been shut down since the early part of the year, people are glad to get out and do something," he said.
Last year's event had a record 2300 delegates but Mr Walker said even with border restrictions limiting attendees to mostly Western Australians, plus one very keen international attendee who completed two weeks quarantine, they still expected about 1900 to 2000 delegates.
While the event will benefit from WA's COVID-free status, Mr Walker said there would be some noticeable changes.
"We have got strict guidelines and rules to abide by," he said.
"We are blocking off some seats in the auditorium; we've got one entry and one exit so we can see people coming in; there will be areas there as people come in to check their temperatures and we've had to put COVID marshals in there."
Mr Walker himself has completed a COVID-19 training course.
"I've done the COVID course because this is serious and we have to take it that way as well. The last thing we want is something happening on our watch," he said.
With WA iron ore miners raking in the cash thanks to COVID-19 hurting their Brazilian competitor Vale's production and battery metals threatening a comeback, Mr Walker said there was plenty to look out for as a conga line of high-profile executives takes to the stage over the next few days.
But he said gold was once again the commodity to watch with the price hitting record levels this year and last week's merger announcement between Saracen Mineral Holdings and Northern Star Resources.
"I think gold will be the major story no doubt just because the merging of miners with the Superpit, there will be lots of discussion about that," he said.
The Saracen and Northern Star merger will see the creation of a $16 billion mining giant that will put in the top 10 producers in the world.
Northern Star executive chairman Bill Beament said the merger would see the new company able to ramp up production by 30 per cent over the next three years with a trajectory to 2 million ounces of gold by 2027.
Mr Beament and Saracen managing director Raleigh Finlayson will be making back -to-back presentations on Monday morning right after the event's keynote speaker WA Premier Mark McGowan opens the conference.
Trickle-down economics
Kalgoorlie's pubs and bars are also looking forward to this week after staring down the barrel of losing the income from one of the busiest times on the town's calendar.
While the event has reportedly been tamed from its heady days in the 1990s and early 2000s, skimpies are still being flown into the town and the kegs are being filled to the brim in anticipation of quenching the thirsts of company representatives in return for some of their hard-earned cash.
Kalgoorlie accountant and Palace Hotel owner Ashok Parekh said "everything was looking good" for this year's event.
"I think it's brilliant for accommodation, brilliant for restaurants and it shows a lot of people who we are out here," he said.
Source: Thanks smh.com