BoQ chief says property market 'more buoyant' than expected
Bank of Queensland chief executive George Frazis says first home buyers are piling into the market as the impact of the COVID-19 health crisis on the property industry proves not as bad as expected.
The Queensland lender reported its mortgage application volumes are back to pre-COVID levels and Mr Frazis said confidence had started to return to the industry.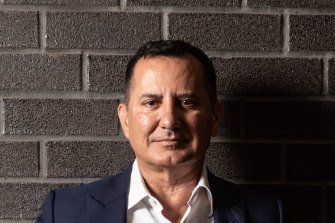 "People are feeling more comfortable about how well the health crisis is being managed," Mr Frazis said. "They're also feeling more comfortable about the stimulus. The government has done a really good job on both of those."
House prices had dropped in Victoria and New South Wales, Mr Frazis said, but had now stabilised and were even trending higher in Queensland.
"It's the low interest rates that are encouraging people to get into housing," Mr Frazis said. "It's just made it very affordable."
BoQ reported its year-on-year profit had fallen by 61 per cent on Wednesday and the bank has committed to paying shareholders a dividend of 12¢, 82 per cent less than last year's payout.
Mr Frazis said the bank was able to pay the scaled-back yield because of its "strong balance sheet" and growth in some parts of the business, namely home and business lending.
The bank's home loan book had grown to $508 million, up from $141 million the previous year. Deposits had also ballooned to $2.3 billion, pushing the deposit to loan ratio to 74 per cent from 69 per cent for the same period last year.
Mr Frazis said the bank's lending practices would not be impacted by the government's proposed axing of responsible lending laws, which will move the system from a "lender beware" model and put the onus on "borrower responsibility" by removing checks and balances in credit applications.
"We haven't changed our risk appetite or our standards in any way," he said.
The bank's $100 million capital investment had also contributed to the growth in home loans, with better technology reducing the approval rate for home loans from five days to one.
"It's really those two things. One is our strategy and the market is more buoyant than people initially predicted," Mr Frazis said.
BoQ's business lending rose to $337 million compared to $127 million last year. Despite having the highest exposure to loan deferrals in the country, Mr Frazis said he was not worried about delinquent loans or business closures once JobKeeper ends in January.
Mr Frazis said he supported the need for border closures, predicting "dire consequences" if virus numbers started climbing again. However, he acknowledged small- and medium-sized businesses would be helped by the relaxation of travel restrictions.
"We've been able to manage this very well, we've got good contract tracing, fast testing," he said. "Given that, what that enables us to do in a sensible way is start relaxing the restrictions we've got both within states and between states.
"Obviously, the more we get to an increased normal in terms of activity, the better for all players."
Since the virus' peak in April, BoQ said there had been an 19 per cent reduction in total deferred loan balances and a quarter of the 21,000 customers that had applied for loan relief had now started making full or partial repayments.
BoQ announced plans to sell its consumer credit and life insurance business, St Andrews, for a post-tax loss of between $27 and $30 million, in what Mr Frazis described as an "important milestone" for the bank.
"The divestment enables us to focus on our niche customer segments while simplifying our business model."
Investors responded positively to the result, sending BoQ's share price 5 per cent higher.
Market Recap
A concise wrap of the day on the markets, breaking business news and expert opinion delivered to your inbox each afternoon. Sign up for the Herald's here and The Age's here.
Source: Thanks smh.com